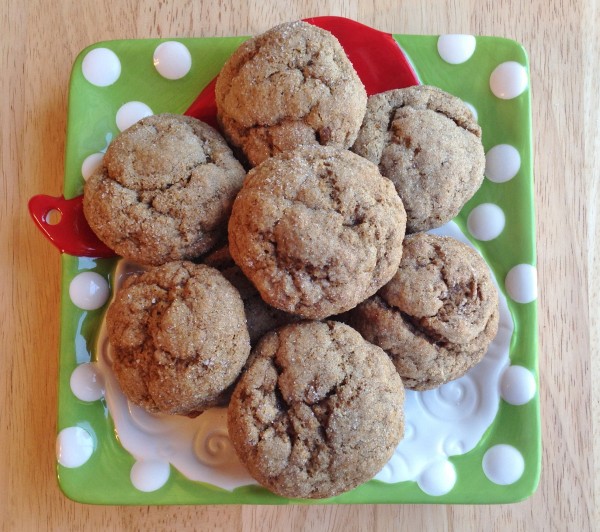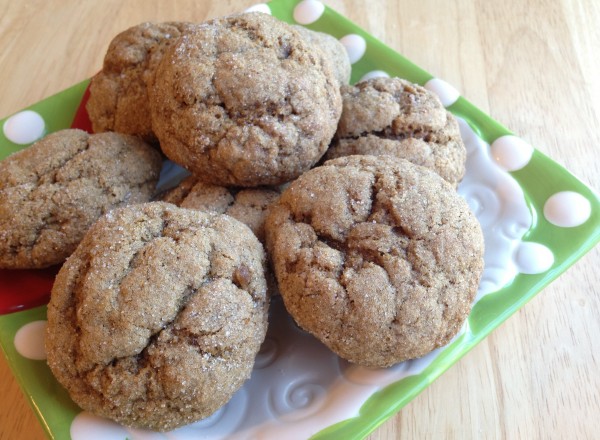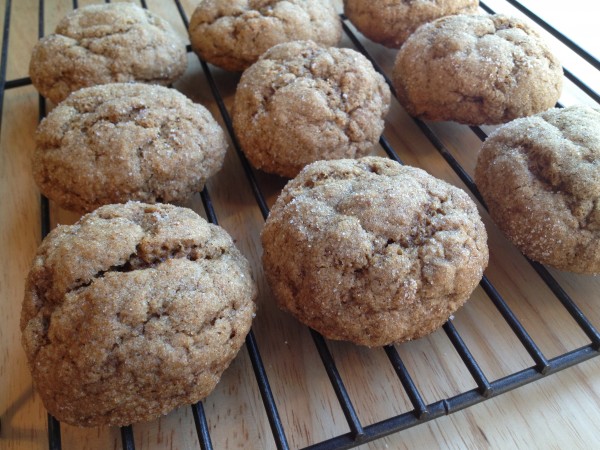 'Tis the season for cookies!  The Meal Makeover Moms know it. Yesterday they shared a handful of healthy holiday cookie recipes, including my granola crunch cookies. That's all the inspiration I needed to get into the kitchen. You see, I've been thinking about a cookie. A spiced, sweet, soft, chewy, and, shockingly, chocolate chip -free cookie with all the flavors of the holidays. It's got to have ginger, cinnamon, cloves, molasses, plus a crinkly sugared outside and a wonderfully soft and chewy inside.
Success! And would you believe it's whole wheat, low in fat, and sneaks in some iron at the same time? I know, unbelievable, right? And yet it's true. Of all my attempts at healthy-ish cookies, this is by far the kids' favorite.
A few notes about technique and ingredient choice:
I always spoon flour very lightly into the measuring cup, to be sure I'm not packing it in and getting too much flour as a result. For this recipe I sifted the 2 cups of flour after measuring it out but tapping it through a mesh strainer. It only took a few seconds and left the flour light and fluffy.
I used regular Grandma's molasses, which is light molasses. If you choose to use darker "robust" or "blackstrap" molasses, beware it may change the flavor of the cookie. The darker the molasses, the less sweet it is (though it is all pretty sweet).
I refrigerated the dough for about 2 hours, until it was firm, because I wanted dough that was firm enough to roll into balls with my hands and roll in sugar.  I can't be sure what the cookies will be like without refrigerating the dough – but likely they will spread out a lot more than mine did.
Now, get to it! These, baking in your oven, will lend an unbelievably Christmas-y smell to your kitchen!
*A note about the lack of links in this post – there seems to be a glitch and so, currently, I can not hyperlink any of the recipes I mentioned, or the fabulous Meal Makeover Moms. I will rectify it as soon as I can!
Soft and Chewy Whole Wheat Molasses Spice Cookies 
Yields 18 cookies
Adapted from Eating Well
Prep time: 15 minutes     Cook time: 12 minutes     Wait time: 1+ hours
2 cups whole wheat flour, sifted
2 teaspoons baking soda
1/2 teaspoon salt
1-1/4 teaspoons cinnamon
1/2 teaspoon cloves
3/4 teaspoon ground ginger
1 egg white
2/3 cup brown sugar, lightly packed
1/2 cup unsweetened applesauce
1/4 cup butter, melted
1/4 cup molasses
2-3 tablespoons sugar, for rolling dough balls
Whisk together the dry ingredients (flour through ginger) in a large mixing bowl. In a separate bowl, mix the egg white, brown sugar, applesauce, butter, and molasses. Pour the wet ingredients into the flour mixture, and stir just until combined. The dough will be sticky and somewhat stiff. Cover with plastic wrap and refrigerate for at least 1 hour (overnight is fine.)
When ready to form and bake the cookies, preheat the oven to 375 degrees Fahrenheit. Prepare cookie sheets with light coating of pan spray.
Scoop the dough into 18 equal portions (about 1 tablespoon). Form each portion of dough into a ball between lightly oiled hands, then roll in the balls in the white sugar. Place on cookie sheets about 2 inches apart. Bake for 10-12 minutes, until the tops are dry and spring back lightly when touched, and bottoms are lightly golden. Remove to rack to cool. Store in airtight container for up to a week.