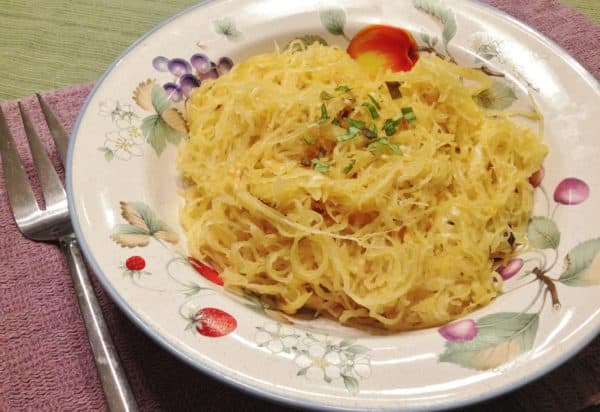 Today we're talking savory spaghetti squash, and we're dressing it up with basil and Parmesan.
It's a bit of a kooky vegetable. If you've never had the pleasure, allow me to describe. Picture bright yellow Silly String. Put it on a fork, and give it a taste. It's got a flavor a bit like summer squash, but, even cooked, has a subtle crunch similar to shredded apple.
How do you cook it? Roasting it in the oven is quite common, and a fine option if you've already got the oven going anyway. I prefer to microwave it – done in just 8 minutes, and with no difference in taste, in my opinion. The biggest challenge is slicing it in half, for which you need a sharp chef's knife, a strong wrist, and a little bit of luck.
What the heck do you DO with it? Anything! It's completely versatile. It's the perfect nutrient-packed, gluten free substitute for spaghetti, stands up to the heat in casseroles, and is pretty as a picture as a side dish.
See?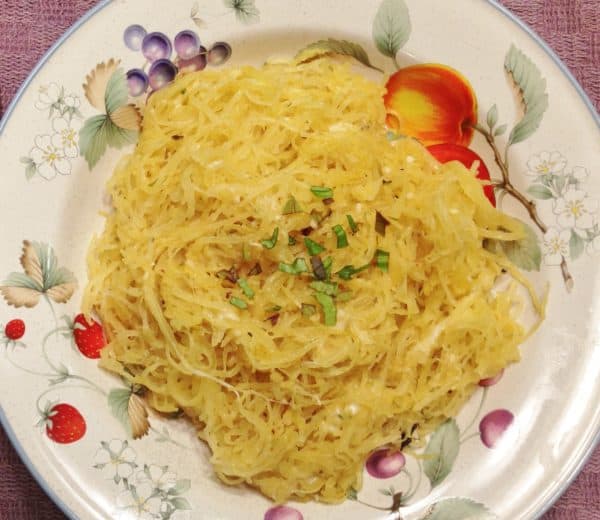 Sunday night I had many a project going on in the kitchen for Sunday Supper, including oven "fried" haddock, homemade tartar sauce, and whipped potatoes for my nephew to ensure there was one thing he would love. I needed a quick side dish to complete the menu. With 3 cups of cooked spaghetti squash all ready to go in the fridge, I decided to jazz it up with a little garlic, basil, and Parmesan.
The results were just delightful. I served up a savory spaghetti squash with hints of garlic and the sweet aroma of basil. It was a huge hit. I couldn't wait to photograph the leftovers in the daylight the next day. (Natural light makes for much better food photos. I have learned that. You need only look at the photos from my first couple of months blogging to see how far I've come.)  I hurried home to get my hands on the leftovers, only to find they'd already been devoured, leaving me simultaneously pleased and dismayed.
I'm a complex person that way.
So, while you are stuck with mediocre photographic representation of this sunny dish, I'm very happy to share this easy and quick recipe. Enjoy!
Savory Spaghetti Squash with Basil and Parmesan
Serves 6-8
Prep time: 5-10 minutes (with previously cooked squash)     Cook time: 5 minutes
3 cups cooked spaghetti squash*
2 tablespoons butter
1 teaspoon chopped garlic
2 tablespoons chopped fresh basil
1/2 cup grated Parmesan
Melt butter in a saucepan over medium heat. Add garlic and sauté one minute. Do not let it burn, or you'll have to start over! Add spaghetti squash and basil and toss over heat until warmed through. Turn off heat, add Parmesan and mix it through. Cover to keep warm until serving time.
*How to Cook Spaghetti Squash in the Microwave
*To cook spaghetti squash, slice it in half lengthwise and scoop out the seeds. Place each half in a microwaveable dish with a couple tablespoons of water in the bottom. Cover loosely with wax paper or microwave safe lid. Microwave on High for about 8 minutes. If the squash is done, it will separate easily into strands. Note: spaghetti squash cooked in the microwave retains a slight crunch, compared to roasted spaghetti squash, which becomes softer.