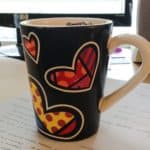 Happy Valentine's Day, loves!  I bet you were thinking I'd share something sweet today, dintcha? Well, I would've, but I forgot to plan something. More on my poor planning skills later.
Are you looking for easy, healthy, and yummy? That's the Food Trifecta, as far as I'm concerned, and this Mexican Brown Rice and Beans does it well. Brown rice and beans together is just the cat's pajamas. Protein packed, full of fiber, and overflowing with micronutrients, you can't get a better dose of nutrition in a more inexpensive package. I've spiced up this version with the savory flavors of cumin, chili powder and smoked paprika, along with a touch of cinnamon, so it's darn near irresistible. In a matter of minutes, you're sitting down to a stellar vegetarian meal with almost no planning.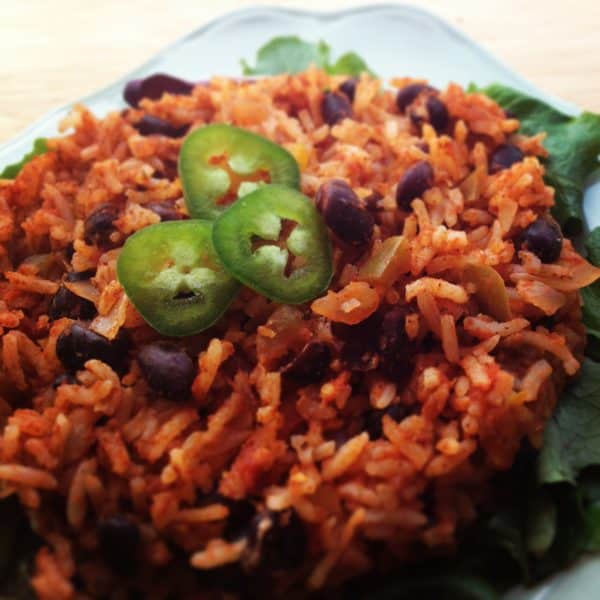 No planning is the operative phrase here. I'm a" seat of your pants" kind of gal. A reluctant planner. While I crave organized physical spaces, I seem to resist applying that same principle to my hours. Which is why I sometimes don't know what's for dinner… until I'm hungry.
Let's talk about the life of a reluctant planner.
There are some unfortunate downsides. We're often out of milk, eggs, and toilet paper. I am known to forget commitments despite chirpy iPhone alerts. I never, ever have the following Mom-ish things on me:  tissues, Band-aids, cash. Simple errands, such as returning library books, often take days to accomplish. And when it comes to my blog world, well let's just say I have not taken the "you must have a publishing calendar" concept to heart.
Despite all of that, there is an upside to this way of being. Every day is an unexpected adventure. It's never boring, and full of surprises. Like, "Ooh, it's Wednesday! I get to go to my fave Spin class today!" or "Hey! I'm getting a haircut in an hour? Yay, ME time!!" Then there's always the "What are all the recycling bins doing in the kitchen? Must be Tuesday. Time for a fresh-air break while we trek up the 300-foot driveway with the barrels." Hey, I didn't say all the surprises were welcome 🙂
Jules, is this really your life? Not exactly. It's more of a caricature of my life. While I'm a reluctant planner, there are still some very standard operating procedures here. For one, I very rarely miss a workout. It's as automatic as breathing. Since I sit at a desk for 10+ hours two days a week, my days off are dedicated to movement. Also, breakfast is an automatic every day; usually a bowl of high-fiber cereal with raisins, almonds, and nonfat milk. And then there are my kids. I almost never forget about them.
A completely adaptable recipe for brown rice and beans
The details of this life do often take me by surprise, however, which is why I'm glad to have documented here some recipes, like this brown rice and beans, that I can snag when I've forgotten to plan for dinner. Let's talk about how completely morph-able brown rice and beans is. You like it hot? Add cayenne or hot sauce. No salsa on hand? Swap it out for canned diced tomatoes. Cheese lover? Add some cheddar for another layer of flavor. Love toppings? Add diced avocado as a cool and creamy compliment. Jasmine or basmati rice in place of brown is a fine swap too, if that's what you have on hand. Do you see what I'm saying?? This is a base recipe from which you can make your own fabulous vegetarian-style rice-and-beans dish. Have fun!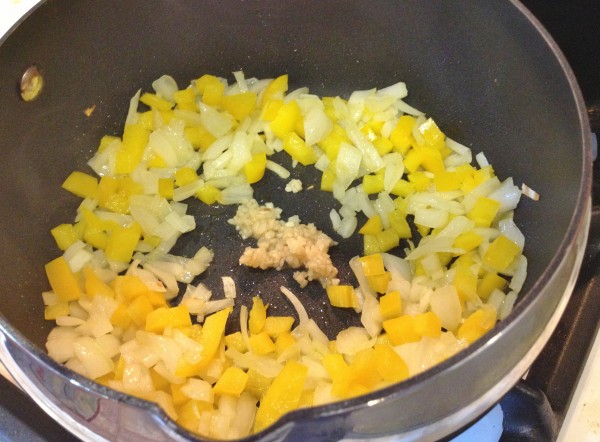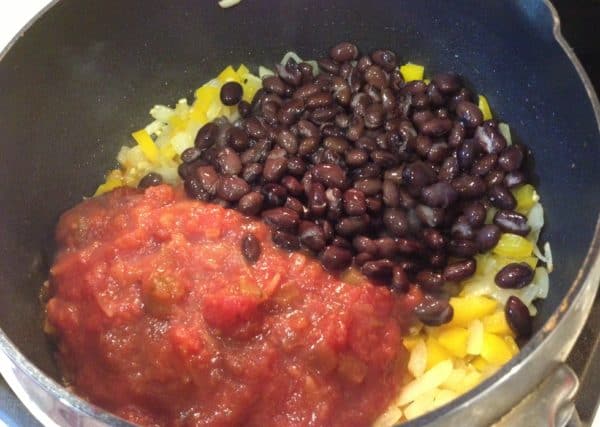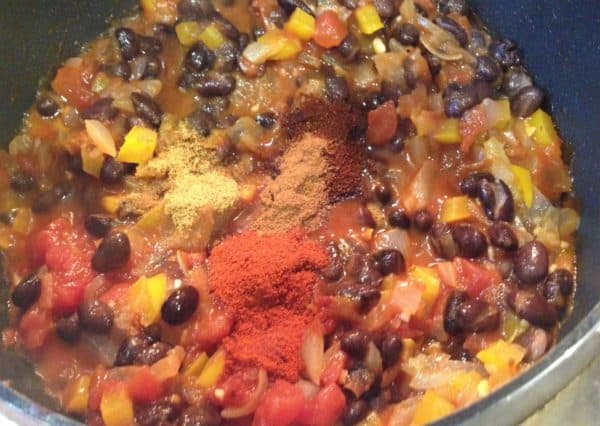 Easy Mexican Brown Rice and Beans
Makes 4 servings
Prep time: 10 minutes      Cook time: 5-10 minutes
1 tablespoon olive oil
1/2 large Vidalia or other sweet onion, chopped
1/2 yellow bell pepper, chopped
2 teaspoons chopped garlic
One half of a 15-oz can of black beans, rinsed and drained
2 cups prepared mild salsa
2 cups cooked brown rice
1/4 teaspoon cinnamon (if you are unsure about this ingredient, start with 1/8 teaspoon)
1/2 teaspoon cumin
1/2 teaspoon chili powder
1 teaspoon smoked paprika
Optional toppings: sliced jalapeno peppers, avocado, cheddar cheese, hot sauce 
In a large nonstick saucepan, heat the olive oil over medium heat. Next, add the chopped onion and bell pepper, and sauté until softened, about 3-4 minutes. Add the garlic and sauté for 1 minute more. Add the salsa, black beans, and spices and let bubble for 2-3 minutes. Finally, add the rice, reduce heat to medium-low, and heat through (about 5 minutes). The mixture should be moist but not runny. If necessary, add additional salsa (or just water). Remove from heat and finish with your choice of toppings (jalapeno, avocado, cheddar, hot sauce, etc.)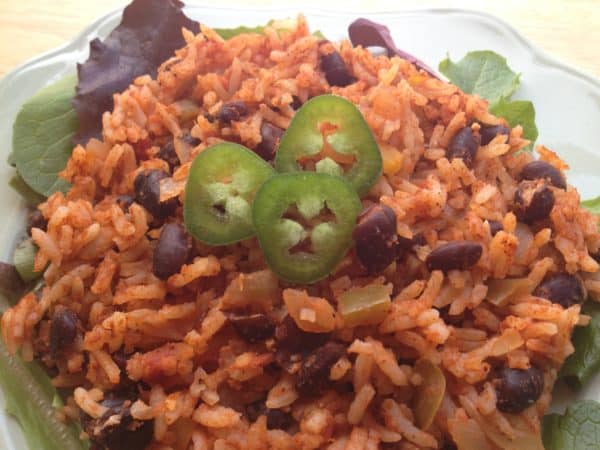 Enjoy!