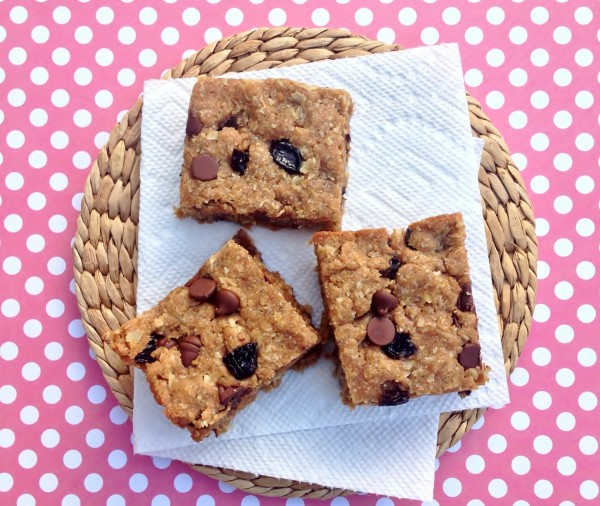 It's true I am a huge sucker for anything that puts oatmeal and peanut butter together, especially at breakfast. Chocolate is a frequent accomplice. These Chewy Peanut Butter Oatmeal Bars fit right in with this obsession. Am I bordering on insanity? Let's review the evidence.
♦  I smother my bowl of oatmeal in peanut butter and chocolate at least twice a week.
♦  Peanut Butter Baked Oatmeal with Chocolate Chips. Need I say more?
♦  I hawk healthy cookies like No-Guilt Peanut Butter Banana Oat Chippies.
And now, these little darlings – chewy peanut butter oatmeal bars. They represent the latest addition to our dessert-for-breakfast family.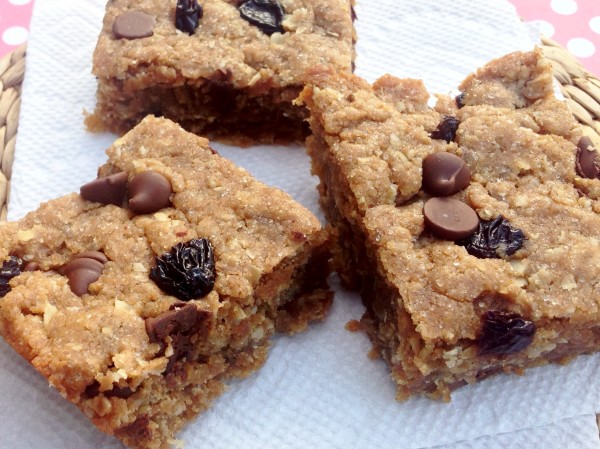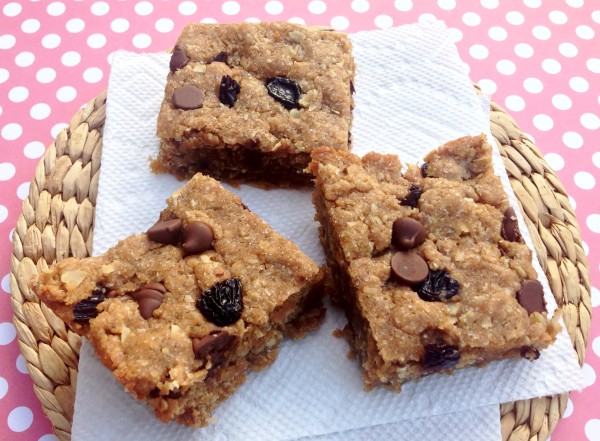 Guilty as charged? Of course. Before you sentence me, though, I do have something to say on my behalf.
These scrumptious morsels of deliciosity are truly wholesome.  Peanut butter, oatmeal, and whole wheat flour are SO GOOD for you! Protein, heart-healthy fiber, vitamins from all across the alphabet…I could go on, but you get what I'm saying. If craving these is wrong, I don't want to be right.
Now, take me away.  Just promise you'll mail me a batch of these every so often, 'kay? Thanks.
Chewy Peanut Butter Oatmeal Bars
Makes 16
Prep time:  15 minutes     Baking time: 22-25 minutes
1/2 cup plus 2 tablespoons brown sugar, packed
1 cup natural peanut butter
2 teaspoons vanilla extract
1 cup old-fashioned oats
1 cup whole wheat flour
1/4 teaspoon salt
1 teaspoon baking soda
1/2 cup non fat milk
1/2 cup semi-sweet chocolate chips
1/3 cup raisins
Preheat the oven to 350 degrees Fahrenheit. Prepare an 8×8 baking pan with spray oil.
Mix the dry ingredients (oats, flour, baking soda, and salt) together in a small bowl and set aside. Using an electric mixer, beat the sugar and peanut butter together on medium speed until well combined. Beat in the vanilla.
Next, add the dry ingredients and the milk alternately, beating on medium speed between each addition. By the time both are all added, the batter will be thick and difficult to stir. Mix in the chocolate chips and raisins with your hands until they are well incorporated. Press the mixture into the prepared pan, and bake for 20-22 minutes. Do not over-bake! The bars are done when they are set and slightly browned.
ENJOY!