Oatmeal Butternut Pancakes with Browned Buttered Nuts. Goat cheese and real maple syrup. Such a dreamy, creamy, flavorful way to eat pancakes.
For sure, I never would have thought to put all these ingredients together on my own.
Who was the genius, then, behind this stack of stupendousness? Maria Speck, that's who. Maria, a journalist, accomplished cook, and serious lifelong fan of grains of all kinds, is the author of a new cookbook, Simply Ancient Grains, .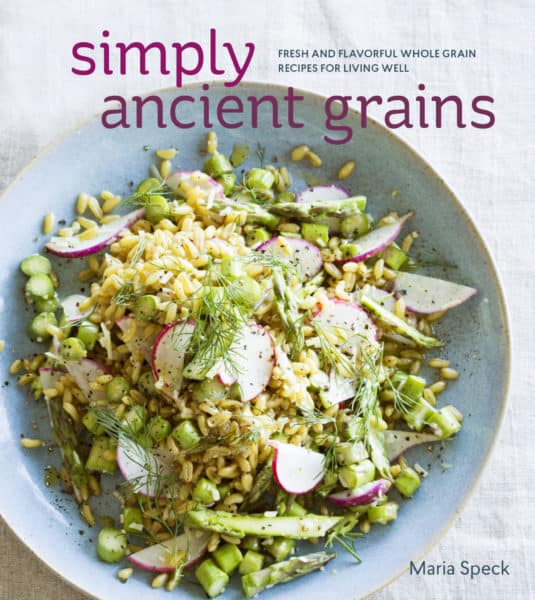 Photo courtesy Maria Speck and Ten Speed Press
What exactly are ancient grains?
Ironically, I had to ask this question myself. It turns out many ancient grains are quite familiar, such as wheat, barley, buckwheat, bulgur, oats, quinoa,and rice. In addition, ancient grains include less well-known varieties, like amaranth, kamut, millet, farro, teff, and spelt. Some of these I'd never heard of before!
Ancient grains are making a huge comeback
Why are they making a comeback? It turns out that several varieties are gluten-free, and most pack more protein and fiber than modern grains. The taste of these grains is "phenomenal," according to Maria, with each variety offering a difference flavor nuance, like honeysuckle, vanilla, or cinnamon. Maria also touts the flexibility of grains, which can be interchanged easily in cooking. Finally, while ancient grains typically have a longer cooking time, some, like freekah, bulgur, and quinoa, cook up just as quickly as white rice. That is a huge selling point for anyone interested in incorporating these into their cooking.
As part of a foodie event I was invited to, I received a copy of  Maria's book from her publisher, as did a handful of others. We were charged with making a recipe from the book to share when we got together. With no time to shop, I decided on the Oatmeal Butternut Pancakes with Browned Buttered Nuts because 1) I always have oats and nuts in the house, and 2) I had  some roasted butternut squash from my summer CSA taking up precious real estate in my freezer.
With my enthusiastic 9-year-old assistant by my side, I embarked on what turned out to be a very simple recipe. The night before, we made the batter for the oatmeal butternut pancakes in a food processor, then let it sit overnight in the fridge. Isn't that a gorgeous hue? It just screams Vitamin A. You eat this and your great grandkids will see better 🙂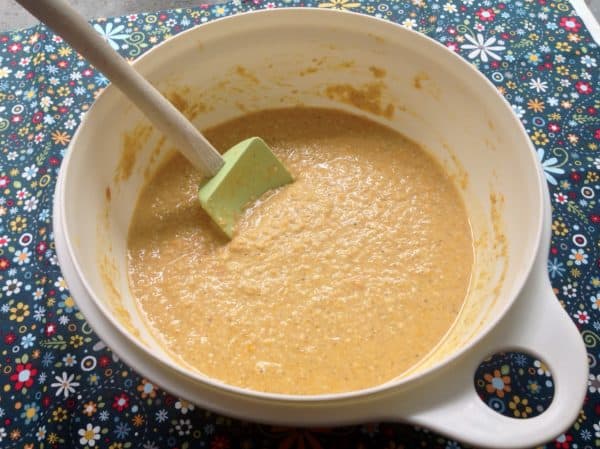 The next morning, I browned up the nut mixture, then packed up everything to cook up the butternut oatmeal pancakes at the Meal Makeover Moms' Kitchen. I made minor adjustments to Maria's recipe (below), based on the ingredients I had on hand. I used cashews and walnuts instead of the almond and pecans suggested, and freshly ground black pepper in place of Aleppo pepper.
The 'First Pancake' Principle
Cooking pancakes is cooking pancakes, no matter what ingredients are used. By that, of course, I mean the 'first pancake principle' was in full effect. Boy, that first one was ugly. But the rest of these oatmeal butternut pancakes? Gorgeous, and more importantly, so yummy. Take a chance on these, I know you'll love them!
~~~~~~~~~~~~~~~~~~~~~~~~~~~~~~~~~~~~~~~~~~~~~~~~~~~~~~~~~~~~~~~~~~~~~~~~~~~~~~~~
Oatmeal Butternut Pancakes with Browned Buttered Nuts
Reprinted with permission from Simply Ancient Grains by Maria Speck, copyright (c) 2015.
Published by Ten Speed Press, a division of Penguin Random House, Inc. Photography (c) 2015 by Erin Kunkel
Makes 12 to 14 pancakes (enough for 4-6 people)
Pancakes:
2 cups plus 3 tablespoons old-fashioned rolled oats
1 and 1/4 teaspoons ground nutmeg
1 teaspoon baking powder
1/4 teaspoon baking soda
1/2 teaspoon fine sea salt
4 large eggs
1 cup mashed roasted butternut squash
3/4 cup whole or low-fat milk, plus up to 1/4 cup more as needed
1 tablespoon maple syrup, plus more for serving
1/2 teaspoon vanilla extract
Browned Buttered Nuts:
1/4 cup (1/2 stick) unsalted butter
About 1/4 cup coarsely chopped toasted pecans
About 1/4 cup toasted slivered almonds
1 tablespoon golden or black sesame seeds
1 tablespoon nigella seeds (or more sesame seeds)
1/2 teaspoon Aleppo pepper, or 1/8 teaspoon dried chile flakes
Pinch of cayenne pepper
Fine sea salt
8 ounces soft mild goat cheese or cream cheese (optional), cut into 1/2 inch slices
Instructions for Making Oatmeal Butternut Pancakes
Step One: Make the Batter
Start the batter the night before, or at least 30 minutes ahead. Add the oats, nutmeg, baking powder, baking soda, and salt to the bowl of a food processor fitted with a steel blade. Process until you have oat flour, about 30 seconds.
Tip in the eggs and the squash puree and pour in the milk, syrup, and vanilla. Pulse until just blended and no chunks of squash remain, about five 1-second pulses. Then, transfer the batter to a large bowl, cover with plastic wrap, and allow to sit at room temperature for 30 minutes (or chill overnight).
Step Two: Prepare the Browned Buttered Nuts
When you are ready to make the pancakes, prepare the nuts. Add the butter to a 10-inch skillet or a medium saucepan, preferably stainless steel, and melt over medium heat. Cook, watching attentively, until the color turns golden brown, the butter smells deeply nutty, and the bottom of the pan fills with brown specks, 3 to 5 minutes. Add the pecans, almonds, sesame seeds, nigella seeds, Aleppo pepper, and cayenne and cook, stirring, until fragrant, about 1 minute. Immediately transfer the buttered nuts to a small serving bowl and sprinkle with salt to taste.
Place a wire rack inside a large rimmed baking sheet and transfer the sheet to the center rack of the over — this will keep the pancakes from getting soggy. Preheat the oven to 200 degrees Fahrenheit. Check the consistency of the batter. It will have thickened considerably. Gently stir in a few tablespoons more milk with a spatula until you have a thick, pourable consistency.
Step 3: Cook the Oatmeal Butternut Pancakes
Finally, to finish the oatmeal butternut pancakes, heat a large cast-iron skillet or a griddle pan over medium heat. Lightly grease the pan with olive oil. When a drop of water sizzles and briskly evaporates on the surface, add 1/4 cup batter per pancake, leaving space in between so you can flip them. Cook until the edges of the pancakes start to look dry and the bottoms turn golden brown, 2 to 3 minutes. Decrease the heat to medium-low if they brown too quickly. Flip and cook until golden and puffy, almost 2 minutes more. Transfer to the baking sheet in the oven to keep warm. Do not stack. Continue until all of the batter is used, greasing the pan lightly in between as necessary.
~~~~~~~~~~~~~~~~~~~~~~~~~~~~~~~~~~~~~~~~~~~~~~~~~~~~~~~~~~~~~~~~~~~~~~~~~~~~~~~~
About Maria Speck and "Simply Ancient Grains"
What's left to share with you? First of all, Simply Ancient Grains is gorgeous and the recipes are wonderful. After meeting Maria, who is charming and passionate, I can see her personality all over the book, especially in her 'fine points' at the end of the recipes. As if she's watching over your shoulder, she shares how to modify a spicy recipe for children, when it's OK to substitute an ingredients (and when it's really not), and simple tips like "Be sure to zest your lemon before you squeeze it. It makes life easier." You'll be in very good hands, with this book in your hands, if you'd like to explore some unfamiliar ancient grains.
In closing, I leave you with beautiful photos of the other dishes we sampled that day, with my friends Janice and Liz from the Meal Makeover Moms' Kitchen, as well as Rachel, Sara, and Kyle from Oldways. We cooked, learned, and then ate together. It was a wonderful lunch!
(L-R) Kyle, me, Rachel, Liz, Sara, and author Maria Speck (Janice is behind the camera)
Freekeh Salad with Caramelized Cauliflower and Tuna (a la Liz and Janice)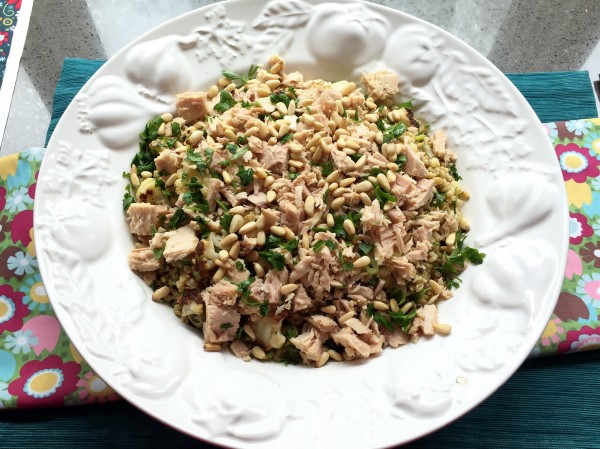 Photo courtesy Meal Makeover Moms
Bulgur with Chard and Saffron-Infused Yogurt – before we added the yogurt (a la Sara)

Lemony Millet Pudding with Caramelized Grapes (a la Rachel)

Photo courtesy the Meal Makeover Moms
Simple Maple Pudding with Farro Piccolo