Hello all and happy mid-summer! I'm back from two weeks in northern New England – first in coastal Maine, and then lakeside in Western Maine. Super relaxing with bits of fun here and there fit in, usually with one of these peanut butter and jelly muffins in my hand.
A hike up Bald Rock Trail in Camden, Maine led to some beautiful views: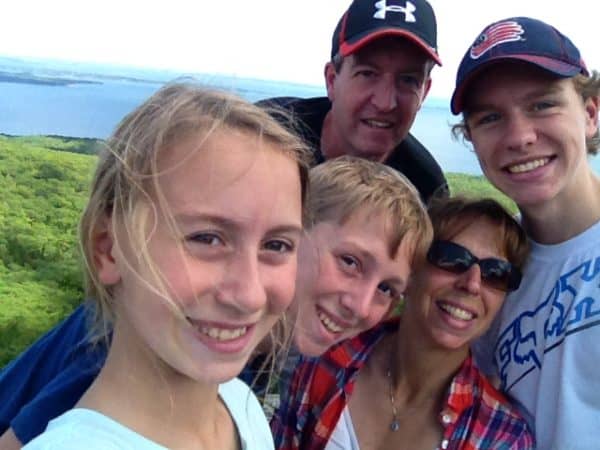 Later in the week, the stars aligned and all five of us got out in kayaks for a turn around Highland Lake (and I believe this is my husband's first ever selfie. Well done, honey!)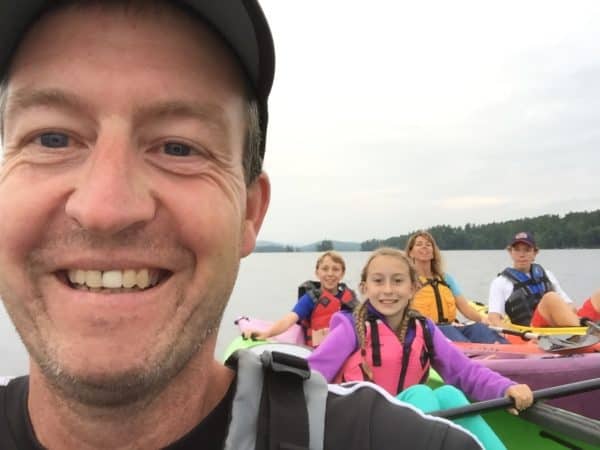 Now we're back home and enjoying summertime fun with the pool, and plenty of friends and family. Of all the visitors we've had so far, just one has been unwelcome – Lyme disease. Woe was me. While I  didn't intend to set aside the blog these past few weeks, the need to take it easy prevailed. I still can't decide whether it was the disease, or the treatment, that had me more down-and-out. All I can say is being unwell is THE PITS. However, I'm happy to report I'm back in top form and will soon enough be back to taking my good health for granted LOL 🙂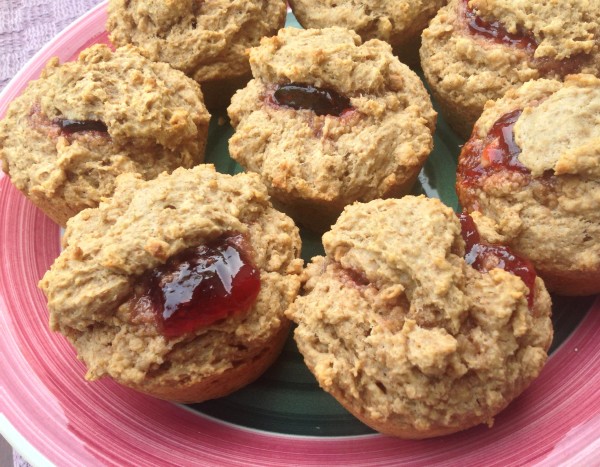 Today I'm sharing one of the few new recipes I played around with during those dark times 🙂 Baking always makes me happier, and PB&J is definitely a comfort food! So, with a fantastic homemade jelly on hand from my mother-in-law's pantry, I went old school with whole grain peanut butter and jelly muffins.
I made these twice, fiddling with the amounts of whole wheat flour and sugar after the first batch seemed more like a peanut butter 'biscuit' than a muffin (I still liked them a lot. The minions – not so much). In the second batch I substituted half the whole wheat flour for all-purpose flour, and boosted up the brown sugar by a couple of tablespoons. Sweeter, less heavy peanut butter and jelly muffins resulted and were consumed with gusto by all. Sweet success!
Recipe notes:
* I used natural peanut butter. If you're using conventional peanut butter (i.e., Skippy), the final product will be sweeter than my version, which was mildly sweet.
*Our favorite jelly is a spiced strawberry, but absolutely any kind will work here.
* These baked at 425 degrees Fahrenheit for 5 minutes, then turned down the oven to 350 degrees for the remainder of the cooking time. I believe this makes these peanut butter and jelly muffins 'puff up' more and makes a nice dome.
* I used about 2 teaspoons of jelly per muffin, then added a dollop of batter on top of the jelly. This is not mandatory, but I do believe it helps keep the jelly in place while it's baking.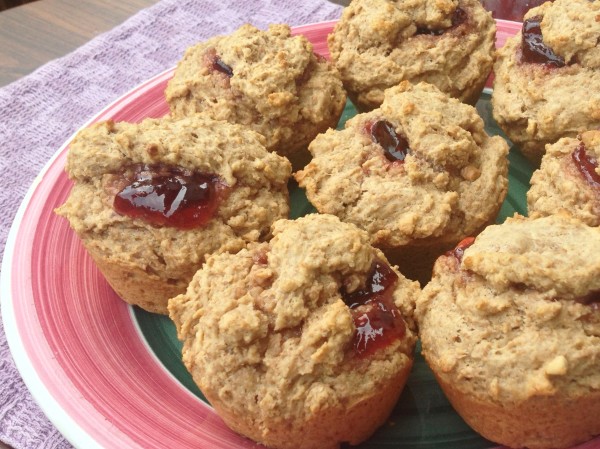 Whole Grain Peanut Butter and Jelly Muffins
Makes 10-12
Prep time: 15 minutes     Bake time: 15-18 minutes
1 cup whole wheat flour
1 cup all-purpose flour
1/4 cup plus 2 tablespoons brown sugar (packed)
2 and 1/2 teaspoons baking powder
1/2 teaspoon salt
1 egg, beaten
2/3 cup natural peanut butter
1 cup non fat milk
2 tablespoons butter, melted
Jam or jelly (any flavor), enough for 2 teaspoons per muffin
Nonstick spray
Preheat the oven to 425 degrees Fahrenheit. Prepare a 12-cup muffin tin with nonstick spray.
In a medium bowl, stir together the flours, brown sugar, baking powder, and salt. In a separate bowl, combine the egg, peanut butter, milk, and melted butter. Add that mixture all at once into the flour mixture, and stir just until all the dry ingredients are incorporated.
Fill each muffin cup about 2/3 full. (Make sure you set aside a little bit of batter to add on top of each muffin after you add the jelly.) Make a small well in the center of each muffin, and add about 2 teaspoons of jelly. Top each muffin with a dollop of batter.
Bake at 425 for 5 minutes, then (without opening the oven door), lower the temperature to 350 degrees. Continue baking an additional 10-13 minutes. The muffins are done when a toothpick inserted in the center comes out clean.
 ~ENJOY~