Looking for some warm comfort food to snuggle your insides?
I got you, babe. Here comes Spanish Brown Rice and Beans.  It's exactly the kind of one-pot dish you need to kick off your week. Zippy and filling, it's an absolute cinch to make. Better yet, it got the double-thumbs up from the boys and the hubs. They loved the bit of spice from the chili powder and cayenne, which complimented the rice, beans, and sausage perfectly.
What do I love about it, besides everything?
The nerdy dietitian in me loves that you got fiber coming at you from all directions.
I love that it delivers truckloads of B vitamins, protein, and minerals.
And, as I have told my kids, it's literally a bowlful of POWER. There's tons of energy in the form of carbohydrates, flanked by armies of antioxidant, disease-fighting nutrient ninjas just waiting on you to activate its abilities.
And three EASY steps is all it takes. Saute the onions and sausage. Pour in the rest of the ingredients. Simmer while you check Instagram.
That's it? How's that possible? We're going with the KISS principle, once again.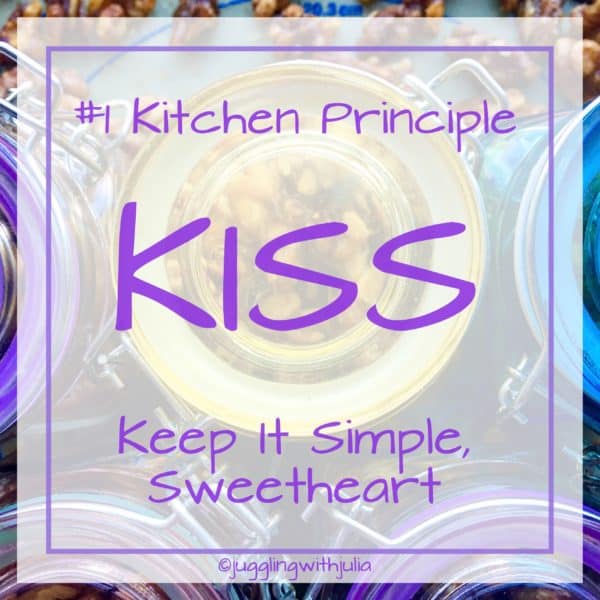 In a KISS kitchen, you use convenience items that won't require you to give up your good health principles.
–>frozen brown rice (best invention ever).
–>frozen chopped onions if you like (no tears? nailed it.)
–>canned tomato sauce (making your own is so last decade)
So….there's really no excuse. Make this!

Spanish Brown Rice and Beans
Serves 6
Prep time:     15 minutes         Cook time: 20 minutes
1 pound sausage, bulk (or removed from casings)
1/2 cup onion, diced
1 tablespoon olive oil
1 15-ounce can tomato sauce
1 15-ounce can small red beans, rinsed and drained
2 cups cooked brown rice
1 and 1/2 teaspoons chili powder
1 teaspoon cumin
1 teaspoon oregano
1/2 teaspoon salt
1/8 teaspoon cayenne
plain Greek yogurt* optional topping
sliced jalapeno* optional topping
hot sauce* optional topping
Heat oil in large skillet over medium-high heat. Add onions and saute 1-2 minutes, then add sausage and cook until browned, stirring occasionally (about 5 minutes more). Add the tomato sauce, beans, rice, and spices. Cover and simmer on low for 10-15 minutes. Serve warm topped with plain Greek yogurt, sliced jalapeno, and/or hot sauce.
Enjoy!