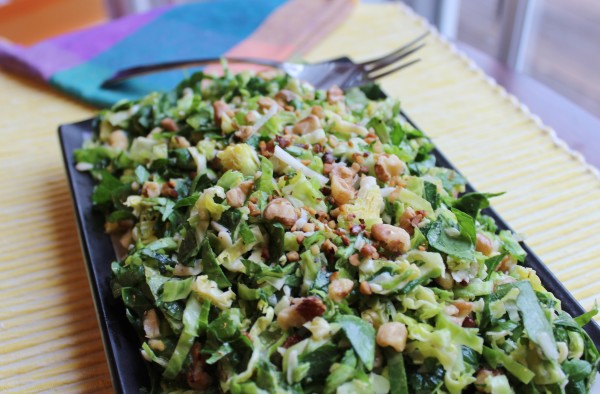 I'd like to keep a big bowl of this in my fridge to eat every day.
That's a direct quote, which got an enthusiastic nod of agreement from around the room. That makes Kale and Shaved Brussel Sprouts Salad hands-down the biggest foodie hit I've ever had with the book club pals. And that's saying something, since book club is where I debuted Salted Dark Chocolate Dipped Pretzels Stuffed with Pumpkin Cream Cheese Frosting .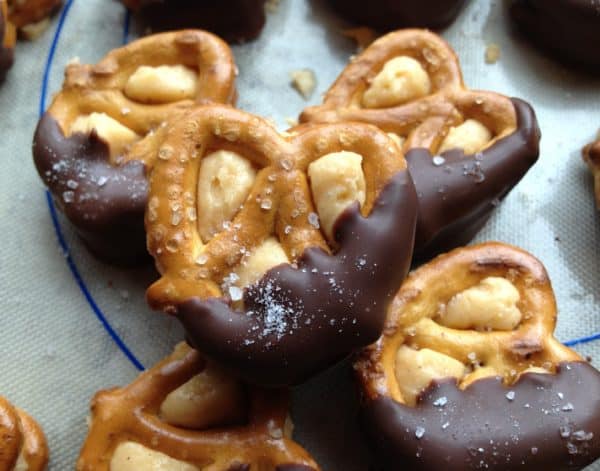 ohmygoodness…drool…swallow…
C'mon, girl! Focus!
Ahem.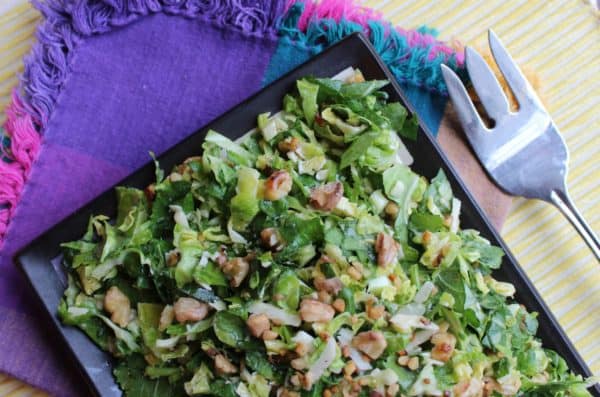 This salad is for REALZ, my friends.  Adapted from Once Upon a Chef,  I believe the secret to its success is the light and lemony dressing. It pulls together the greens, walnuts and Parmesan perfectly, and tenders the shaved Brussel sprouts just enough that no one will believe they are eating raw Brussel sprouts. My friends were flabbergasted. Flummoxed. Floored.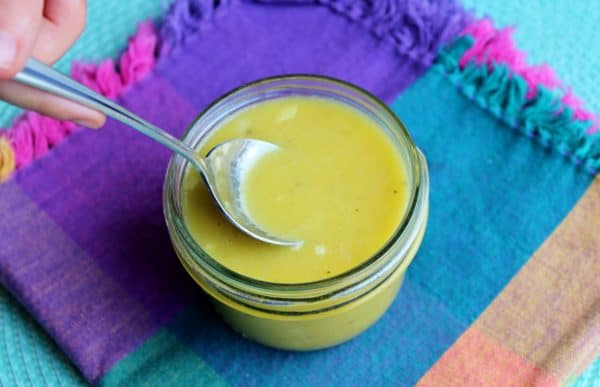 Not one for making your own salad dressing? You needn't be intimidated as it's as simple as could be. Squeeze a lemon, mince a bit of onion and garlic, and measure some olive oil and Dijon mustard. Add the salt and pepper, shake it up, and you're in business. It's a gorgeous color, tasty as all get out, and, aside from being a top-notch dressing, would dress up salmon or chicken perfectly as a marinade as well.
Shopping Tips to cut your prep time…
Buy shaved Brussel sprouts, if they're available. My Stop and Shop sold them in 12 oz packages (the perfect size for this salad).
Buy chopped walnuts, instead of shelled walnuts which you would then chop
Keep your lemon at room temperature, which will allow you to juice it more quickly. If you forget, and refrigerate it, pop it in the microwave for 10 seconds to warm it up.
Buy fresh Parmesan that is pre-grated. This recipe calls for a coarsely grated Parmesan, but you could use crumbled or a finer grate if that's what you can get.
Now you know all my secrets. Off to it. This salad ain't gonna make itself (though it almost could.)
(OK, one more secret: While the mavens of book club adored this salad,  my 14-year-old  had a contrary assessment. His critique? "I don't like it – tastes like dirt." I can only assume he was offended by the Parmesan cheese, which provides significant flavor. It's not for everyone! He loves the dressing, though, and drizzled some on his turkey sandwich this morning before school. Forgiven 🙂 )
Shaved Brussel Sprouts and Kale Salad
Adapted from Once Upon a Chef
Serves 8
Prep time: 15-25 minutes (depends on convenience items)    Rest time: 30 minutes
Salad:
12 ounces (2 1/2 – 3 cups packed) Brussel sprouts, sliced thinly
2 cups (packed) baby kale, chopped
3/4 cup chopped walnuts
3/4 cup coarsely grated Parmesan cheese
Lemon Dijon Vinaigrette:
1/2 cup extra virgin olive oil
1/4 cup freshly squeezed lemon juice (one lemon should do it)
1 tablespoon Dijon mustard
2 tablespoons finely minced sweet onion
1 clove garlic, minced
1/2 teaspoon salt
1/4 teaspoon ground black pepper
Start by toasting the walnuts. Heat a non-stick skillet over medium heat. Add the walnuts and spread out into a single layer. Stir occasionally, toasting them just until they begin to smell nutty (4-5 minutes). Remove from the hot pan to a plate to cool while you put together the rest of the salad. (You don't want your hot nuts cooking the greens, do you?)
To make the dressing, whisk together all the dressing ingredients in a small bowl. Set aside.
In a large mixing bowl, combine the Brussel sprouts, baby kale, walnuts, and Parmesan. If you like, save a small amount of Parmesan and walnuts to garnish the top of the finished salad.
Drizzle the dressing over the salad and toss gently. Let sit at room temperature for 30 minutes to allow the dressing to thoroughly settle in and soften the Brussel sprouts. Garnish with remaining walnuts and Parmesan if desired.
Serve at room temperature. Leftovers will keep for 2-3 days in refrigerator.
 Enjoy!