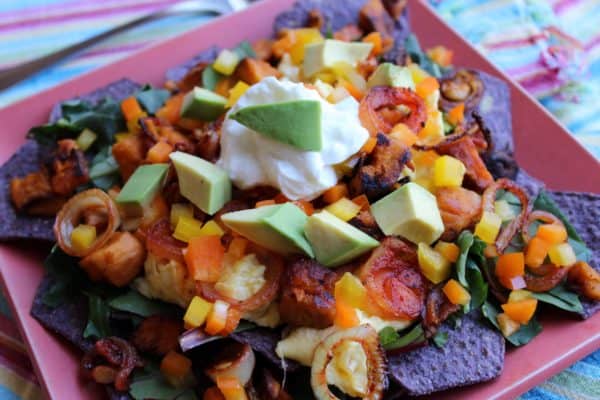 Rise and shine! Time to make the…breakfast nachos.
What? Start your day with nachos? In what galaxy is the favorite food of pub crawlers, sports fans, and margarita-infused shenanigan-makers considered a nutritious start to anyone's day?
In the Recipe Redux galaxy, my friends 🙂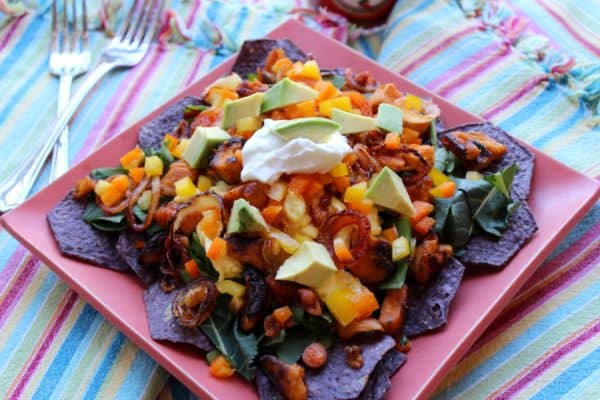 I'm so excited to be a part of the Recipe Redux, a monthly dietitian-inspired recipe challenge, where every healthy recipe deserves to be delicious (their motto. ridiculously on point.) You not only get a theme-inspired recipe from me, but quick and easy access to all the recipes from other foodie dietitians sharing their inspirations that day. So many!! Be sure to check them out at the bottom of this post.
For this month's theme we're breaking out of breakfast boredom. Nachos are anything but boring. Sure, they're sloppy and recipe-defying and flavor-bursting, but definitely NOT BORING. And today I'm delivering to you (virtually, of course) Breakfast Nachos with Egg, Spinach, and Spicy Fried Onions. BANG. This plate o' plenty has it all, including gobs of nutrition thanks to this stellar ensemble:
Crispy blue corn tortillas.
Fresh greens.
Protein-packed eggs.
Fried spicy onions.
Sweet bell peppers.
Roasted sweet potato.
Cool avocado.
Creamy Greek yogurt.

It's lacking only in all the things you won't miss anyway — saturated fat, a steep calorie count, and loads of sodium. You can adjust easily to your tastes by varying the spices, using different vegetables (I added roasted sweet potato simply because I had some leftover), or experimenting with add-ins like feta cheese, jalapeno, black beans, or WHATEVER.
No matter which way you go with it, you'll be loving every crunchy, spicy, satisfying bite.
Breakfast boredom is officially NACHO PROBLEM 🙂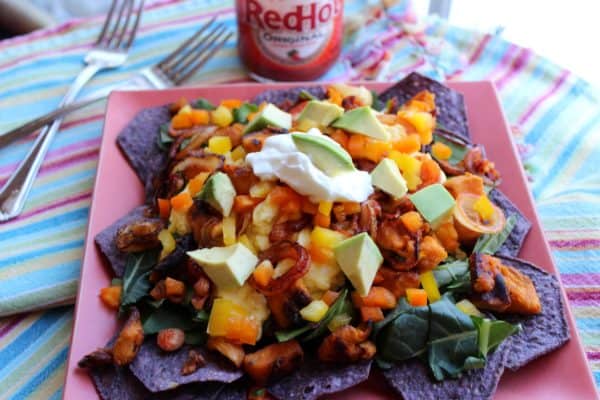 Breakfast Nachos with Egg, Spinach, and Spicy Fried Onions
Serves 2
Prep time: 10 minutes     Cook time less than 10 minutes
2 ounces blue corn tortilla chips (like Food Should Taste Good)
1 cup packed baby spinach
2 teaspoons olive oil
1/2 small onion, sliced thinly
Smoked paprika, to taste
Cayenne pepper, to taste
Salt, to taste
2 large eggs
About 1/2 cup leftover roasted sweet potato (recipe here)* optional
1/2 medium sweet bell pepper, diced
1/2 medium ripe avocado, pitted and cubed
1 heaping tablespoon plain Greek yogurt
Directions:
1) Arrange the tortilla chips on a dinner plate. Layer the baby spinach evenly across the top. Set aside. Be sure to have the diced peppers, avocado, roasted sweet potatoes, and yogurt ready to go — you'll want to add them as soon as you create the egg and onion layer, so you can eat it while it's hot!
2) In a small non-stick pan, heat the olive oil over medium-high heat. Toss the onion slices with a sprinkling of smoked paprika, cayenne (to taste – watch the kick!), and salt. Add them to the heated pan and saute until they are charring on the edges, about 5 minutes. Remove the onions from the pan and set aside on a small plate.
3) While the onions are cooking, crack the two eggs into a small bowl, add 2 teaspoons of water, and whisk until well combined. Once the onions are done and removed from pan, add the eggs to the pan and scramble, about 1 minute. Layer the hot scrambled eggs across the chips and spinach layer. Add the crispy fried onions. Add the sweet potato, bell pepper, and avocado. Top with plain Greek yogurt. Eat immediately.
ENJOY!