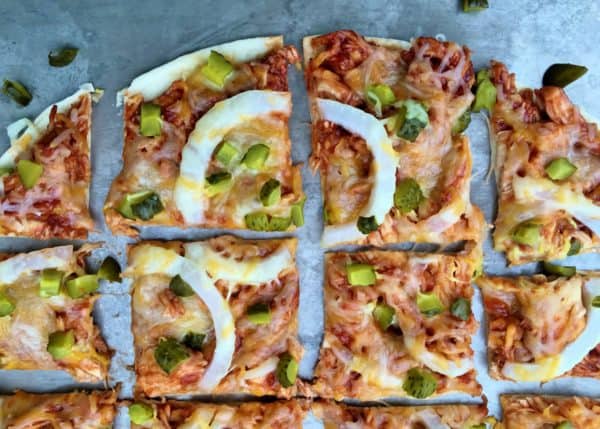 Hello, friends! It's Recipe Redux time! This month the theme is small bites, also know as appetizers, hors d'oeuvres, or tapas. Portion control in an adorably miniature package? A dietitian's dream 🙂
Since, at Juggling with Julia, we love anything in or on a flour tortilla, I'm sharing with you these savory Barbecued Chicken Flatbread Bites. These savory barbecued chicken bites, reminiscent of a flatbread pizza, made for an easy Saturday night meal for a few of us after a long day of multiple sports activities – an impressive collection of 3 soccer games, 1 track meet, and 18 volleyball games.
The beauty of small bites is that they can be quite simple to put together, requiring little time or effort. That's the case with these layered tidbits, which took just 10 minutes to assemble and just 15 minutes in the oven. Considering the exhausting day we'd just had, that was about all the effort I could muster anyway, so I'm pretty psyched this turned out to be the big winner of the day 🙂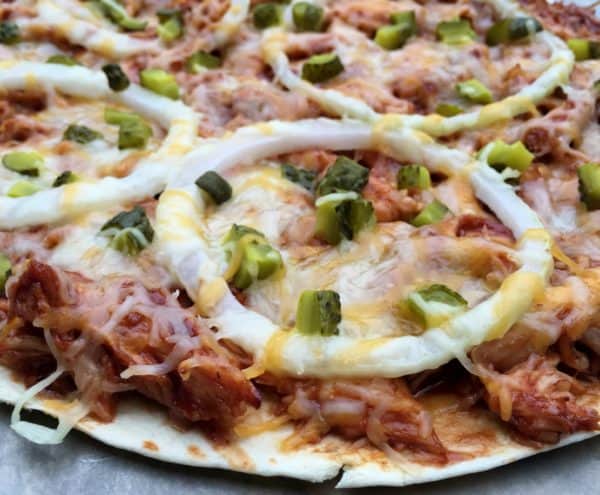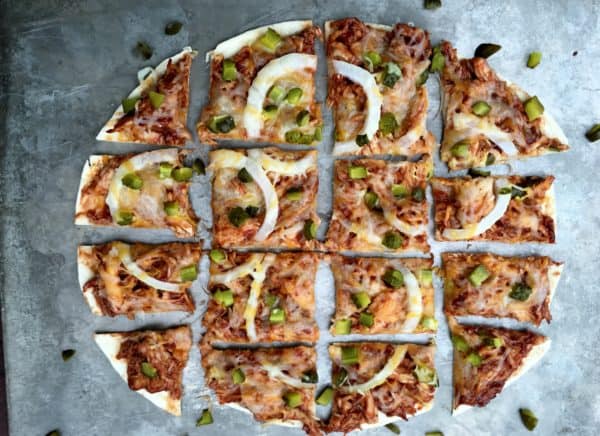 TIP: The recipe calls for cooked, shredded chicken breast. When starting with uncooked chicken, try steaming boneless chicken it for 20-22 minutes. You can do this either on the stove top in a steamer basket, or in your electric steamer.  Then, just shred the cooked chicken using two forks.
Barbecued Chicken Flatbread Bites
Makes 16 small bites
Prep time: 10 minutes     Cook time: 15 minutes
1 large flour tortilla (8-10 inches)
1 cup cooked, shredded chicken
1/3 cup prepared barbecue sauce
A few slices of sweet onion
Chopped kosher dill pickles
1/3 cup shredded cheddar cheese
Preheat oven to 325 degrees Fahrenheit
Place the flour tortilla on a cookie sheet. In a small bowl, mix together the chicken and barbecue sauce until well combined. Spread the mixture out evenly on the tortilla. Arrange the onion slices, then the chopped pickles, on top. Sprinkle the shredded cheddar evenly over the top. Bake for about 15 minutes, until the cheese is melted and edges of tortilla are browned. Allow it to cool for 5 minutes before slicing, grid fashion, into 16 bites.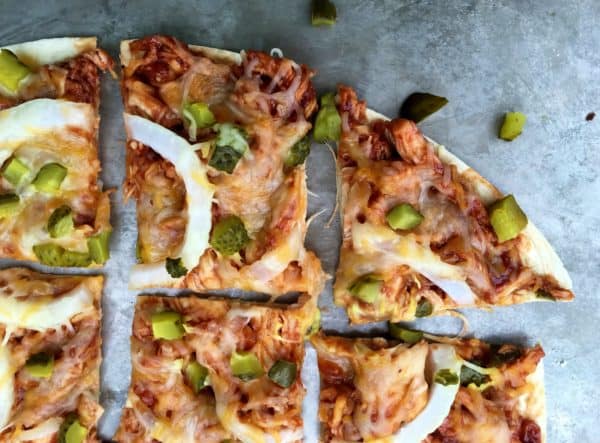 ENJOY!