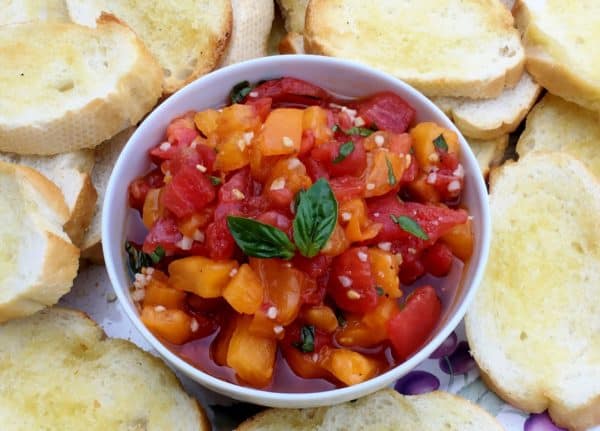 I love the Recipe Redux! Every month this fab group of foodies celebrates both tasty and nutritious food, and this month, we're getting all nostalgic with our first memories of being in the kitchen. We'll get to the mouth-watering Summer Bruschetta shortly, but first, let's hop in the time machine and go way, way back, because all of my earliest memories in the kitchen involve my mom.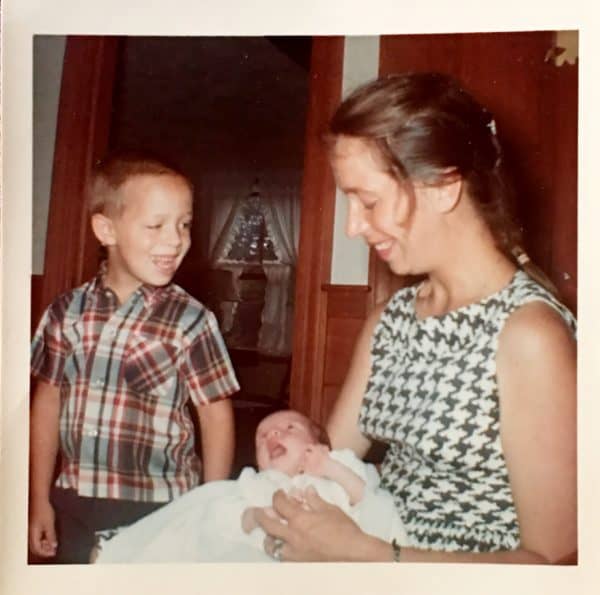 There I am! Just a baby, but, as you can see, I already love to eat as my mouth is wide open. That's my sweet momma, with my funny and entertaining big brother looking on. It's 1967 and I'm adored by all.
That turns out to be just a phase, when lil' sis comes on board in '71 🙂
Oh how I wish I had photos of us in the kitchen. I spent so much time 'helping' my mom while she cooked and baked. When she made bread, the aroma of molasses and yeast filled the house with loaves of oatmeal, sweet anadama, and crusty white bread. I helped as well as a wee tike could, standing on a chair to measure, sprinkle, and stir. I tried my hand at kneading, thrilled to be allowed to touch the dough, but my little arms quickly fatigued and my mom took over. She would knead and knead and then knead some more. It was quite the workout!
Note: This was a good 15 years before the first in-home single loaf bread machine. She was the bread machine, and had the biceps to prove it (which I'm sure aided her tennis game immensely).
Flash forward a few years, and we're dropping my sister and brother off at college. My mom made a few loaves for them to take back to the dorm. That alone made me want to go to college some day – for a whole loaf, to myself, of my mom's homemade bread!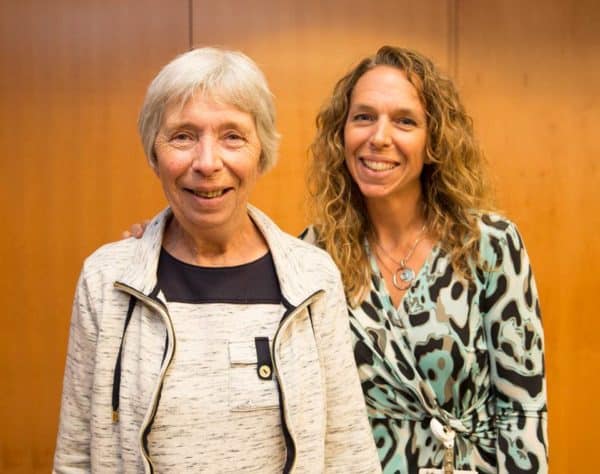 Here's me with my cool mom today – almost 50 years later – on Take Your Mom to Work Day 🙂 She still loves to bake (and play tennis), and a week doesn't go by that she isn't making something yummy to share with my family. But not bread anymore, boo hoo. Oh, if only I could get her to make some of that bread now, it would go SO GREAT with this summer bruschetta.
Bruschetta happened because tomatoes happened. We've been overrun with tomatoes of all varieties, thanks to our farm share, as well as our own unexpectedly successful container gardening.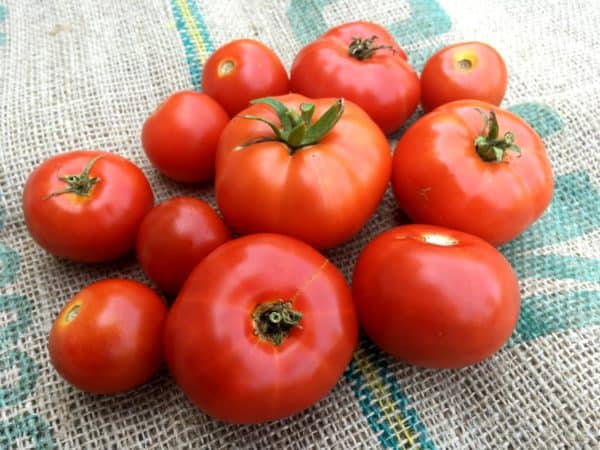 Needing to use up as many as I could while they were fresh, I went with an easy bruschetta, inspired by this recipe and tried it out on friends at an end-of-summer cookout. It was a hit!
Summer Bruschetta
Makes: ~2 cups
Prep time: 20 minutes          Cook time: 4-6 minutes
2 pounds tomatoes (I used a variety of sizes and types)
3 tablespoons plus 1 tablespoon olive oil, divided
1 teaspoon balsamic vinegar
8-10 basil leaves
2 teaspoon minced garlic
1 loaf French bread (or similar long skinny loaf bread)
First, blanche the tomatoes:
In a large saucepan, add 2 quarts of water and place on stove on high. Bring to a boil. While the water is heating, make a criss-cross shallow cut on the non-stem end of each tomato. Add tomatoes to the boiling water and blanche for one minute. Remove to a plate using a slotted spoon and allow to cool slightly.
Preheat oven to 450 F. While tomatoes are cooling, cut the bread loaf diagonally in 1/2 inch slices. Brush one side with olive oil and arrange them oil-side down on a baking sheet. Toast for 6-8 minutes, or until the edges are lightly browned.
When the tomatoes are cool enough to handle, pull the skins off with your fingers. Cut each tomatoes in quarters and remove the seeds. Chop tomatoes and move to small bowl. Add the minced garlic, 1 tablespoon olive oil, and the balsamic vinegar. Add salt and pepper to taste.
Serve with the toasted bread slices.
Save