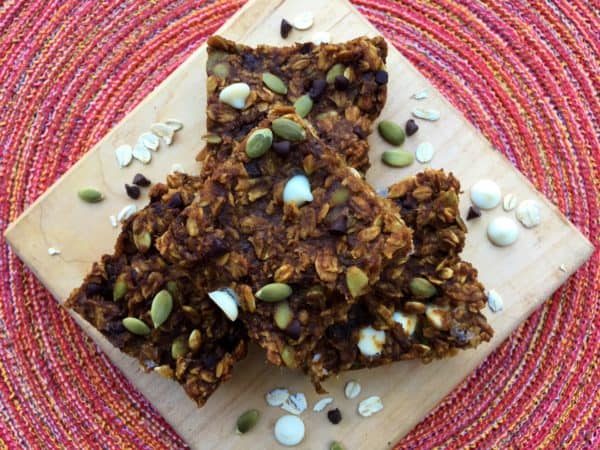 All Things Pumpkin
Crispy leaves underfoot, cool sunny days, and soccer, soccer, soccer? That can only mean one thing – autumn is in full swing, and Halloween isn't far away! Pumpkin Monster Bars embrace everything I love about this time of year, like cozy evenings, my favorite sweatshirt, baking, and all things pumpkin. Make these delicious morsels soon! Your lunchbox, snack time, and even breakfast just got a little sweeter.
While traditional monster bars can be packed with butter and sugar, these little lovelies were given a nutrition makeover. Thanks to the oats and pumpkin, they're LOADED with fiber, vitamin A, thiamin…all those great things the Surgeon General goes on and on about.
What else? I've limited the butter to just 1/4 cup. "But how can that be?" you ask. It's the pumpkin, which works overtime in providing so much moisture that these babies don't seem lower fat at all.  Pumpkin seeds add pop! not to mention a bajillion important nutrients, like protein, vitamin E, magnesium, B vitamins, and manganese!
Does someone you know have celiac disease or otherwise needs to avoid gluten? This recipe is easily made celiac-friendly simply by using gluten-free oats.
Don't think for one second I've forgotten the fun factor. There's just enough white and semisweet chocolate chips here to deliciously confuse you. What is this sweet morsel?  A snack? Dessert? Breakfast?
All of the above, my friends 🙂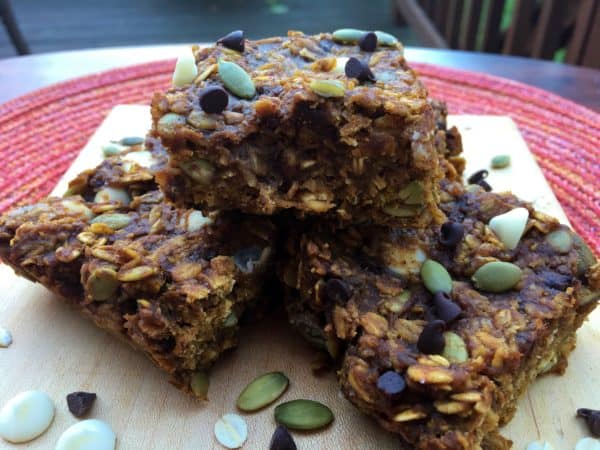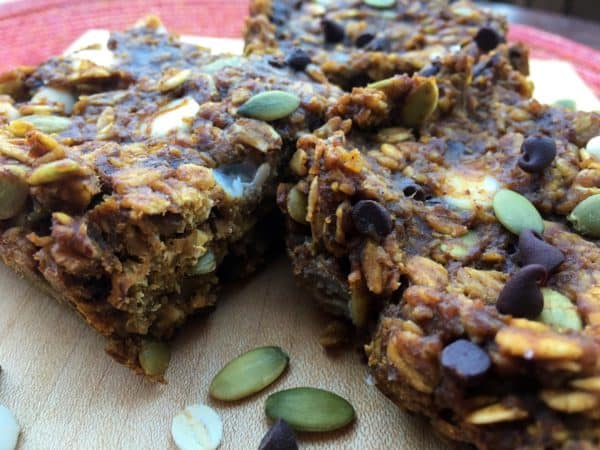 My teenage monsters enjoyed these Pumpkin Monster Bars as an on-the-go for their packed lunches. I, however, enjoyed them in the early morning, alongside my cold-brewed iced coffee. Slightly warmed, with a dab of butter and a drizzle of maple syrup? I. Can't. Even.
*Note, if you have pumpkin pie spice on hand, you can use 2 teaspoons as a substitute for all the cinnamon, ginger, nutmeg, clove, and allspice.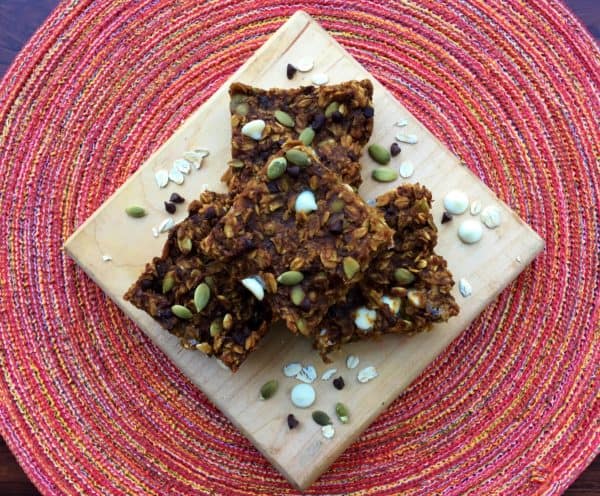 Pumpkin Monster Bars
Makes 16 servings
Inspired by Nutrition Eats
Prep time:  15 minutes     Cook time: 25-30 minutes
2½ cups old-fashioned oats (gluten-free oats if necessary)
1 teaspoon cinnamon
1/2 teaspoon ginger
1/8 teaspoon each ground nutmeg, cloves, and allspice
1 cup canned pumpkin
2 large eggs
1/4 cup butter, melted
1/4 cup dark molasses
1/4 cup, packed, brown sugar
1 teaspoon vanilla
1/3 cup pumpkin seeds
1/4 cup white chocolate chips
1/4 cup mini semi-sweet chocolate chips
Preheat oven to 350 degrees Fahrenheit and spray an 8×8 pan with cooking spray. Set aside.
In medium mixing bowl, add the oats and spices and give a quick stir just to incorporate the spices. Add the pumpkin, eggs, butter, molasses, brown sugar, and vanilla, and stir well until completely combined. Stir in the pumpkin seeds and the white and semi-sweet chocolate chips.
Pour batter into the prepared pan. Bake for 25-30 minutes. The bars are done when a tooth pick inserted 1″ from the edge comes out mostly clean. Allow the bars to cool in the pan for 15 minutes prior to cutting.
Storage: wrap individual bars in plastic wrap, for a quick grab-n-go snack or breakfast bar all week long.