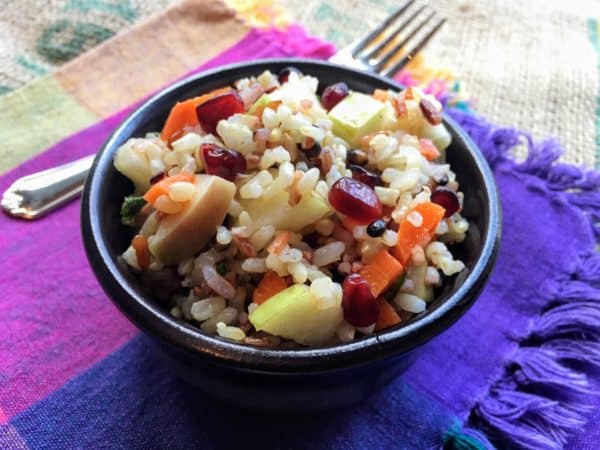 I love a delicious dish that keeps on giving, don't you? This Apple Pomegranate Grain Salad with a quick Lemon Maple Vinaigrette does just that. It's a fresh, easy salad  that works in so many ways, such as…
♦ A side dish for your weeknight supper
♦ A  beautiful addition to your lazy brunch
♦ The main event in your light lunch
It's wholesome and so packed with nutrition, it's hard to know where to begin…but I'll try! (Scroll down a bit if you want to go straight to the recipe!)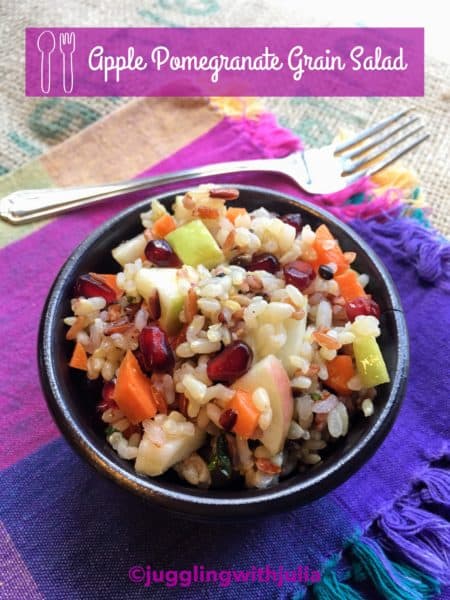 Grains: Get your fiber, B vitamins and protein here!
I went for brown rice because we always have it on hand ('minute' type brown rice and frozen brown rice are both indispensible pantry items, IMHO) However, there are plenty of whole grains to choose from – bulgur, barley, whole wheat couscous – really whatever you like. Many whole grains are gluten-free, too, if you desire that – grains like brown rice, wild rice, quinoa, and buckwheat to name just a few.
Fruits: Antioxidants to the MAX!
Pomegranate seeds and diced apple add sweetness and crunch and are the namesakes of this Apple Pomegranate Grain Salad. Apples, thankfully, seem to be abundant year round. If you miss pomegranate season, though (in the U.S. it's hard to find them after early February), then you can always use dried cranberries or dried cherries instead. But don't delay! Make this soon. Like now 🙂
Veggies and Beans: More Fiber, More Crunch, More Protein
Carrot and red onion, standards in many of my salads, bring that yin/yang with their sweet vs spicy vibe. Edamame adds a pop of color, along with significant protein and fiber. Other veggies and beans that would work well include sweet bell peppers, leeks, scallions, peas, small red beans, black-eyed peas, or chickpeas. Fresh parsley is entirely optional, but adds such a nice fresh green flavor (does green have a flavor??) that I really love.
The Dressing: Maple and Lemon and Everything Nice
The more I make my own dressings, the less I want to use the bottled kind. While I can't argue that they're a ridiculously convenient go-to that supports your healthy salad-eating habits, they don't compare in taste to homemade versions. Here I use a simple Lemon Maple Vinaigrette, a tart/sweet vinaigrette that compliments the opposing flavors in the salad.

Apple Pomegranate Grain Salad with Lemon Maple Vinaigrette
Serves 6-8 as a side
Salad
2 cups cooked brown rice (or whole grain of your choice)
1/2 cup edamame
1/2 cup diced carrot
1/3 cup pomegranate seeds
1/3 cup diced apple
1/4 cup diced red onion
2 tablespoons chopped fresh parsley
Dressing
2/3 cup extra virgin olive oil
1/3 cup lemon juice
1 tablespoon maple syrup
salt and pepper to taste
Put all salad ingredients into a bowl and mix gently (you don't want to burst those pomegranate seeds). Set aside.
In a small jar with secure lid, put the olive oil, lemon juice, and maple syrup. Shake well, then taste. Add salt and pepper as desired. Drizzle the desired amount of dressing over the salad and stir gently. Serve at room temperature, or chill and serve cold.
Any leftover salad will stay fresh for 2-3 days if refrigerated. Use any remaining salad dressing to freshen it up if necessary (the rice absorbs much of the dressing over time).