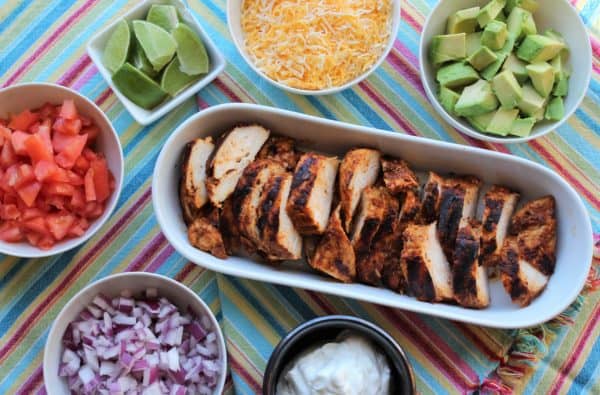 It's Taco Tuesday! Let's nosh on some Smashed Chipotle Chicken Tacos while we laugh about my uber-professional food photography studio. It comes fully equipped with its own 'man in slippers' and the ever-fashionable faux stool made to look like a broken dining room chair. The 'casual clutter' option is extra, but regrettably does not include a maid.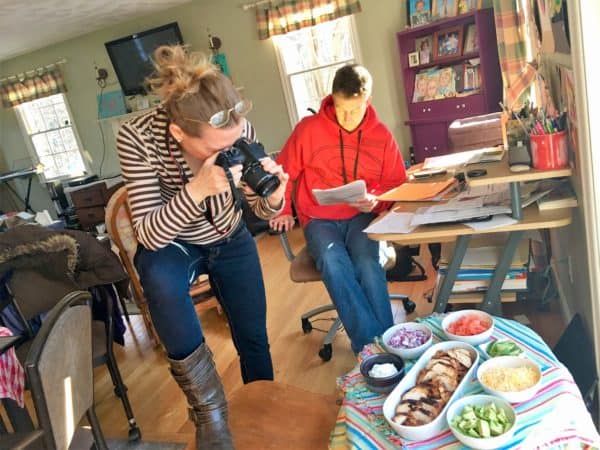 Why are they smashed tacos? Simpy put, I prefer nachos 🙂 But, the Recipe Redux theme is Taco Tuesdays, and so I oblige, sort of. Not to fear, though. Even if you like your tacos whole and hand-held, or in veggie-rich salad form, this recipe for Chipotle Chicken Tacos will get you there. It's the kickiest, most flavorful chicken ever. And I mean, like, ever.
What is a chipotle pepper, anyway?
A chipotle pepper is a smoke-dried jalapeno pepper. Often they are packed in adobo sauce, which is a spicy tomato sauce with paprika and other spices. They are used frequently in Tex-Mex and Southwestern recipes. This recipe uses just the adobo sauce from a small can of chipotle peppers. (save the peppers to chop and put in your chili this weekend!)
Smashed Chipotle Chicken Tacos – recipe notes:
The only real cooking involves marinating and cooking the chicken. Otherwise, this is all prep and assembly.
Save the canned chilis you took from the adobo sauce by chopping them and freezing in small amounts (an ice cube tray works great). Add a cube of these spicy babies to your next chili or Southwestern themed soup for a nice kick!
Marinate the chicken for as little as 2 hours. Much of the sauce stays with the chicken, so the flavor is significant.
I grilled the chicken using the George Foreman grill, for a total of 6 minutes. Adjust time as needed for your indoor or outdoor grill. You can also bake in oven, in a pan covered with foil, at 350 for about 25 minutes.
Prep all but the avocado as far in advance as you like.  Just chop the avocado while the chicken is cooking; squeeze with lime juice to keep it from browning.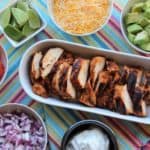 Smashed Chipotle Chicken Tacos
Even if you like your tacos whole and hand-held, or in veggie-rich salad form, this recipe for Chipotle Chicken Tacos will get you in the mood for some kickin' chicken. Ole!
Total Time
2
hours
10
minutes
Ingredients
Chipotle Chicken
7

ounce

chipotle peppers in adobo sauce

sauce only

1

tablespoon

chipotle chili powder

halve this for less heat

1/2

teaspoon

salt

1

teaspoon

ground cumin

1

teaspoon

dried oregano

1

teaspoon

onion powder

1

clove

garlic

minced

3

tablespoons

olive oil

extra virgin

1.5

pounds

boneless chicken breasts

trimmed and pounded to 1/2 inch thickness
Toppings
Your favorite tortilla chips

Shredded cheese

Avocado

Diced red onion

Diced tomato

Lime wedges

Plain yogurt
Instructions
Preparing the marinade
Mix together the adobo sauce, chili powder, salt, cumin, oregano, onion powder, minced garlic, and oil. Add marinade and chicken to a sealable plastic bag and shake well to fully coat chicken. Place bag in small bowl, and set in refrigerator to marinate for 2 hours or more.
Grilling the chicken
Preheat your indoor or outdoor grill and prepare with spray oil. Remove the chicken from the bag, shaking off excess marinade. Grill chicken 3-4 minutes per side, or until no longer pink inside. Slice chicken on the diagonal, or shred if desired. Set aside.
Assemble your 'smashed' tacos
Layer tortilla chips and shredded cheese on a microwavable plate until cheese melts (20-30 seconds). Top with chicken, tomatoes, onion, and avocado. Finish with a dollop of yogurt and a squeeze of lime juice.
Smashed Chipotle Chicken Tacos for the win!
This post is inspired by The Recipe Redux.
Be sure to check out the many varied taco ideas from my talented foodie cohorts below!
Save
Save
Save