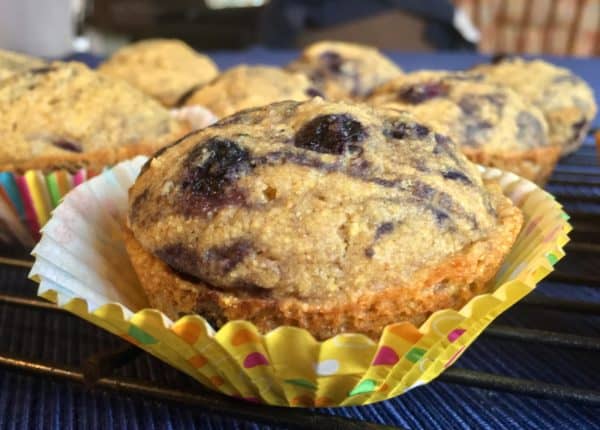 Weekend baking at its blueberry best! These whole grain Blueberry Corn Muffins, lightly sweet with that delicate crunch, are just waiting to be drizzled with a little honey. Then you you can scarf them down with load of cold brewed iced coffee. Or espresso, or your fave Dunks, or that caramel makka-mookie thingy from Starbucks.
Gosh, how did our beverages get so complicated?
Muffins, thankfully, are not complicated. It's hard to mess them up, especially if you avoid the 3 deadly sins of muffin-making.
What's that? You aren't familiar with these muffin no-no's?
The 3 Deadly Sins of Muffin Making (according to Juggling with Julia)
NEVER pack the flour when measuring. Too much flour = heavy muffins.
NEVER over-stir the batter. Gluten development = tough muffins.
NEVER store them when warm. Warm muffins trapped = soggy muffins.
That's it. Simple, right? And true for every muffin recipe on my blog. Which equals more than a dozen, so...
Get ready.
Get set.
BAKE!**
**An homage to my current obsession – The Great British Baking Show, where the food puns are rampant, the competition is impeccably polite, and the weather is typically overcast with a chance of dreary.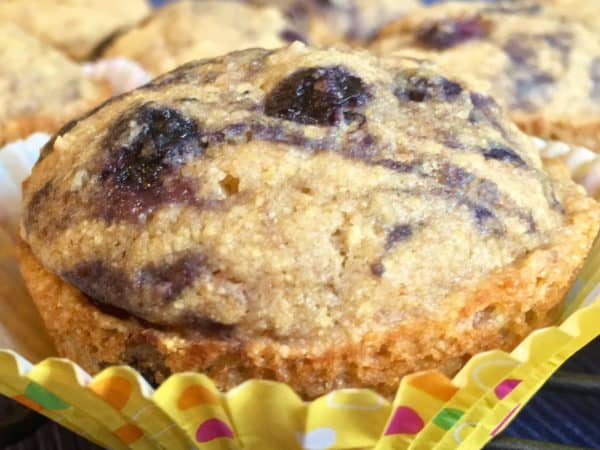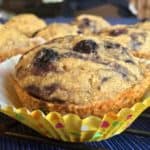 Whole Grain Blueberry Corn Muffins
These whole grain Blueberry Corn Muffins, lightly sweet with that delicate crunch, use whole wheat flour, buttermilk and fresh blueberries. Perfect with honey drizzled on top!
Ingredients
1

cup

corn meal

1

cup

whole wheat flour

2

teaspoons

baking powder

1/4

teaspoon

salt

1/3

cup

butter

melted

1/3

cup

brown sugar

1

cup

buttermilk*

1

egg

beaten

3/4

cup

blueberries
Instructions
Preheat oven to 400 degrees Fahrenheit. Grease the wells of a standard 12-cup muffin pan.

In a medium bowl, add the corn meal, flour, baking powder, and salt. Whisk to combine and set aside.

In a separate bowl, add the melted butter and brown sugar and stir until the brown sugar is fully incorporated. Next, whisk in the buttermilk and egg until all are well combined.

Add this butter mixture to the flour mixture. Stir just until all dry ingredients are moist. Do not overstir.

Portion the batter into the muffin pan, filling each well about 3/4 full. Bake for 16-20 minutes. Tops will no longer be sticky and will spring back slightly when touched.

Remove from pan and cool completely before storing in an airtight container.
Recipe Notes
*If you do not have buttermilk, you can substitute by 'souring' regular milk. Add milk to 1 tablespoon of white vinegar or lemon juice until the liquid equals 1 cup. Stir then let sit for 5 minutes before adding to recipe.
ENJOY!