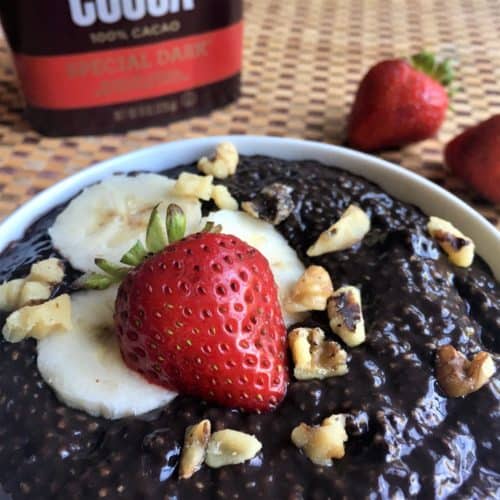 Dark chocolate chia pudding with cinnamon and sea salt. Yes, that is one decadently dark and delicious dish, and as simple as can be.
Question: are you way ahead of me when it comes to chia seeds? It's been the IT ingredient for, like, forever. The smarties of the world have been sprinkling it on their yogurt parfaits and salads and making all kinds of puddings with it for ages. Maybe you're one of those smarties.
Me? I'm all about resisting the 'new' until it's proven itself. (Like waiting until the iPhone 6 was well established before replacing my ancient, gasping-for-breath iPhone 4. LOL.) So, I'm over here waiting for the chia seed to establish itself, only to find out it's been around since the Aztec and Mayan people were a thing.
Joke's on me, haha!
Why is the chia seed so popular as an ingredient?
Chia seeds are popular because in this tiniest soldier of health you have a seriously fantastic nutrition profile. Sprinkle just 2 tablespoons of chia seeds on your salad and you've added 10 grams or fiber, 5 grams of protein, and a whopping 4,500 milligrams of omega-3 fatty acids. It also has a decent dose of calcium, and emerging research indicates it may have a positive impact on cardiovascular health, too.
But, you only get ONE SHOT at success when introducing a new food to the family so you gotta do it right.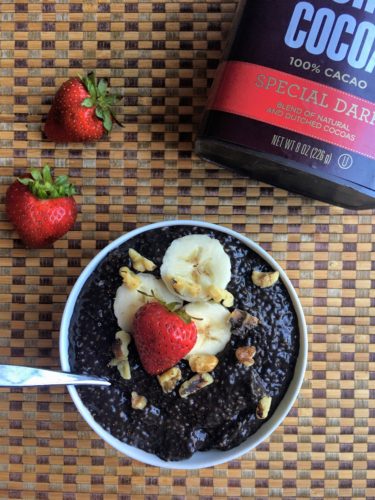 What better way to introduce chia seeds to the family then in dark chocolate chia pudding?
It's hard to go wrong with chocolate in my house. It's featured prominently in some of our all-time favorite recipes, including these chocolate chocolate chip zucchini muffins and chocolate snickerdoodle cookies. So, when I announced the makings of dark chocolate chia pudding, you'd think they'd be swarming the fridge, right? Ironically, though, thanks to our in-and-out backwards summer schedules, my foodie teenager and I are the only ones who had the chance to enjoy this delish pudding before it was gone. There was no 'saving' it for everyone to try. We're apparently more cut-throat than that 🙂
We loved it. Like, a lot. So, as soon as I replenish my dark cocoa powder supply, there'll be more to eat, and share (or not share).
The best part about chia pudding is that it's ridiculously easy to make.
As you know, simplicity is the name of the game when it comes to kitchen capers. For this easy treat, all you need are 7 ingredients, and a few minutes to put it all together. Then, you wait a few hours for the chia seed to do their gelatinous magic.
Ingredients of note: I used Hershey's Special Dark cocoa powder, but you can swap out dark chocolate powder for regular cocoa if you like. While I used lactose-free lowfat cow's milk, you could try almond or soy milk or whatever milk alternative you use. The key to the pudding-like consistency is getting the chia-to-liquid ratio right. The proportions in this recipe worked like a charm for me.
The only question remaining is whether you will eat this decadent dish for dessert, or for breakfast? That, my dear, is entirely up to you.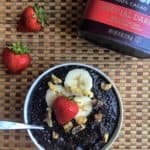 Dark Chocolate Chia Pudding with Cinnamon and Sea Salt
A rich, creamy chocolate pudding with a hint of cinnamon and sea salt.
Ingredients
1 1/2

cups

lowfat milk

or alternative milk of choice

7

tablespoons

chia seeds

1/4

cup

dark cocoa powder

unsweetened

3 or 4

tablespoons

maple syrup

to taste

1/2

teaspoon

vanilla extract

1/4

teaspoon

sea salt

1/4

teaspoon

ground cinnamon
Instructions
Combine all ingredients in a medium bowl, using just 3 tablespoons of maple syrup.

Whisk vigorously until all are evenly combined.

Taste and adjust sweetness if necessary, by adding up to 1 additional tablespoon of maple syrup.

The pudding will be set in about 4 hours, or can be left to set overnight. Serve with sliced fruit, granola, and/or nuts.