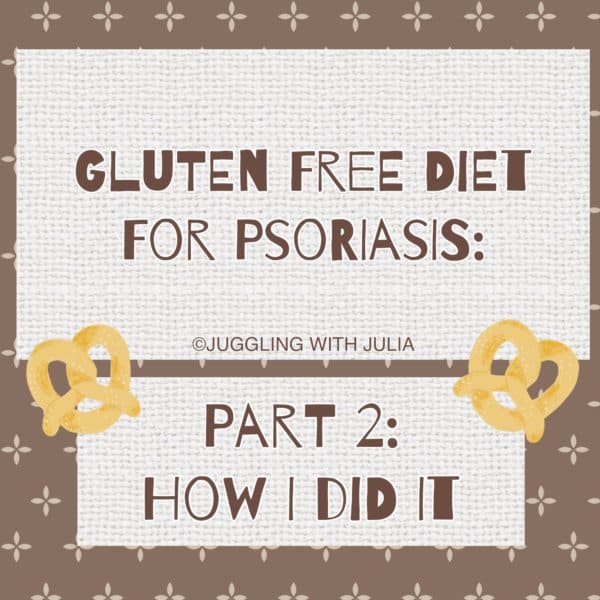 Welcome to Part 2 of my experience with a gluten free diet for psoriasis. If you missed it, you can read Part 1 on Why I'm Giving it a Try.
Today I'll be sharing how I went about shifting to the gluten free diet. You can be sure I did a ton of research on psoriasis  as well as the gluten link – I wasn't about to make a huge change to my diet without cause. Interestingly, the more I research, the more I realize that psoriasis is much more than a simple skin condition.
A quick snapshot of what we know about psoriasis:
Psoriasis is one of the most common autoimmune diseases, affecting 3% of U.S. adults – about 6.7 million people. Kim Kardashian, Jon Lovitz, and LeeAnn Rimes all suffer this condition – so we're in good company!
There is no cure for psoriasis. You can manage the symptoms, though, which often appear as dry scaly patches of skin that can be itchy and/or painful. Conventional treatments include medication and UV light therapy. If only it were as simple as prescribing more beach time 🙂
Some alternative/complementary therapies can given some relief. Yoga and tai chi, for example, can reduce stress, a common trigger for worsening symptoms. Dietary supplements such as omega-3 fatty acids may also help.
Research indicates that about 25% of people with psoriasis are also sensitive to gluten. In this case, the adoption of a gluten free diet may help reduce symptoms.
I was curious to see if a gluten free diet made a difference with my psoriasis. Switching over to gluten free eating involved a series of revelations for me.
Revelation #1:
Let's be clear I could never have attempted a gluten free diet but for this one simple truth: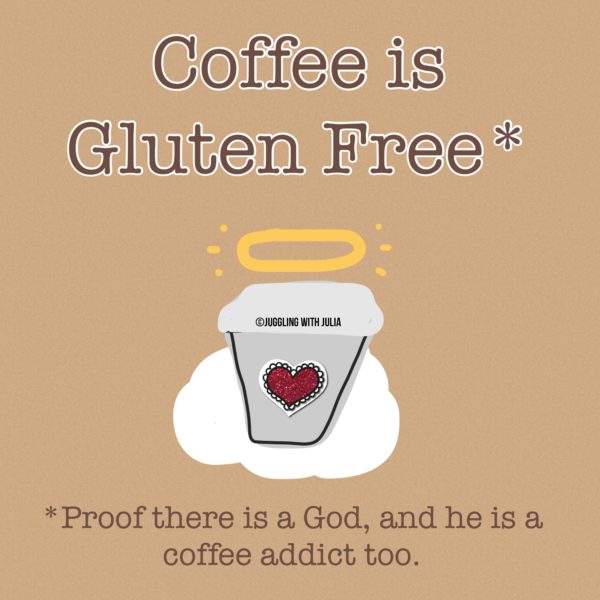 With that touchy business of coffee (aka Life Liquid) out of the way, I focused on actual food, which led me to…
Revelation #2:
It was a relief to realize that much of my everyday foods are naturally gluten free. While I never really thought about it before, my regular diet of veggies and salads, dried fruit, nuts, chicken/fish/beef/pork, eggs, rice and potatoes all fit into this new lifestyle with ease. Yay! Simple is my favorite way to eat 🙂
Revelation #3:
Gluten-free oats were going to be at the top of my grocery list, since my fave go-to breakfast is oatmeal with walnuts, raisins, and maple syrup.
Fine, and butter.
Yes, I put butter in my oatmeal.
     Shut up.
No, you shut up.
     But you're a DIETITIAN.
I know. But it's damn delicious. Leave me alone. #baddietitian
     Now I get the hashtag.
Revelation #4:
If I'm having actual dreams (and truly thrilling dreams at that) about sneaking a buttery toast crust from my kid's leftover breakfast, it's pretty clear I need to stock up on some gluten-free bread. I'll warn you, the sticker shock can be pretty severe – I am paying twice as much for a loaf half the size of our typical loaf of whole grain bread. However, the quality is good and so I extend my thanks to Glutino  and Udi's Gluten Free brands. They've allowed me to satisfy my apparently overwrought love of toast.
Revelation #5:
I discovered I really missed baking. After several weeks, my sub-conscious was playing a running loop of baked goods in my head…inches of buttercream on fluffy layer cakes, warm chocolate chip cookies, deadly dark brownies with huge chocolate chunks…yes, I'm seriously afflicted.
I finally bought some all-purpose gluten free flour. I've made muffins several times, and now I'm ready to move onto the decadent stuff! I'm thinking of these gorgeous beauties…Chewy Double Chocolate Cookies.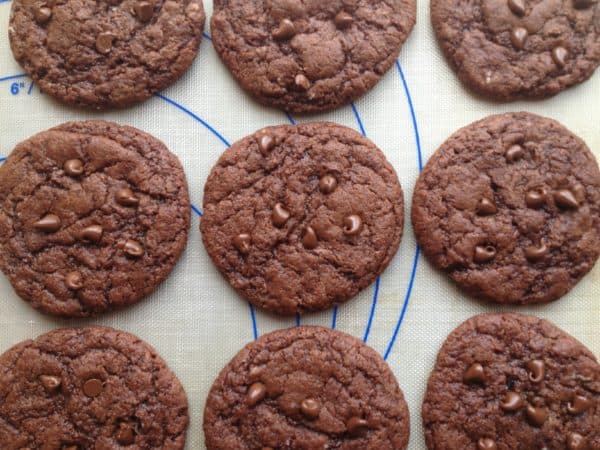 Revelation #6:
I had to become more of a planner than ever before. This is hard for someone who finds it 'exciting' to have life sprung upon her, rather than to know what's coming next 🙂
The planning comes into play primarily in these 2 ways:
I spend a lot of time reading ingredient labels to look for sources of hidden gluten. This also means I spend more time searching for one of my 10 pairs of dollar store eyeglasses, which are often aggravatingly on top of my head.
I research restaurants online before going. A couple of recent favorites include Seasons 52, which has a separate, and extensive, gluten free menu, as well as local Red Heat Tavern, which makes nearly their entire menu gluten free!
The best surprises of this gluten free diet? Some of my fave treats get the green light!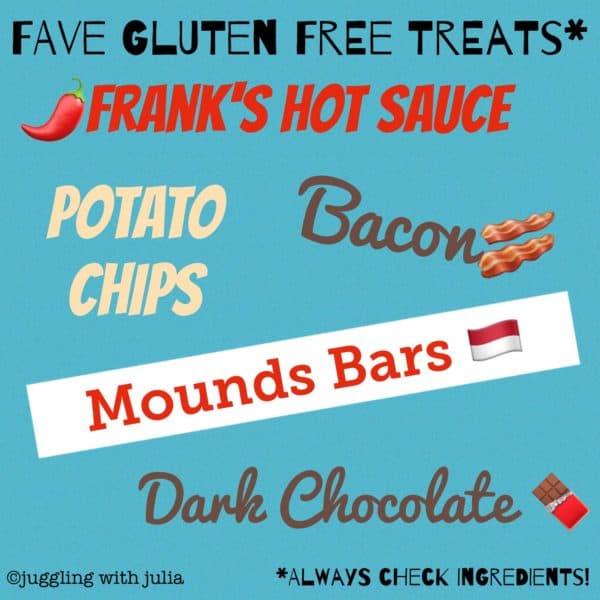 All in all, I have to admit that going gluten free eating was relatively painless for me. [Note: I find that bacon, applied judiciously, relieves you of all kinds of pain haha!]
Whether it is making a difference in my psoriasis, it is hard to be sure one way or another. Stay tuned…