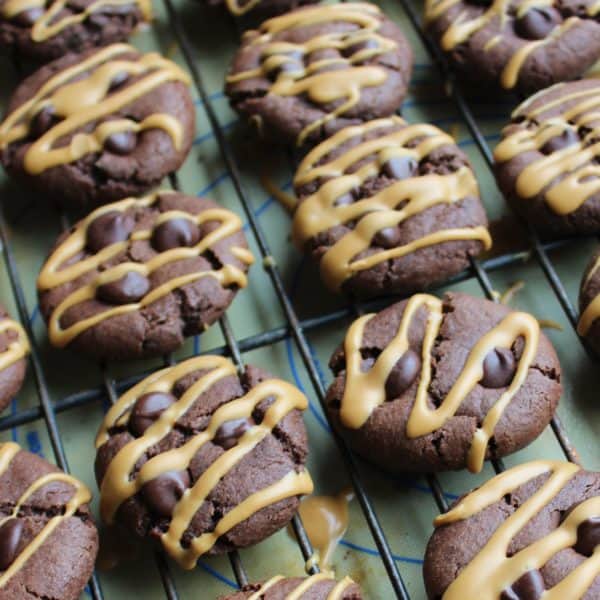 Luscious, crave-inducing Chewy Chocolate Peanut Butter Cookies coming your way today. THAT DRIZZLE. Just try to resist salivating when as you gaze at these gorgeous morsels!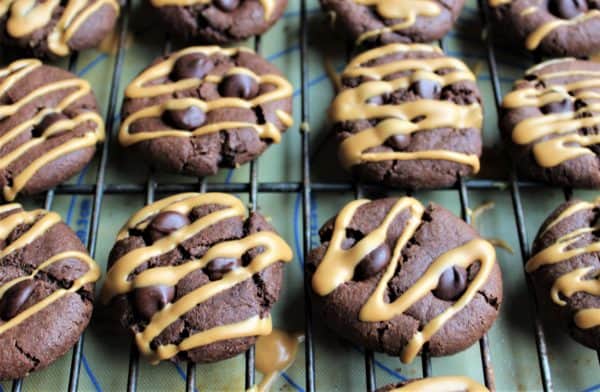 Can we just agree on something first? There is nothing better than when chocolate and peanut butter get together. And Chocolate Peanut Butter Cookies with peanut butter IN and ON the cookie is just besties doing their thing to the max.
Chocolate and peanut butter are the best of besties – just like Laverne and Shirley, SpongeBob and Patrick, and, my long-time faves, Cher and Dionne.
Do you have a bestie? A person that just "gets you" and gladly sticks around anyway? I am lucky to say I do.
Shannon and I share the same wacky sense of humor, and often joke we share a brain.
We love our kids, coffee, and Harry Potter (usually, but not always, in that order.)
We are each other's #1 fan, recognizing each other as superb humans who are more than the some of their shortcomings.
For instance, I'm okay with the fact that she is never, ever on time anywhere. Like, ever. And she allows me to repeat myself. Like, repeatedly. She just smiles and laughs at my stories like it's the first time she's heard it.
We're such great friends, we even dared to go into public once wearing matching leopard print leggings 🙂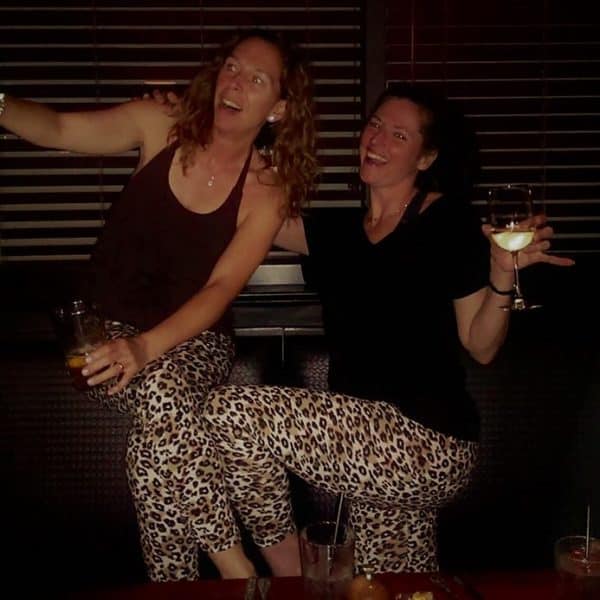 I picture chocolate and peanut butter being besties just like that.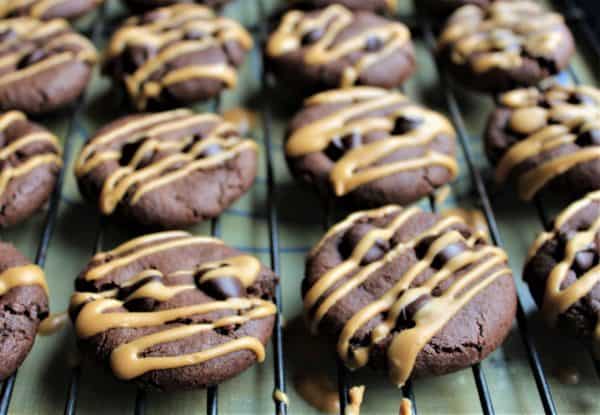 Utterly devoted. Supportive of each other's short comings and celebratory of the great stuff.
Sure, chocolate knows that peanut butter is a bit concentrated in fat and calories, but instead celebrates that peanut butter also contributes heart-healthy monounsaturated fats, B vitamins, fiber, and protein to the duo.
On the flip side, peanut butter doesn't harp on chocolate's sugar and fat content, but instead revels in both its health-protective antioxidants as well as its x-factor – that as-of-yet undefined component that gets us all through the day's tougher moments.
That's my argument for the bestie status of chocolate and peanut butter. Should you care to disagree, or want to offer another pair that could rival the bestie status of these two, feel free to make your case in the Comments 🙂
Recipe Notes about these Chewy Chocolate Peanut Butter Cookies:
This recipe is inspired by a recipe from Sally's Baking Addiction, go check her out. She is an amazing baker and teacher!
These cookies are gluten-free for my own dietary needs, but you can use regular all-purpose flour (in the same amount) for this recipe instead of the gluten-free flour I used here.
While I normally use natural peanut butter in baking, in this case a conventional creamy peanut butter such as Skippy or Jif is best, especially for the drizzle on top. Natural peanut butter would make for runny drizzle, and will not 'set,' making the cookies sloppy. Nobody needs that 🙂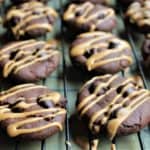 Chewy Chocolate Peanut Butter Cookies
These soft, chewy cookies are a PB/Choco lover's dream! Topped with dark chocolate chips and peanut butter drizzle because...well, just because!
Prep Time
1
hour
15
minutes
Total Time
1
hour
25
minutes
Ingredients
1 1/2

cups

all purpose gluten free flour

1/2

cup

unsweetened cocoa powder

1/2

teaspoon

baking soda

1/4

teaspoon

salt

1/2

cup

butter

softened

1/4

cup

peanut butter

plus extra for drizzling

1/2

cup

packed brown sugar

1/2

cup

sugar

1

egg

1

teaspoon

vanilla extract

3

tabelspoons

dark chocolate chips
Instructions
In a small bowl, add the flour, cocoa powder, baking soda, and salt. Whisk together and set aside.

In a mixing bowl, cream the butter for about 1 minute on high speed using an electric hand mixer.

Beat in the sugar, brown sugar, and peanut butter until well combined. Add the egg and vanilla extract, and beat on medium speed until all is combined.

Add the flour mixture to the bowl. Using the mixer on Low, combine the ingredients until a dough is formed. It will be a little bit thick, but not too thick for an electric mixer to handle. Once it's all combined, scrape down the sides, and cover the bowl. Refrigerate for about 1 hour.

Preheat the oven to 350 degrees Fahrenheit. Line a cookie sheet with parchment or a silicone baking mat.

With your hands, roll the dough into balls using about 1 1/2 tablespoons of dough for each ball. Place on the cookie sheet with about 2 inches between each ball.

Bake for 9-11 minutes. Once you remove them from the oven, you can use the bottom of a glass to gently press down on each cookie. Press 2-3 dark chocolate chips into each cookie.

Transfer each cookie to a cooling rack positioned on top of a cookie sheet.

To Make the Drizzle
Put 2 tablespoons of peanut butter in a microwavable dish, and melt on high for about 10 seconds. Using a spoon, drizzle randomly over the cookies. Let the drizzle set, then store in a covered container.
Recipe Notes
*This cookie recipe is gluten free when  made according to this recipe. If you don't require a gluten restriction,  you can easily adapt the recipe. Just substitute the same amount of regular flour for the gluten free flour I used here.