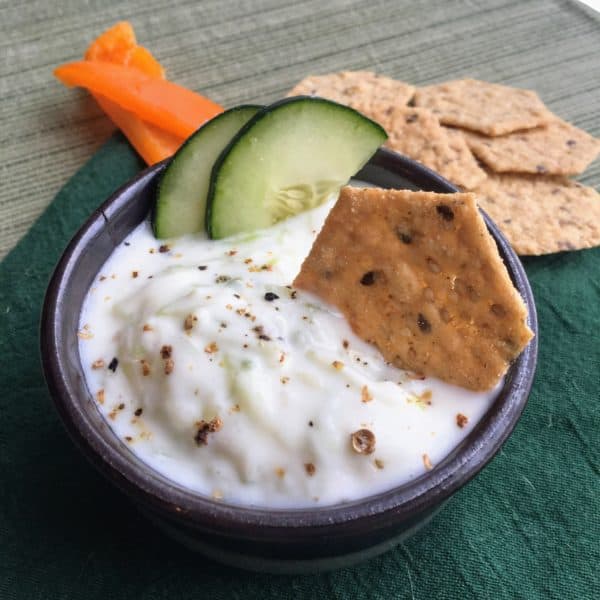 This is the story of one little bowl of cucumber yogurt dip and how it saved a health-conscious, well-meaning BUT STARVING human from having ice cream for dinner.
Leftovers save lives, people.
Cucumber Yogurt Dip is similar to a Greek sauce called tzatziki.
It is a super-simple dip/sauce made with plain yogurt, cucumbers, lemon juice, salt and pepper, and sometimes dill, mint, or parsley. It's great for dipping crackers, bread, and veggies, and also for dressing up grilled meat like chicken, beef, or lamb.
I made some on a Sunday night to add some pizzazz to plain grilled chicken.
And then I had the Mondayest of Mondays.
After all -day meetings, a bumper-to-bumper commute out of the city, and no snacks in the car to stave off my growing hunger, I arrived home from work at 7:00 pm. Status: STARVING. The only coherent thought in my head was "FOOD" and I started to forage for something to eat.
There was that moment when I thought: ice cream. Simple, sweet, and utterly satisfying in a give-me-all-the-carbs kind of way. And there was mocha chip in the freezer  – so tempting! I paused for the slightest of moments. Then, I opened the refrigerator instead, in what can only be described as a doubtful and resigned manner.
TA-DA! Like a mirage, my eyes landed on the bowl of that savory, creamy goodness. I had forgotten all about it!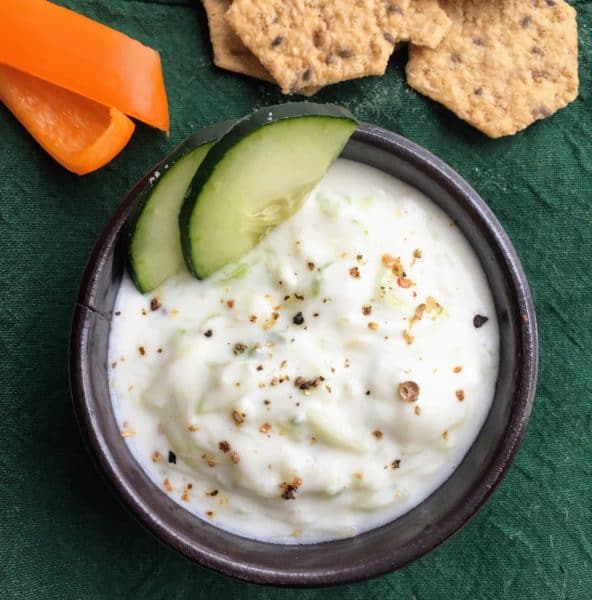 Cucumber Yogurt Dip is cool and creamy, perfect for dipping with some crackers and veggies.
And it was ready to eat right now. 
That fact is what saved me from having ice cream for dinner. And I'm so glad it did. For a wellness-minded individual, that would be a tough way to start the week off.
Thus, the lesson to be learned here — a tiny bit of food prep on a Sunday can save your butt on Monday.
And, virtually anything can serve as a last-minute supper. Even yesterday's condiment 🙂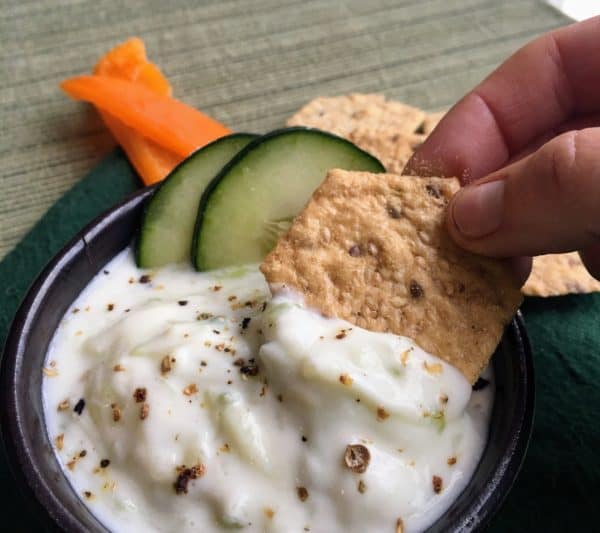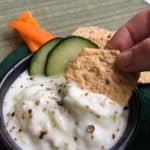 Tzatziki-Style Cucumber Yogurt Dip
A cool, creamy yogurt dip great with crackers, bread, veggies, or for adding pizzazz to grilled meats.
Ingredients
1/2

large, seedless cucumber

peeled

1

cup

plain lowfat yogurt

Juice of 1/2 lemon

about 2 T

1/2

teaspoon

chopped garlic

1/4

teaspoon

salt

or to taste

1/8

teaspoon

ground black pepper

or to taste

1

teaspoon

dried dill, mint, or parsley

optional
Instructions
Grate the peeled cucumber against the large-hole side of a box grater until you have about 1 cup of grated cucumber. Place it in a strainer over a bowl to drain the excess water. You can assist this process by pressing lightly down on the cucumbers.

In a small bowl, add the yogurt, lemon juice, garlic, salt and pepper. Add the drained cucumber and stir to combine.

Adjust seasonings as desired. Allow to sit for 30 minutes so the flavors will mingle.

Serve with pita bread, whole grain crackers, vegetables, or alongside grilled meat.

Store in a sealed container in the refrigerator for up to 3 days.