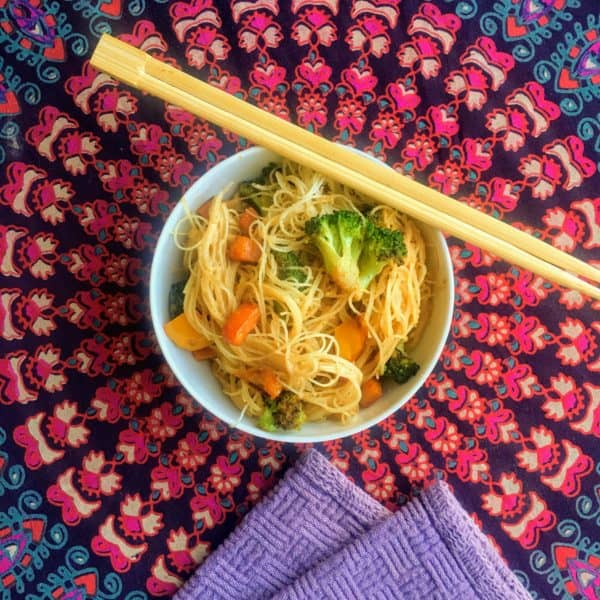 If you've got 20 minutes, you've got time to make Thai Peanut Sauce with Rice Noodles. Though I am usually prone to hyperbole, there is absolutely no exaggeration here. LITERALLY, in the time it takes to soak the rice noodles (about 15 minutes) you have time to make the killer sauce, prep and saute the veggies, and throw it all together.
Especially if the veggies are already prepped (just covering my bases in case you happened to be the World's Slowest Sous Chef).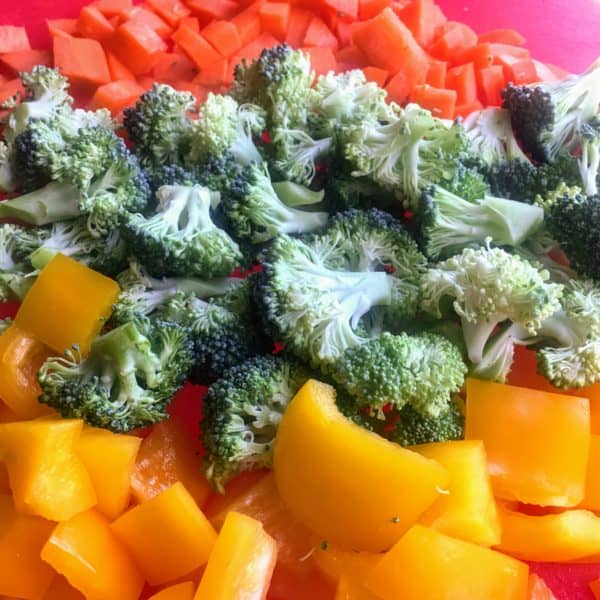 I've always loved Asian-inspired dishes, but you add some peanut butter in there and I'm all but swooning. The combo of peanut butter, soy, and ginger is sheer perfection. It's really all about the sauce!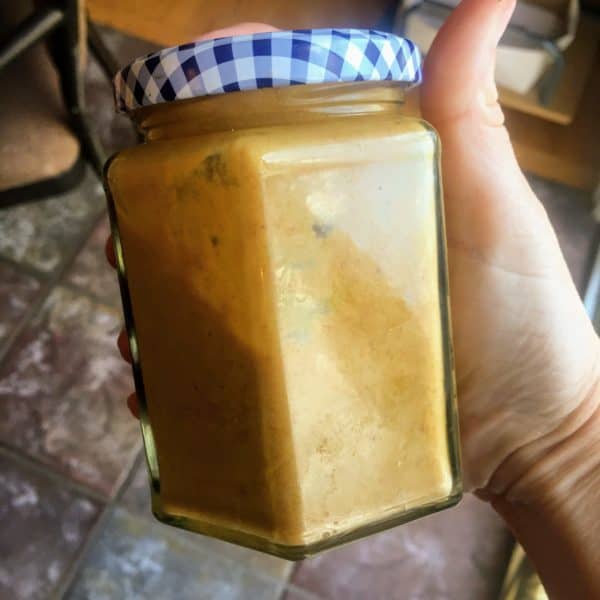 Both times that I've made this dish, I had to stop myself from piling embarrassingly huge portions on my plate. And I forgot to dress it up with toppings like chopped peanuts and scallions before shooting the pic. Whoops. Bad food blogger.
But halfway decent chef.
20 Minute Thai Peanut Sauce w Noodles. Savory, super-fast, satisfying.
Click To Tweet
In summary, this 20-minute Thai Peanut Sauce with Rice Noodles hits all the marks.
→It's gluten-free thanks to rice noodles and Kikkoman's traditionally brewed soy sauce, if your diet requires a gluten modification. (In case you're wondering, I'm still sticking with my gluten free diet for psoriasis) .
→Your pantry supplies almost all the ingredients (noodles, natural peanut butter, soy sauce, cornstarch, spices)
→You can flex the type of veggies you add according to what's in your produce drawer. I've done a broccoli/pepper/carrot version like below, as well as an onion/green bean/carrot/Brussel sprout version. Both are currently tied for Best Veggie Combo Ever.
→It's vegetarian, so you can partake in that whole Meatless Monday movement, or simply edge a little closer to a plant-based diet.
→You can make it on the stovetop in a large skillet, or in the electric skillet you keep in the lazy Susan for those times when you hypothetically run out of propane for your stove. Again. Grrr.
→Also, because I love to repeat take home message, it takes JUST 20 MINUTES to make.
20 Minute Thai Peanut Sauce with Rice Noodles, 'cause I said so. Now git.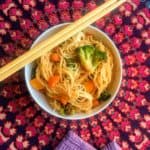 20 Minute Thai Peanut Sauce and Rice Noodles
Creamy, savory Thai peanut sauce stars in this easy, quick dish that takes just 20 minutes to make. Packed with veggies and noodles, this could be your new go-to weeknight dish!
Ingredients
4

oz

vermicelli rice noodles

4

cups

very hot tap water

1/3

cup

natural peanut butter

2

tablespoons

soy sauce

gluten free

1 1/2

teaspoons

sesame oil

1/2

teaspoon

garlic powder

3/4

teaspoon

ground ginger

1/2

cup

water

1/2

tablespoon

cornstarch

3

cups

chopped vegetables

ex/ carrots, broccoli, green beans, bell peppers

3

tablespoons

extra virgin olive oil
Instructions
Put the vermicelli rice noodles in a medium bowl; cover with very hot tap water and set aside. Set the timer for 15 minutes. (You may also simply follow the package directions - especially if you are not using vermicelli style - thicker noodles will need to soak longer)

Prepare the sauce: add the peanut butter, soy sauce, sesame oil, garlic, ginger, water and cornstarch to a jar with a screw lid. Shake vigorously until the sauce is smooth and all ingredients are incorporated. Set aside.

Heat 3 tablespoons of olive oil in a large skillet over medium high heat. Add the vegetables and stir fry for about 5 minutes, or until the vegetables just begin to get tender.

Add the drained noodles, then drizzle the sauce over all. Cook for 2-3 minutes more, just until all combined and the noodles are heated through. Serve topped with crushed peanuts, scallions, or any toppings of choice.
Recipe Notes
Follow the preparation instructions on the package of rice noodles if you are using something other than vermicelli style, which are very thin. Thicker noodles will take a slightly longer prep time.
You may substitute any type of wheat noodle in this recipe if you do not need this dish to be gluten free. Keep in mind they should be cooked and set aside prior to stir-frying the vegetables.
You can always use fresh garlic and/or fresh ginger in the sauce. Simply sub 1 teaspoon of fresh chopped garlic for the 1/2 teaspoon of garlic powder; sub 2-3 tablespoons of fresh grated garlic for the 3/4 teaspoon of ground ginger.