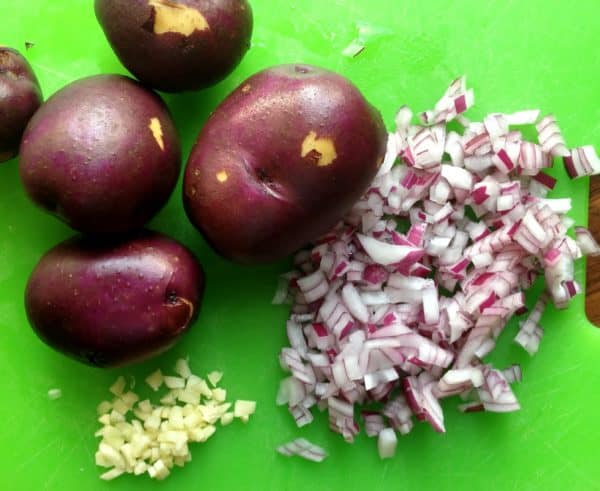 Purple potatoes. I saw them while browsing around the local farmer's market yesterday and on the spot decided "That's what for dinner."
But in exactly what way would they delight my palate? On the drive home I contemplated my options. Roasted alongside pork? Pan-fried with onion? Filling for a frittata? Nope, nothing seem to be sparking any interest in my mind.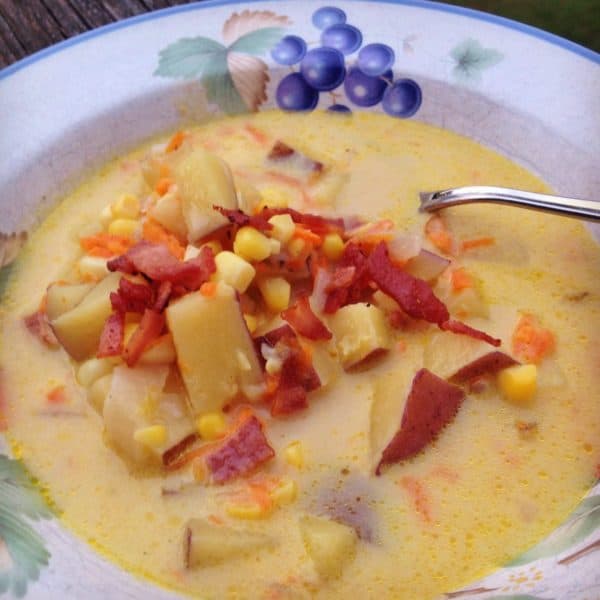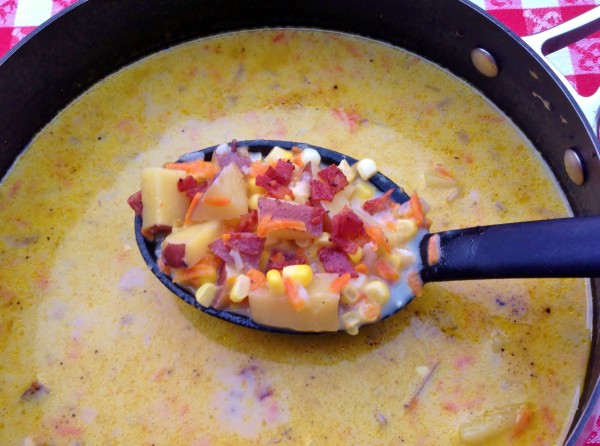 Then, the image of creamy corn and potato chowder popped into my head, and my appetite said "Yes, please!"
Chowder. In August? Okayyyyy.
Like most dishes I make, the hardest part is prepping the veggies (read: not hard at all). Dice an onion and some garlic, then the potatoes, then grate the carrot. Voila! Not hard. Or buy pre-diced everything. Whatever you want – it's your kitchen!
This chowder is both creamy and sweet, thanks to the fresh corn and carrot. A pinch or two of cayenne adds a tiny bit of heat for contrast, but not enough to make the young ones complain. Then there's the bacon on top. Best accessory ever.
Creamy Corn and Potato Chowder
Serves 6
Prep time: 15 minutes     Cook time: 25 minutes
3 strips bacon, diced
1 tablespoon butter
2 tablespoons olive oil
1 cup diced red onion
1 tablespoon diced garlic
2 tablespoons all-purpose flour
4 medium purple or red potatoes, scrubbed and cut into bite-sized chunks
4 cups chicken or vegetable broth
1 large carrot, peeled and grated (~ 3/4 cup)
niblets cut from two uncooked ears of corn (~1-1/2 cups)
1/2 teaspoon dried thyme
1-2 pinches of cayenne pepper
salt to taste
3/4 cup half-and-half
In a large soup pot, saute the diced bacon over medium-high heat until browned and crispy – about 3 minutes. Set bacon aside on paper towels to drain.
Back in the soup pot, add the butter and olive oil and heat until melted. Add onions and garlic, and saute until the onions are soft, 3-5 minutes. Sprinkle the flour over the onion mixture, and stir to combine, cooking for 1 minute more. Add in the potato and broth, cover and bring to a boil. Lower heat and allow it to simmer, covered, until the potatoes are soft, about 10 minutes. Add in the corn, grated carrot, cayenne, and thyme, continuing to simmer for an additional 8-10 minutes.
Remove from heat and stir in the half-and-half. Taste, add salt if desired, and serve hot with bacon sprinkled on top.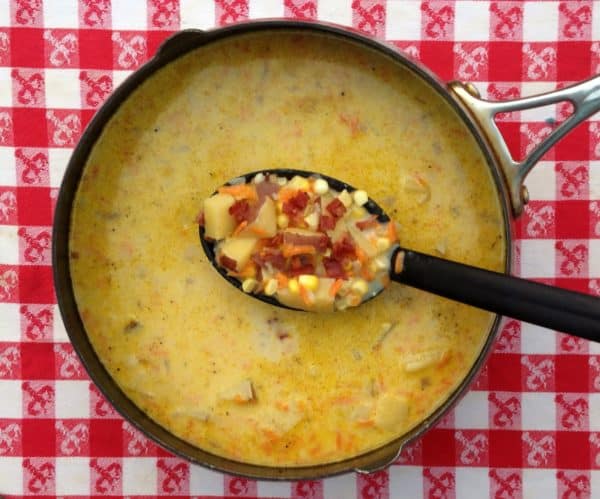 { 0 comments }