Happy Mother's Day to all you fantastic mums out there!! I hope you had as wonderful a day as I did, with all the things and people you love. Maybe it was special time with your own mom or other special women in your life. A fun day with your kids — or without your kids :)  A delicious meal at a local eatery. Flowers or candles or a homemade card. Whatever YOU like, that is what Mother's Day is about.
I feel lucky to have my mum living right next door. Even today, when she asked for hard labor as a Mother's Day gift. How could we refuse? Along with my two sisters, my husband, and brother-in-law, we hacked, raked, scooped, shoveled, and mowed for a better part of the morning. Gladly and willingly, of course.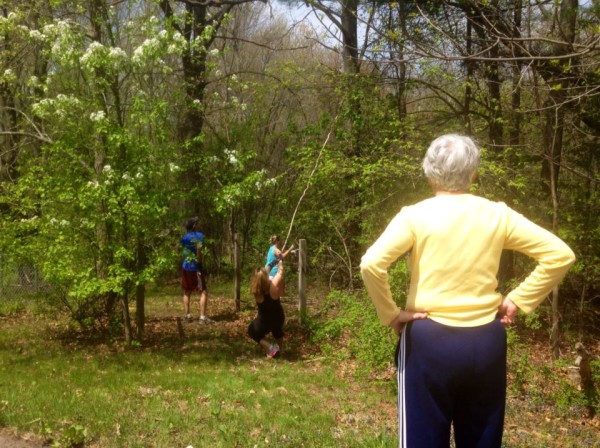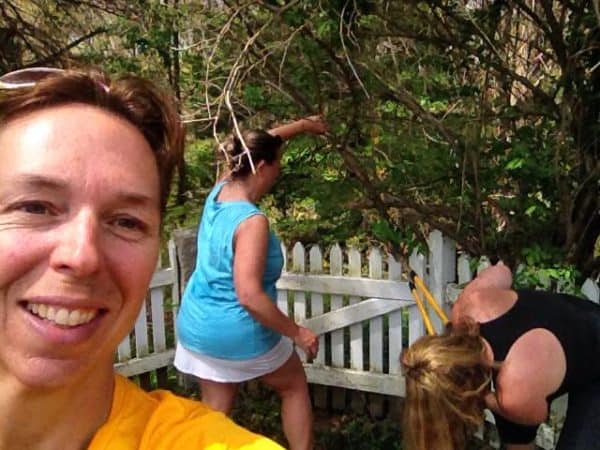 After hours of sweat and grime and fun (really!), I headed next door to my own house where my kids told me it was time for my presents. YIPPEE!! Somehow they managed, together, to make a card and a chocolate cream pie. Precious. Don't be fooled by their sweet faces, though. They spent 10 minutes discounting each other's efforts and claiming credit for themselves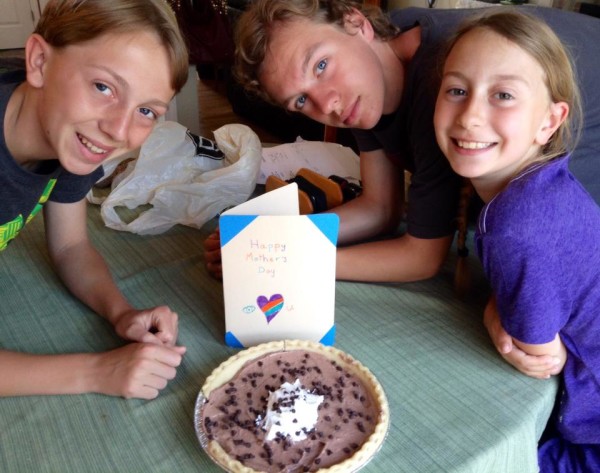 But still, I got a pie!
I'll be wrapping up my very awesome day with this yummy and easy Lemony Hummus Dressing on Chopped Salad, or on whatever vegetables I can find in the fridge, because, to be honest, I have no idea what's in there  (Mother's Day Rule #1 NO GROCERY SHOPPING!)
While my go-to dressing is usually a homemade balsamic or Newman's Own Caesar, I love the creaminess of this dressing and the way it really sticks to the salad. It whisks up in just a couple of minutes, and before you know it you're wiping off your chin. It is also big-time yum inside a chicken roll-up, and would be an absolutely fabulous dressing drizzled over a roasted vegetable/grain salad.
As if being delish, quick and easy wasn't awesome enough, this recipe makes enough for the salad you're now thinking about, plus the roll-ups that you want to make for tomorrow's lunches. Problem solved. You're welcome

Lemony Hummus Dressing on Chopped Salad
Makes approximately 3/4 cup
Prep time: 3 minutes (dressing), 5 minutes (salad)          Cook time: Zip, zero, nil, nada
Dressing:
1/2 cup prepared hummus
1 tablespoon water
2 tablespoons lemon juice
2 tablespoons olive oil
salt and pepper to taste
Whisk the hummus, water, lemon juice, and olive oil together in a small bowl. Season with salt and pepper to taste.
Salad:
3 cups chopped greens (romaine, spinach, baby kale, arugula)
1/4 cup dried cranberries
1/4 cup diced raw carrot
1/4 cup chopped walnuts
Drizzle about 1/4 cup of dressing over the salad, or more to taste. Store the remainder of the dressing in the refrigerator for 3-4 days in a sealed container.
ENJOY!!
{ 2 comments }