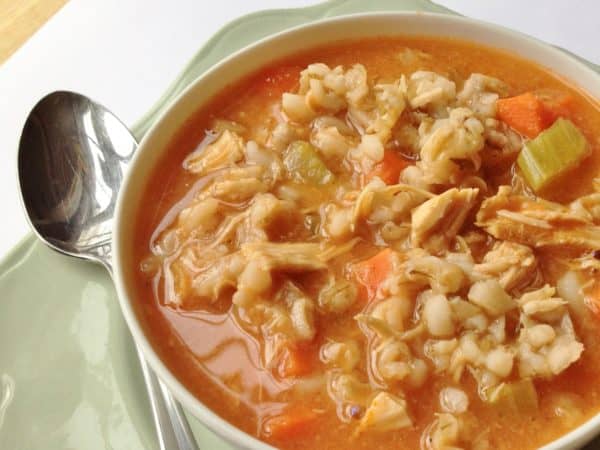 Chicken and barley soup would sure hit the spot right now. We are deep into soup territory here, and we're still several days from the official start of winter! Freezing rain, slush, and snow greeted us this morning – as if it being Monday wasn't bad enough. After slipping and sliding into work, I broke the photocopier. Then I noticed my office smells like dead mouse.
It's a good thing I really, really like my job

 I'm 10 years in it as of yesterday and it flew by in a blink!
The commute, however, I could do without. During my ride home, the rainy roadways slopped up my windshield and obliterated the white landscape of the morning. Whoever envisioned a picturesque white New England winter has never commuted to Boston in December. BAH HUMBUG.
Oh I am just messing with you

Life is grand! It would be practically perfect if I'd come home to this awesome chicken and barley soup after that commute. Alas, we ate up the last of it yesterday. It's not hard to sell a simple soup packed with chicken, barley carrots, and celery. With this, my umpteenth variation on basic chicken soup, I mixed it up a little by adding some tomato paste to the broth, and barley instead of pasta or rice. The tomato added some color and a little richer flavor — the vitamin C and lycopene were just a bonus

That they didn't even blink at the barley, tells me I've done well in the whole grain department.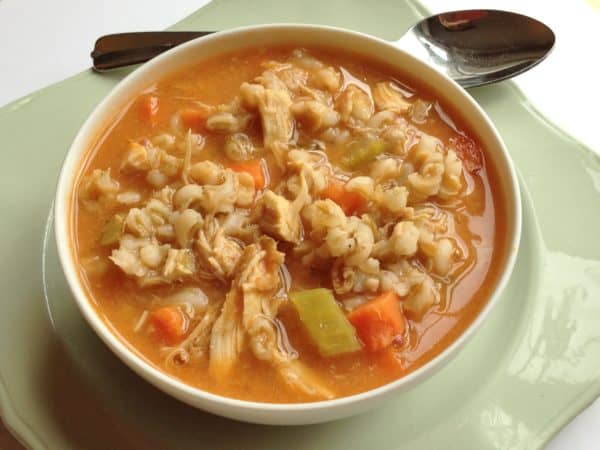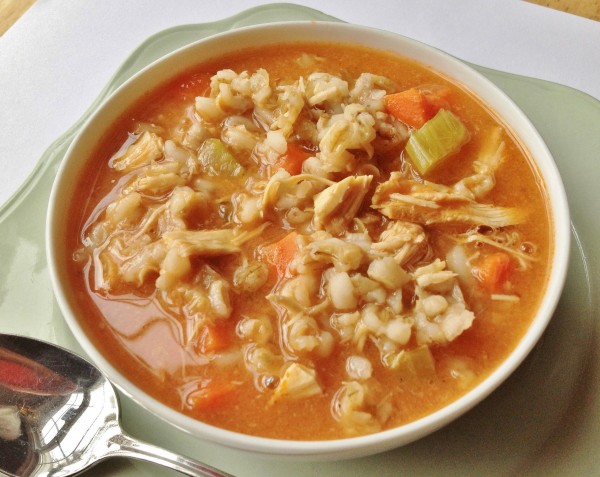 HINTS: This is a great weeknight supper when you've got cooked chicken hanging around in the fridge. To simplify prep further, use quick-cooking barley, which cuts the barley cooking time from about 40 minutes to just 10 minutes. Feel free to mix it up with different vegetables (i.e. corn, okra, tomatoes, lima beans, spinach). Finally, this soup seriously thickens up overnight, so if you prefer "stoup" to soup, make it a day ahead!
Six ingredients are all that stands between you and mankind's oldest and surest method for defrosting. Chicken soup cures all, no matter what ails you.
Chicken & Barley Vegetable Soup
Serves 6-8
Cook time: 20 minutes     Prep time: 15 if using quick-cooking barley, 45 minutes if using traditional barley
8 cups reduced-sodium, fat free chicken broth
3-4 cups cooked barley (about 1 cup uncooked)
2 cups cooked chicken
1 cup diced carrots (3-4 medium carrots)
1 cup diced celery (2-3 large stalks)
3 tablespoons tomato paste
salt and pepper to taste
Heat broth in large (4-quart) saucepan until it comes to a boil. Add chicken,vegetables, barley, and tomato paste, and simmer until carrots are soft (about 10 minutes). Serve hot, or cool to room temperature and refrigerate over night to allow the soup to thicken and the flavors to meld together.
{ 0 comments }