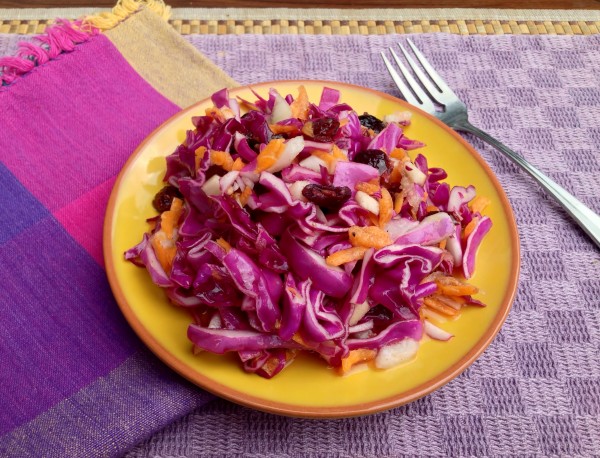 Purple Cabbage Cranberry Apple Slaw. Look at that gorgeous array of colors. That's my kind of rainbow. Beautiful AND edible

Eat the rainbow! Eat the rainbow!
Why is it we dietitians are always saying that? I'll tell you.

It's all about the phytochemicals – those tiny ninja butt-kickers that protect your insides.
Colorful fruits and veggies pack a whole lot of these little warriors. What exactly do they do? For one, phytochemicals protect vitamins and minerals so they can work more efficiently. Even better, they stop free radicals from damaging DNA and squash cancer-causing substances. Phytochemicals can even act on existing cancerous cells to prevent their growth. That's some serious defense!
The more fruits and veggies you eat, and the greater the variety, the more phytochemicals there are to work their ninja magic. So keep chowing down on those gorgeous hues of purple, blue, red, orange, green, yellow, and even white.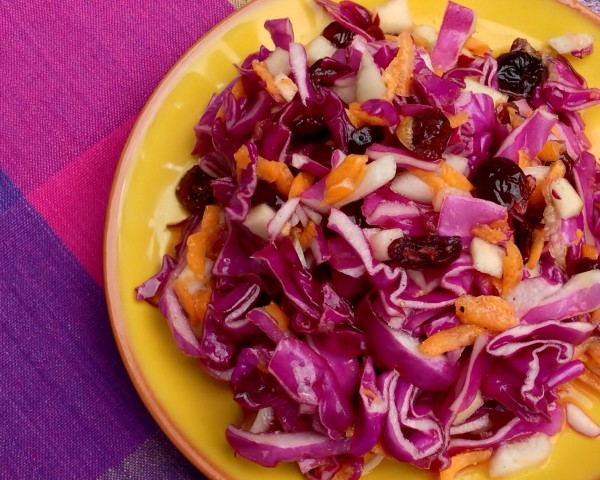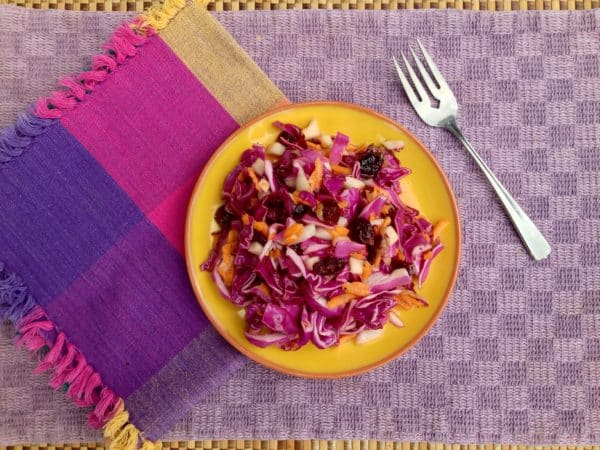 Today's recipe packs a truckload of colors and nutrients. Purple cabbage, red onion, carrots, cranberries, and apples bring with them flavonols, carotenes, indoles, and others. But that doesn't matter if it's not tasty. Which this is. SERIOUSLY TASTY. I happen to love slaw of any kind, so just to make sure, I made a huge batch and hoisted it upon family and friends for a week. While I failed to take photographic evidence, the verdict is…
…definitely delicious.
And simple, and gorgeous, and also it gets better with time. What more could you want?
Oh, right. How about the recipe

Read on!
Purple Cabbage Cranberry Apple Slaw
Serves 8
Prep time: 15 minutes     Cook time: None
(dressing)
1/2 cup apple cider vinegar or rice vinegar
2 tablespoons sugar or honey
1/4 cup olive oil
1/4 teaspoon celery salt
black pepper to taste
(salad)
1/2 head of purple cabbage, chopped (about 6 cups)
2 small carrots, grated
1/3 cup diced red onion
1 medium apple (sweet, like Gala or Empire), unpeeled, diced
1/2 cup sweetened dried cranberries
In a small bowl, combine all the dressing ingredients with a whisk, and set aside. (*do this first so that your apples don't brown before you're ready to dress them).
In a mixing bowl, combine the cabbage, carrots, onion, cranberries, and apples. Add the dressing and toss. Serve immediately, or cover and refrigerate for up to 3 days.
Enjoy!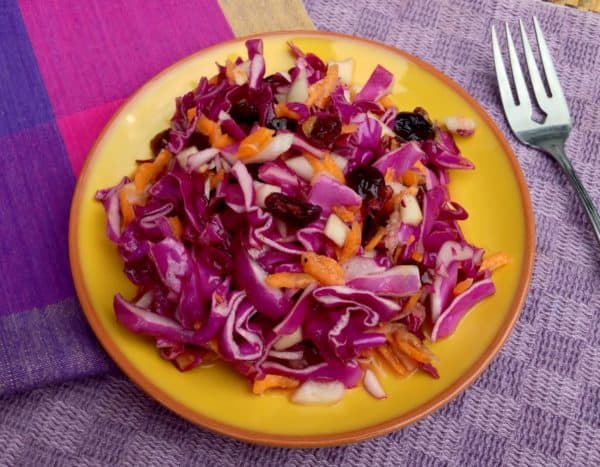 Disclosure: I am a Cranberry Bog Blogger. Every few months, I receive a box of products, tips, and science bites from The Cranberry Institute. I am not required to use what they send, nor am I obligated to write a positive review, or any review at all. This recipe and all opinions stated within this post are my own. I used the dried sweetened cranberries they sent me as inspiration for this recipe.  If you're interested in learning more about cranberries and their role in a healthy diet, click on the Cranberry Bog Blogger badge on my site.
{ 0 comments }