We are just a handful of days from what will be the most emotionally charged Boston Marathon event in history. I am thrilled and honored to feature my friend, fellow foodie and promoter of health, Chrissy Horan, as today's guest blogger.
She'll share thoughts on her picky eater beginnings, on feeding a hungry marathoner (herself), and one of her fave recipes. Sweet Potato Burritos!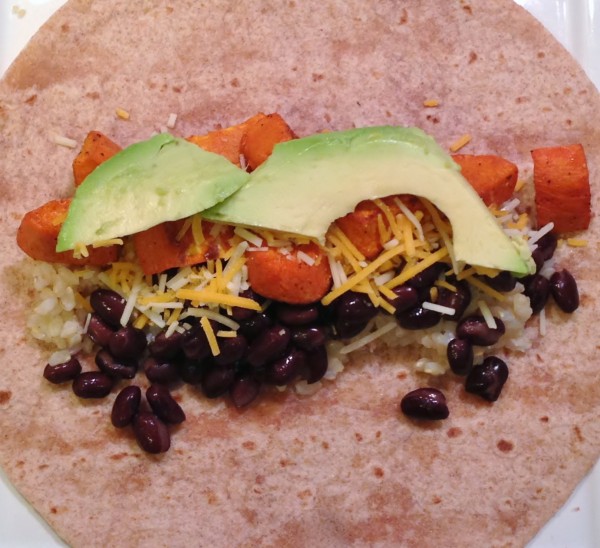 Chrissy is a seasoned marathoner, and after 18 weeks of intense training in what has to have been the longest winter ever, she is finally tapering her workouts for next week's race. This will be her 8th Boston Marathon.
Last year, she had just finished the race and was receiving her medal when the bombs went off.
Will it feel different this year? I would think so. And yet she presses on with the same determination I have always admired. She redefines the phrase 'road warrior' in so many ways. No amount of face-freezing temps, slippery roads, demanding training schedules, or aches and pains can keep her from what she loves or from what she is committed to accomplishing. In addition to logging hundreds of training miles, she has raised  a buttload of money on behalf of Run to End Alzheimer's, a program she has been supporting for several years.
In 8 days she will again embark on this historic 26.2 mile run. You can follow her progress on Marathon Monday by tracking her bib # 25520 via the Boston Athletic Association. She also writes about her experiences in the Boston running community, so check her out at her Boston.com running blog.
I'll be cheering from my comfy leather couch with the cat on my lap and her Sweet Potato Burrito in my hand

Please join me in wishing Chrissy the best of luck running the 118th Boston Marathon. 
Run, Chrissy, run! May you be fierce, fabulous, and fleet of foot


********************************************************************************************
What to eat? It's one of my favorite questions, though not always an easy one to answer.
As a runner, I enjoy having a big appetite that allows me to occasionally indulge in my favorite foods, while maintaining an overall healthy diet. Despite only eating carrots and iceberg lettuce until I was 18, I happen to really like vegetables. I also really happen to like chocolate. And cookies.
Too much of any of these are not great for running. I find myself constantly balancing foods that are good for me, that taste good and that won't fight with my stomach half way through a 7 (or 17) mile run. And specifically when training for a marathon, I'm also balancing how long it takes to prepare, because those extra miles take extra time each week. 
My go-to dinners are usually simple; one or two pot/pan meals for limited ingredients and minimal clean up. A large sauté pan can be my best friend. Most meals consist of some combination of veggies (often frozen) plus protein like tofu or shrimp, or a handful or cashews or peanuts for even quicker prep. My Italian heritage requires I eat a lot of pasta, though rice sees its fair share of plate time too.  The difference betweens most of these meals is often the sauce that ties the ingredients together.
I try to make a big meal on Sundays, because the only "cooking" I have time for during the week is really just a lot of reheating (and a lot of peanut butter and jelly sandwiches). Last weekend I made one if my favorites, sweet potato burritos. The ingredients and prep are simple, but the meal is tasty. Even my carnivore boyfriend likes it (and took leftovers for lunch the next day!). For lunch time leftovers, I usually skip the tortilla and just throw the ingredients over rice. I often eat at my desk, and my cubicle is not the ideal burrito station.
I also usually make a "green" veggie as a side with the burritos, for balance and color. Or occasionally I will use the same ingredients to make a quesadilla and just throw the veggies inside. Spinach, broccoli or asparagus work well.  
This recipe is energy packed but not for the carb-averse. You can certainly modify it however so it does not include both rice and tortillas. And you might want to wait to eat the beans until after that run

Sweet Potato Burritos
Makes 4 burritos
Prep time:  15 minutes        Cook time: 35-45 minutes
Whole wheat tortillas
2 large sweet potatoes, peeled and chopped into 1/2″ cubes
1 medium onion, chopped
2 tablespoons of olive oil
1 15-ounce can black beans, drained and rinsed
2 cups of shredded cheddar cheese
1 cup of salsa
½ avocado, sliced
2 cups of cooked rice (*try frozen brown rice, like Trader Joe's, takes just 3 minutes in microwave)
Preheat oven to 425 degrees Fahrenheit
Toss onion and sweet potatoes with olive oil in a large bowl. Spread on a baking sheet and bake for 25-35 minutes, flipping 1-2 times. 
Create an assembly line with the tortillas, potato/onion mixture, beans, cheese, salsa, avocado, and rice. Layer each of the ingredients in an open tortilla. Eat as is, or roll them up, place in a baking pan, and bake at 325 degrees Fahrenheit until  the tortillas are lightly crisp.
ENJOY!
{ 0 comments }