Maple Blueberry Overnight Oats – a sweet and easy breakfast treat reminiscent of Swiss muesli — is brought to you thanks to my husband's new-found interest in the maple syrup industry. After reading up on New England maple sugaring practices, he decided we ought to tour a local operation.
Though it's hard for a lifelong New Englander to admit, I knew very little about maple syrup, except that it's yummy and way more expensive than the imitation stuff. After last weekend's trek to nearby Turtle Lane Maple Farm, though, I'm psyched to share with you some of the cool facts I learned from Farmers Paul and Kathy.
♦ First of all, did you know it takes 43 gallons of sap to make just 1 gallon of maple syrup? No wonder it's so expensive. Liquid gold indeed.
♦ Maple sap straight from the tree is naturally around 2% sugar (mostly sucrose). I got a chance to taste it – just like slightly sweet water. I also got to taste it the 4% and 8% sugar syrup stages, as well as the final product – 67% sugar (known as 'Vermont Standard' maple syrup).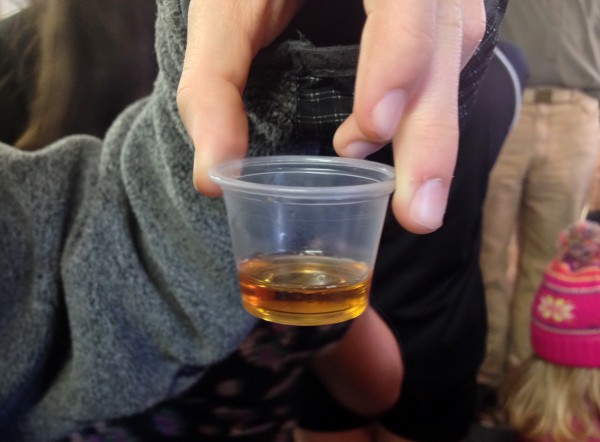 ♦ The professional evaporator they use to boil down the sap is basically a huge wood oven with a pan over the top. It burns at about 1,000 degrees! They go through about a 1/2 cord of wood a day. Wowza.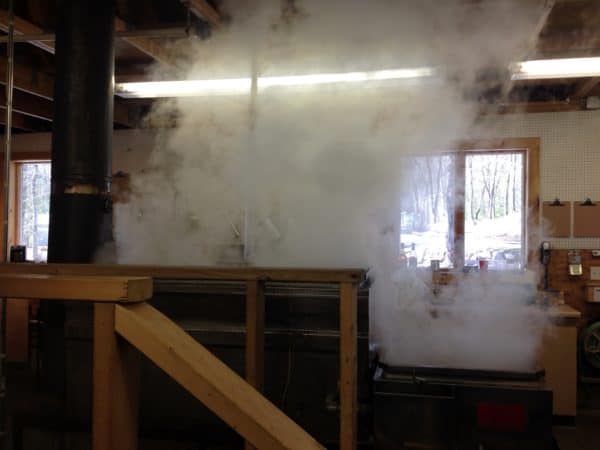 ♦ Boiling sap forms bubbles on top. This is no good, since this traps the heat and steam which they are trying to expend to boil the sap down. Their magic method for dissipating the bubbles? Touching a metal spatula very lightly to a stick of butter, then swiping it across the bubbles. The tiny molecules of fat break the surface tension of the bubbles and they dissipate immediately.
♦ Take a look at this array of syrup samples. Each row is an entire season's sampling. Note the different colors throughout each season, from a pale gold to a deep brown. Can you guess why there are different colors?

Maple sap is naturally higher in sugar content in the early part of the season, and lower towards the end of the season. However, the lower the sugar content, the longer the sap has to be boiled. This results in darker syrup with a more intense maple flavor. That is why maple syrup made early in the season is typically lighter in color than that made at the end of the season.
♦  There were samples galore! In addition to the 2%, 4%, 8% liquids, and the standard 67% pure maple syrup, we also had maple cream (83% sugar), maple candy (92%), and maple sugar (100%). All delicious. But none could compare to the little surprise they threw at us at the end…
Maple bacon ice cream!! Oh yeah, as crazy delicious as it sounds.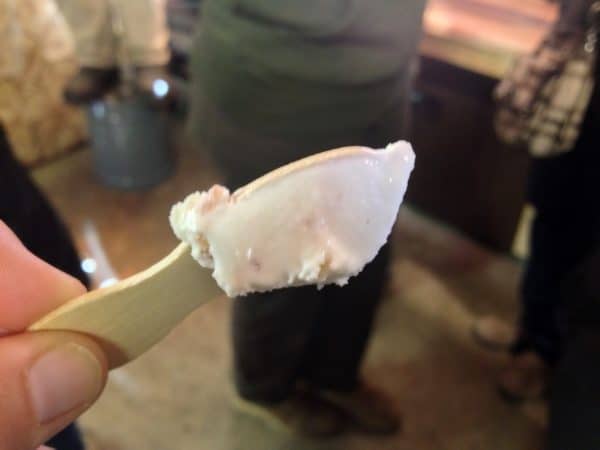 So, you're probably wondering…did we take any booty home? OF COURSE! It was tough to decide, but we settled on a little tasting jar of maple cream (AH-MAZ-ING on toast) and a humongous bottle of pure maple syrup. Yes, it cost a pretty penny but we've been rationing it out carefully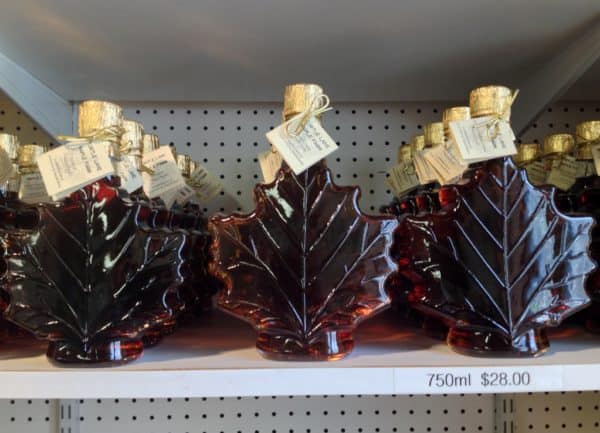 What to do with it first? While it'll be topping our pancakes soon, I decided to use some as a sweetener in overnight oats, the perfect breakfast when you haven't got time for breakfast! Such a simple recipe to throw together – no chopping, peeling, or baking. Just measure, mix, and put it in the fridge. You sleep while your breakfast prepares itself!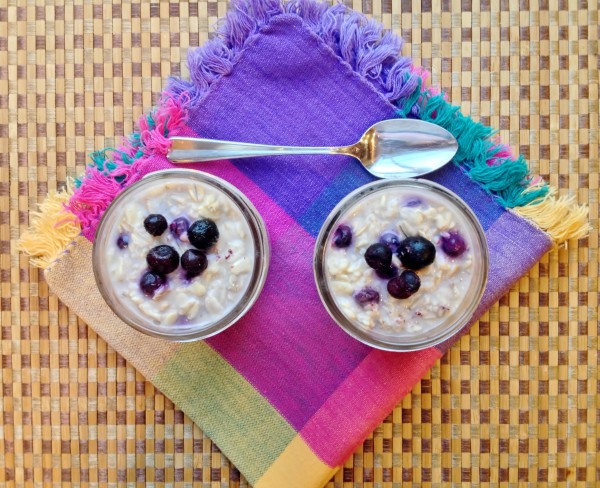 Maple Blueberry Overnight Oats
Makes 4 servings
Prep time: 5 minutes     Cooking time: zero
2 cups old-fashioned oats (not quick-cooking oats)
1 cup nonfat milk
1 cup vanilla yogurt
1/4 cup pure maple syrup
1/2 cup frozen or fresh blueberries
Mix all ingredients together in a medium bowl. Cover and refrigerate overnight. Serve cold or at room temperature. Garnish with extra blueberries, if desired.
ENJOY!
{ 0 comments }