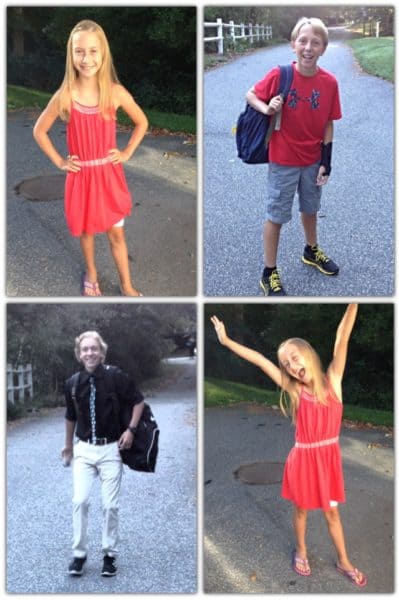 Yesterday was Opening Day for the lunch-packing season (aka the first day of school), and did it ever catch me by surprise.
For the past week, in our soccer- and volleyball-filled life, we had been eating take-out pizza, burgers, cold cereal, and lots of bagels. The occasional Caesar salad. Maybe one really yummy truly home-cooked meal of Rosemary Lemon Chicken.
As a fantastic-but-busy weekend rolled into Sunday night, I realized the direness of our food situation. The cupboards echoed their emptiness. The fridge boasted only a few eggplants (unpopular), a 1/2 gallon of soured milk (great for baking!), and lots of half-gone condiments.
I don't normally stress over the school lunches that my kids pack for themselves.
But this was OPENING DAY! While normally, I keep an eye on the number of sugar-added foods, I insist on some sort of produce, and am both a water and milk pusher, this ought to have been something a little special.
Oh, it was special alright.
A Smithsonian-worthy "Classic 1970′s Lunchbox" kind of special.
Peanutbutter and Fluff
Canned applesauce
Potato chips
Granola bars
We didn't even have enough bread for the sandwiches. Casey took his PB between 2 pancakes, which at least were made them from scratch that morning – with the aforementioned sour milk.
After they left for school, I finally made a trip to Market Basket, my first since they went back into business 2 weeks ago. $150 later, the fridge and cupboards are bursting.
Today was a much better  lunch day.
As far as I know. I left for work before they got up…
How'd your Opening Day go?
{ 4 comments }