Let's close our eyes, shall we? C'mon, let's do it. Let's imagine mild, Spring-like weather. The smell of damp earth. Birds singing so loudly in the early morning that you can't fall back asleep. The rhythmic sploosh as cars drive though puddles left by melting snow banks. Sunshine that warms the rocks where you sit while catching up with the other mums at the playground. Daylight that lasts past dinner time. Long walks without extra layers. Fresh air that doesn't hurt your face.
Ah. That was lovely.
Thank you for coming along with me just then. It's snowing again, you see, and I needed a little imagery to boost my spirits and ensure this post didn't turn into a depressing, boring rant about, you know…the Longest. Winter. Ever.
Now, who feels like chicken, eh? I do! Love, love, love chicken. Grilled, shishkebabbed, stir-fried, stewed, or souped. I love it all. But I ESPECIALLY love chicken that is tender, bright with flavors, and simple to make. Sometimes simple isn't always tender (think pan-fried boneless breasts, blecch). And we all know that tender isn't always simple ("marinate overnight for best flavor").
Today we have both simple and tender. cue dramatic music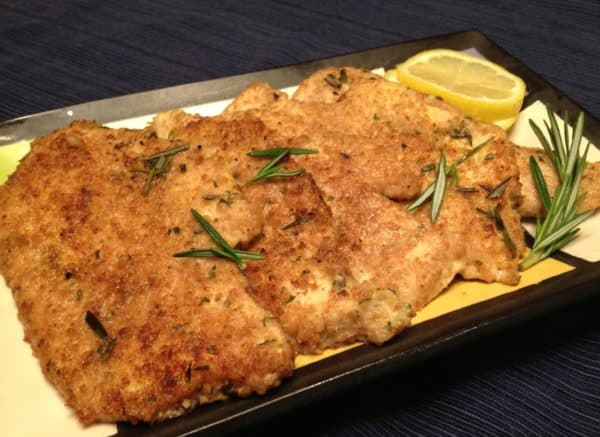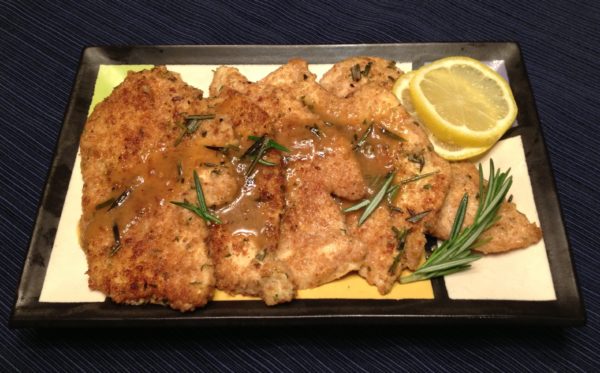 And it happened quite by accident. I started out intending to make my stand-by chicken and wine, and encountered a situation all too familiar here. There was no wine. When you are missing an ingredient that is actually IN THE RECIPE TITLE, you've got to change course. So that's what I did.
Ladies, and a few token gents, I give you Rosemary Lemon Chicken. It even has a sauce. Isn't we fancy? No joke, this meal is done in well under 30 minutes. Bread it, brown it, simmer it, and make the sauce. Done! Just throw together a salad while it's simmering, and you're sitting down to a delish meal before you can say "Is it Spring yet??"
Rosemary Lemon Chicken
Serves 4-5
Prep time: 5 minutes Cook time: 20 minutes
1 pound thinly sliced boneless chicken breasts
1/2 cup whole wheat breadcrumbs
2 tablespoons olive oil
2 teaspoons fresh rosemary (or 1 teaspoon dried)
salt and pepper, to taste
1 cup reduced-sodium, fat free chicken broth
Juice from half a lemon
1 teaspoon butter
Heat olive oil over medium heat in a large skillet or electric frying pan. Dredge the chicken in the bread crumbs, shaking off the excess. Lightly brown the chicken, about 2 minutes per side. Sprinkle with salt and pepper, add the chicken broth and rosemary, cover, and simmer for 10 minutes, until chicken is cooked through. Remove the chicken to a serving platter and cover to keep warm.
To make the sauce:
Add the lemon juice to the pan, bring to a boil, and let it bubble (uncovered) until it's reduced by half ( about 5 minutes). Turn off the heat, add the butter, and stir until it is incorporated. Drizzle the sauce over the chicken and serve.
Great with a salad, on pasta, or in sandwiches the next day!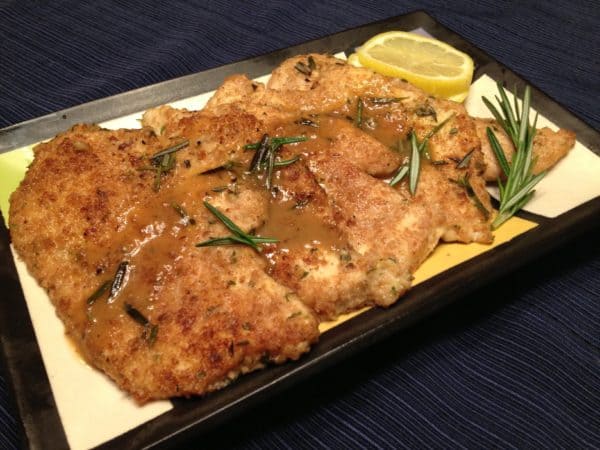 ENJOY!
{ 10 comments }