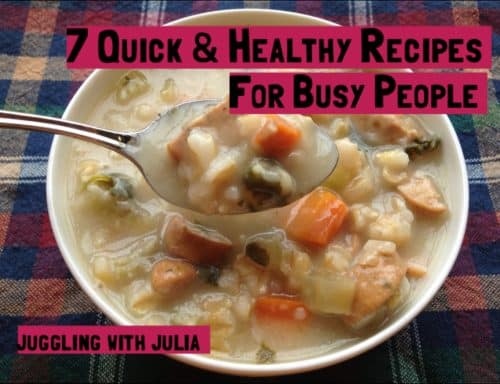 If 'busy'  is a disease, then I've got it bad. I try not to overload our lives. (Really, I do.) But it seems that the minute I push one low priority 'thing' to the curb, another more obviously important priority shows up at the door. With luggage.
I know you get it. We're ALL busy! We're working hard out of the home, at home, and we're driving all over creation, all the time. It's soccer and track practice, that fundraising event, then theater rehearsal, and don't forget book club and the dentist/allergist/chiropractor.
At least I don't have CCD to contend with. Do you know how many times I've said, "Thank God we don't have to go to CCD."  Thank. God. Do you think He minds that I've invoked irony in His name?
Anyway, this dastardly busy-ness is what's inspired today's post. National Nutrition Month is nearly over, and while I'd really love to share a delish new dish from my kitchen, I've just not had time to experiment. But what I CAN give you are 7 Quick and Healthy Recipes for Busy People. (Pssst. That's us). These dishes have saved my butt time and time again. They're easy to pull together, full of the nutrition you want your family to have, and include some of my favorite ingredients.
Maybe one of these will help you with your busy-ness! Good luck, friends, and let me know if you try one of these!
Cheers,
Julia
Chicken Sausage and Barley Soup with Spinach
Quick-cooking barley and fully cooked chicken sausages make this a snap to make on a busy weeknight.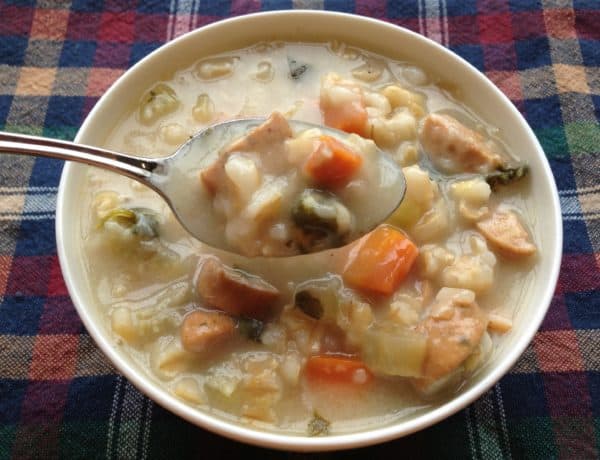 Frittatas
Frittatas are one of man's greatest inventions. Similar to a crust-less quiche, you start it on the stove top and finish it under the broiler. Unlike a traditional quiche, however, it takes less than 20 minutes to make! You can add literally whatever you like. Some of my favorites include red pepper, mushroom, spinach, and onion. A little sprinkle of cheese is always a nice finish.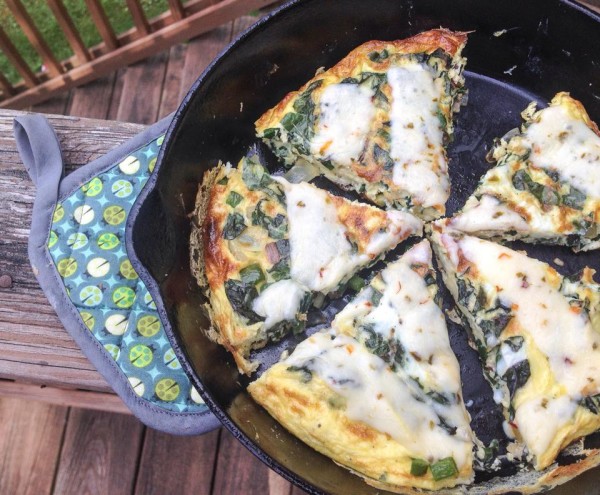 Chicken and Brown Rice Bowls in Easy Beer-Cheese Sauce
Using frozen brown rice (like Trader Joe's) and leftover cooked chicken makes this super easy to throw together in well under 30 minutes. For a warm bowl of delicious happiness? That's not long to wait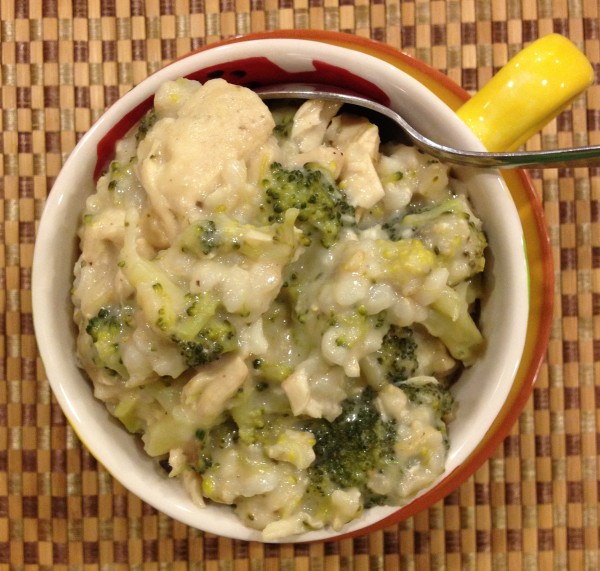 Barbecued Pulled Pork with Mango and Feta
The crockpot saves you here. All it takes is a few minutes prepping the meat the morning of, or the night before. By the time you screech to a stop at dinner time, there is an incredibly tasty pulled pork ready to be layered with whatever you like. We love the combo of sweet mango with salty feta. Peaches or nectarines would be great as well.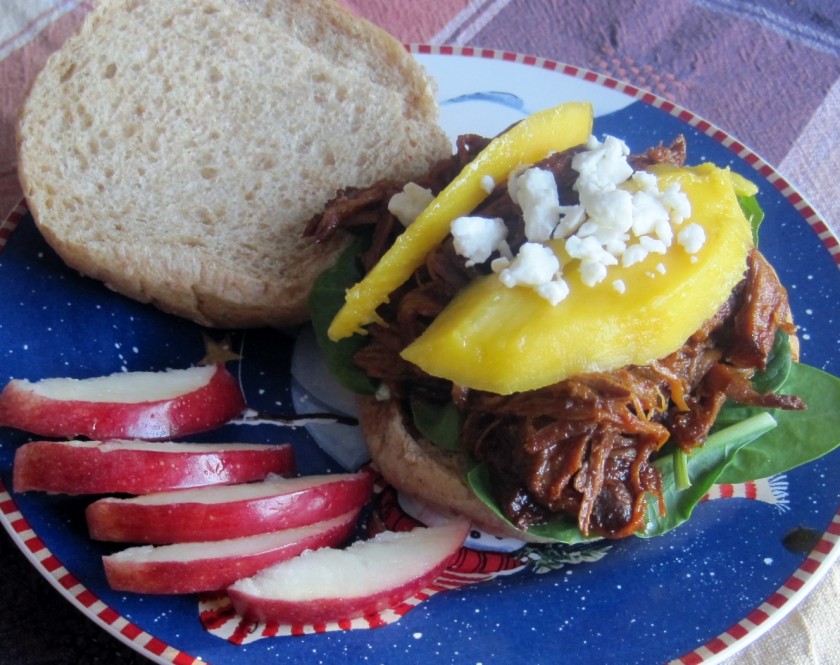 Chicken Tortellini and Spinach Soup
This is the type of soup that requires only a decently stocked pantry. It uses dry tortellini, chicken broth, already-cooked chicken, and a little bit of fresh spinach. I've clocked this in at 30 minutes TOTAL, and that's including prep and cooking time. Eat it as fast or slow as you like. That's on you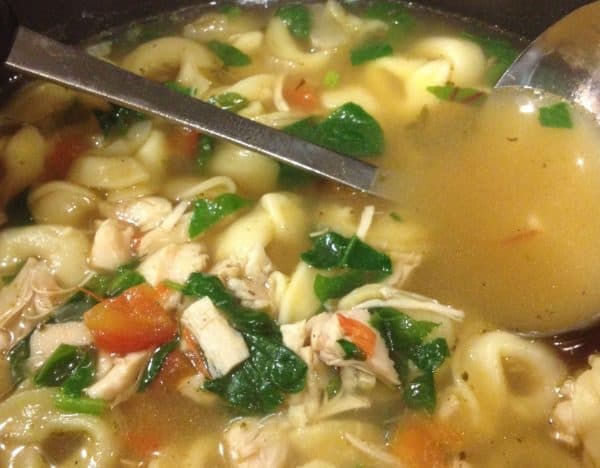 Hearty Beef and Barley Soup
Another crockpot keeper! If you're not on the barley bandwagon, I suggest you climb aboard. A whole grain packed with iron, fiber, and protein, it's got a great nutty taste and chewy texture.  It's a great compliment to the thick broth and beef. Just brown up your meat, toss it all in the crock, and you're good to go 'til supper time!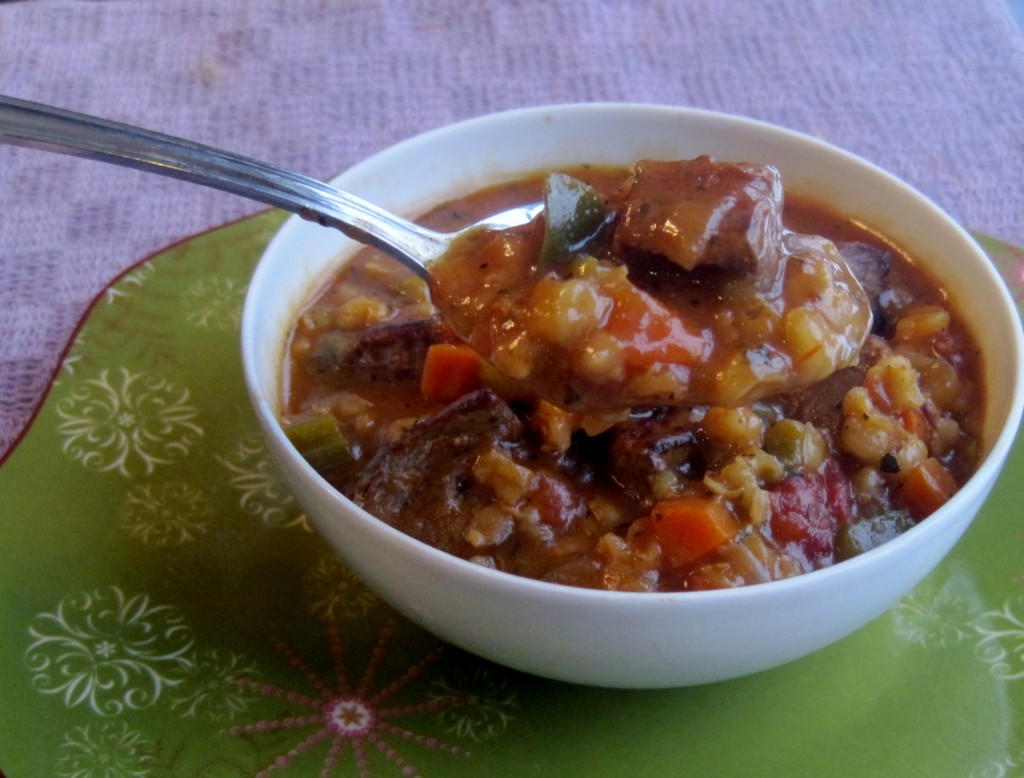 Breakfast Nachos
Breakfast-for-dinner is a long-standing tradition here. Get your favorite tortilla chips (mine are the sweet potato kind), pile on the eggs, black beans, avocado, salsa, and shredded cheddar, and you are chowing down on the best and most fun supper ever. Filling and protein-packed and only requires a quick turn at the stove to scramble the eggs. Share 'em if you like, but you don't have to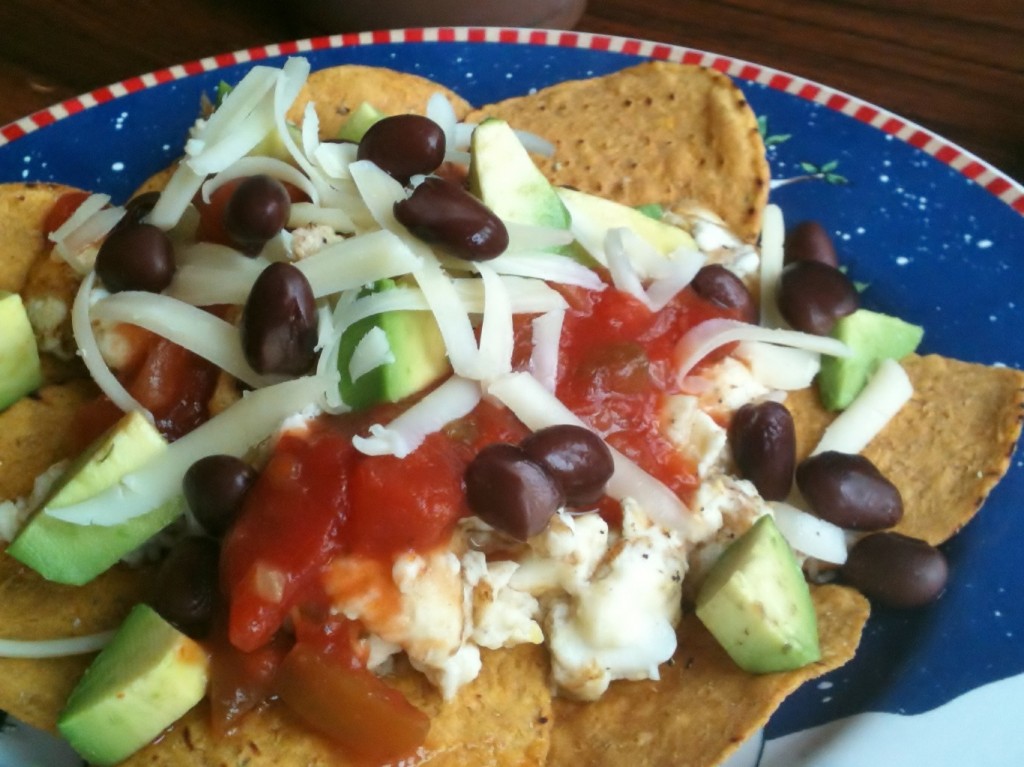 ~ENJOY~
{ 0 comments }