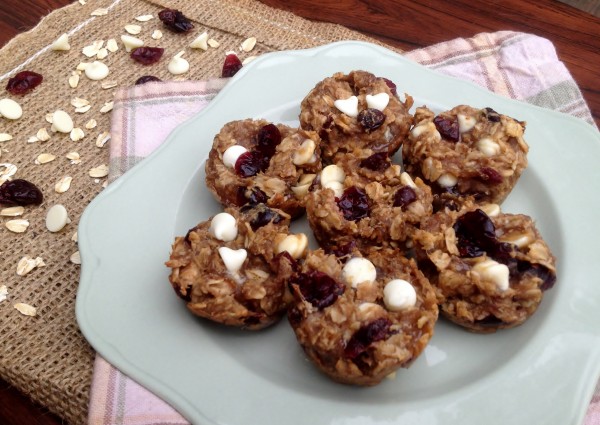 Apparently, the thought of a sinless cookie appeals greatly to the masses

The No-Guilt Banana Oat Chippies were a huge hit, and continue to cause excitement around the Internet. I say this gleefully, while simultaneously trying not to sound too excited, as if this is NBD and it happens, like, all the time. Which it doesn't.
Given their humongous popularity, I decided to make them again with a new twist. Bananas, oats, and natural peanut butter are still  the backbone of the recipe, with white chocolate and dried cranberries stepping in to replace the semisweet chocolate. I added a dash of cinnamon as well. The results are heaven. Even the banana-flavor hating husband is devouring these, which I find incredibly funny since he won't even eat my banana bread.
So, what is it about these cookies? They certainly don't taste 'sinless.' They're sweet and chewy and taste like homemade breakfast bars. Hold it – that's IT! They're BREAKFAST COOKIES! Wahoo! Breakfast just got a boost of awesome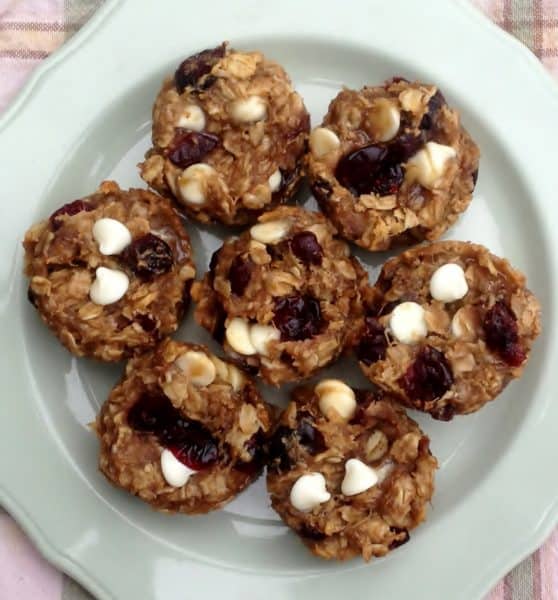 Whatever you call them, and however you categorize them, these cookies are packed with goodness (think fiber, protein, potassium, manganese, B vitamins, Vitamin E) while laying low on added sugar (just a smidge from the dried cranberries and white chocolate).
While I stand by my belief that there is no room for judgment when it comes to dessert, it sure does feel good to eat something so tasty that's made from seriously nutritious ingredients.
You'll have to make these and decide for yourself – dessert? breakfast? both? Either way, you'll feel good — not guilty!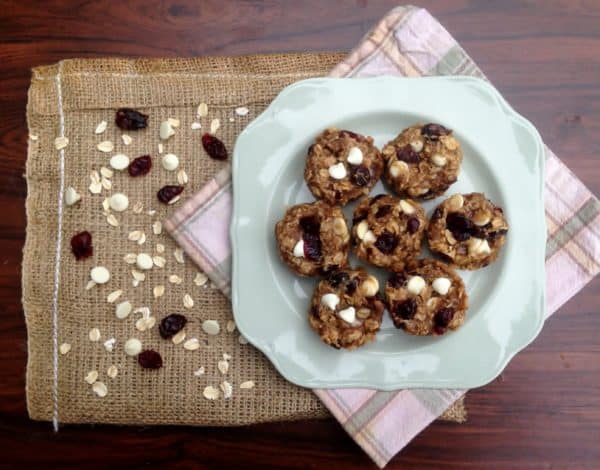 No-Guilt Cranberry White Chocolate Cookie Bites
Makes 18
Prep time: 10 minutes     Cook time: 20 minutes
4 overripe bananas
2 cups old-fashioned oats
6 tablespoons natural peanut butter
1/4 teaspoon ground cinnamon
1/2 cup dried sweetened cranberries
1/2 cup white chocolate chips
Preheat oven to 350 degree Fahrenheit.
Prepare a mini-muffin pan with spray oil, or if using the drop cookie method, line a cookie sheet with parchment, a silicone baking mat, or prepare it with spray oil.
Remove the bananas from their skins, and add to a medium mixing bowl. Mash well with a potato masher or the back of a fork. Add the oats, peanut butter, and cinnamon, and stir until well blended. Fold in the white chocolate chips and cranberries.
Fill each mini-muffin well about 3/4 full (one heaping tablespoon of batter) or put a similar portion onto cookie sheet if using the drop cookie method. Bake for 20 minutes, or until the tops are no longer sticky and the cookie is springy when pressed. Remove from oven, allow to cool in pan for a few minutes, then remove to rack to continue cooling.
Store in an airtight container, then in the refrigerator (if there are any left!) after 36 hours.
ENJOY!
{ 0 comments }