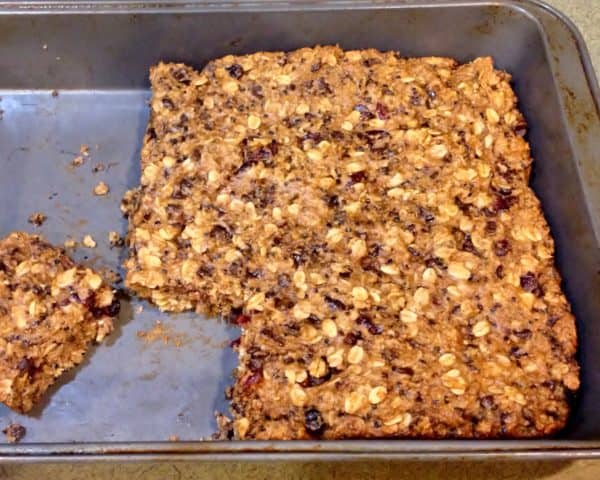 Sugar, that insipid invader of everyday foods, is slowly retreating from my family's diet. As you know, I'm not ANTI-sugar.  Lordy, no! I'm just against it being EVERYWHERE from our sandwiches to breakfast cereal to our grab-n-go snacks. We've done a decent job on the peanut butter and cereal fronts. We're now 100% into natural peanut butter (buh-bye, Skippy), and have switched to go-to cereals with no more than 6 grams of sugar per serving (Multigrain Cheerios and Honey Bunches of Oats are favorites).The transition was easier than I ever imagined.
What's next? Granola bars. We go through 10-12 a week sometimes. They have a lot to offer, but I know a quick baking session would allow me to serve up something fresher, tastier, and more wholesome. Sorry, Nature Valley, but you know I'm right.
Last month we did hit it big with the Chewy Peanut Butter Oatmeal Bars. Boy, those disappeared fast! Oats were the star there, and all five of us snarfed them down greedily. So there's one success story.
Today's offering — Quinoa Breakfast Bars – was a hit here as well. It features the nutty protein-packed grain, quinoa (keen-wah), with supporting roles by both whole wheat flour and oats. I saw this recipe first on The Lean Green Bean, and I thank Lindsay, another fit-minded food-loving RD, for putting out such a solid recipe.
These breakfast bars are soft and sweet and nutty and filling – a great way to start your morning and fuel up for the day ahead. Breakfast and dessert? Sure, they can play both roles.
How did they rate with the family? Ironically, while me, Casey, Mark and Georgia loved them and have blown through two batches, Zach is not a fan. He prefers the denser texture of the oatmeal bars I made last month. Maybe he'll come around? Or maybe I'll just have to keep making both!
This recipe is easy to tweak to include your favorite add-ins. We did dried cranberries and semi-sweet chocolate chips, but I would bet any of the following combos would be fantastic:
Macademia and white chocolate
Raisins, sunflower seeds, and milk chocolate
Almonds, coconut, and dark chocolate
Anything at all and chocolate
Pick a version and get going!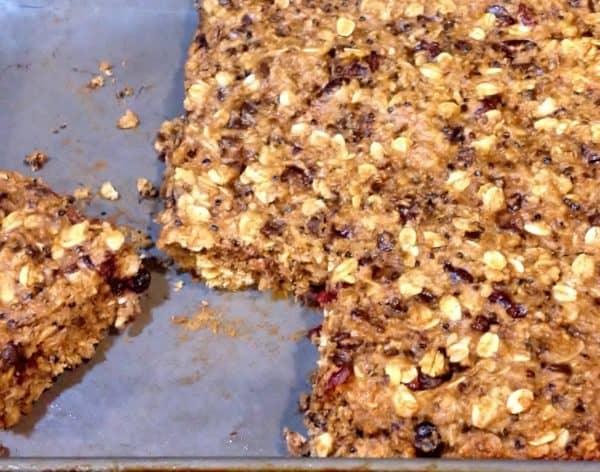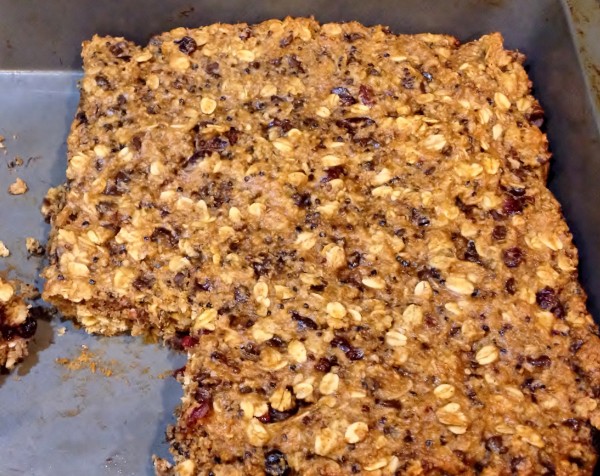 Quinoa Breakfast Bars
Makes 15 bars
Prep time: 15 minutes     Cook time: 20-22 minutes
1 cup whole wheat flour
2 cups cooked quinoa
2 cups oats
2 teaspoons cinnamon
1 teaspoon baking soda
2/3 cup natural peanut butter
1/2 cup honey
2 eggs
2/3 cup applesauce
1 teaspoon vanilla
1/2 cup dried cranberries
1/2 cup mini semi-sweet chocolate chips
Preheat the oven to 375 degrees Fahrenheit. Prepare a 9×13 rectangular pan with spray oil. Set aside.
In a medium bowl, add the flour, quinoa, oats, cinnamon, and baking soda. Stir with a large spoon a few times until everything is evenly distributed. Add the wet ingredients (peanut butter through vanilla). Stir by hand again until well combined. Fold in the cranberries and chocolate chips.
Spread the batter, which will be thick, evenly in the prepared 9×13 pan. Bake at 375 degrees Fahrenheit for 20-22 minutes. The edges will be golden brown and the center will be moist but set. Allow to cool in pan for 15 minutes before cutting into squares.
When completely cool, store in an airtight container for up to one week.
ENJOY!
{ 0 comments }