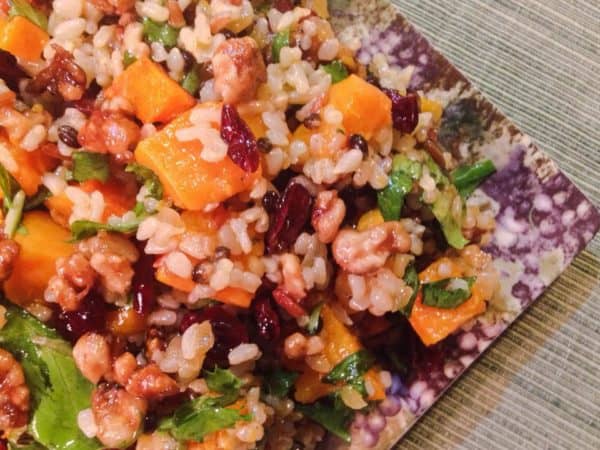 Guess what? Here's your easy do-ahead recipe to go with holiday dinner! Roasted Butternut Squash and Brown Rice Salad with Citrus Dressing. That's sweet roasted butternut squash, brown rice, candied walnuts, dried cranberries, and  greens — five simple ingredients and a tangy citrus dressing that come together in an amazing taste tableau that will have you smiling between forkfuls.
Since I am still hoarding squash from our summer CSA, this recipe is especially timely. The squash are keeping quite nicely in the garage while I come up with ways to sneak them into dishes. In this salad, though, they are front and center and brighten up every bite with their sweetness. Turns out I didn't need to sneak them here anyway, since half my family loved it!
(Paying attention? In my family of 5, that makes 2.5 people who like this salad. Casey and Georgia count as half-kids due to their small appetites. True JWJ fans ought to be able to make an educated guess as to who the half-kid is that liked it)
There are a few ways to make this simple recipe even easier. Though I started with a whole butternut squash, you could buy pre-peeled, pre-cut butternut squash (and/or roast ahead of time, another day when you happen to have the oven on anyway).  I also made my own candied walnuts (a super-easy microwave method), but you could also go with store-bought candied walnuts. Finally, as I did here, use frozen brown rice packets instead of cooking from scratch – just 3 minutes in the microwave!
I can't wait to make this again! So many possibilities! Might add green apple next time, or switch out the rice for farro, or add honey to the dressing, or…
Roasted Butternut Squash and Brown Rice Salad with Citrus Dressing
Adapted from Carolyn Kaufman
Prep time: 10-25 minutes     Cook time: 30-40 minutes
2 cups cooked brown rice (or 1 10-oz package frozen brown rice, like Trader Joe's Brown Rice Medley)
1 medium butternut squash, peeled, seeded, and cubed into 1-inch pieces
2-3 tablespoons olive oil for drizzling on squash
salt and pepper
1/3 cup sweetened dried cranberries
1 packed cup of greens (spinach, kale, arugula, baby greens), sliced thinly
Candied Walnuts:

1/2 cup walnuts
2 tablespoons brown sugar
1 tablespoon water
Dressing:
3/4 cup orange juice
2 tablespoons apple cider vinegar
2 tablespoons minced onion
1/4 cup extra virgin olive oil
2 teaspoons Dijon mustard
Salt and pepper to taste
Directions:
Preheat oven to 425 degrees Fahrenheit. Put the squash chunks in a large mixing bowl and toss with 2-3 tablespoons of olive oil. Spread on large baking sheet so that each piece is fulling touching the pan (no overlapping pieces). Sprinkle with salt and pepper. Roast for 30-40 minutes, turning over once during cooking, until they are softened and browned. Remove from heat to cool.
While the squash is roasting, prepare the dressing. First, in a small saucepan bring to boil the orange juice, apple cider vinegar, and onion. Allow to simmer, uncovered, until the mixture is reduced to about 1/3 of a cup (about 8-10 minutes). Remove from heat and whisk in the olive oil and mustard. Add salt and pepper to taste. Set aside.
Next, make the candied walnuts. Put the walnuts, brown sugar, and water into a glass measuring cup or other microwaveable container and mix well. Microwave on high for about 2 minutes. Stir again, then pour out onto a silicone baking mat or parchment paper on the counter. Separate the walnuts a bit so they are not in large clumps. They will cool and harden in just a few minutes.
Cook the rice in the microwave according to package directions. Once cooked, transfer the rice to mixing bowl. Add the greens, dried cranberries, and cooled candied walnuts. Add the squash once that is done. Pour the dressing all over and stir gently to combine.
Serve either cold or at room temperature.
Enjoy!
{ 3 comments }