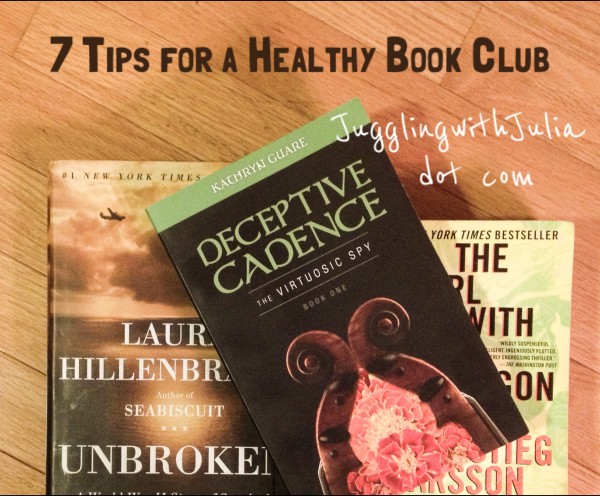 Is Book Club making you fat?  Of course not. Books have no calories

Really, though, is your book club often an evening of excess? A calorie calamity? Do you leave feeling like you've overdone it – again? Then read on, because we're talking about 7 Tips for a Healthy Book Club. While it's unlikely that your once-a-month meet-up with pals, noshing on savory delights while discussing a book's unsavory elements, is derailing your otherwise healthy lifestyle, a few quick adjustments could lighten it up so you feel just as good that evening as you did when you finished the book

I've been lucky to be a part of a wonderful group of 'friends who read' for the past several years. We unanimously adored The Help, bawled after Me Before You, and swooned over our hero, Conor McBride, of Deceptive Cadence, (whose author, Kathryn Guare, is a New Englander and friend to our group). We've also had spirited exchanges over the beautiful-yet-boring The Remains of the Day, crowed over the exquisite storytelling in Caleb's Crossing, and complained bitterly about the unlikable protagonist in P.S.: A Novel, a slutty doormat incapable of standing up for herself.
This month we're tackling one of our first non-fiction works, Unbroken, the story of Olympian and war hero Louis Zamperini. So far, so great!
Janet, our unofficial leader and book maven, often hosts. She is the real culinary wiz and always manages to serve up an array of appetizers with something for everyone. She has wowed us with both light snacks and decadent delights over the years. Asparagus and red pepper roll-ups. Shrimp and garlic bites. An onion/swiss cheese dip to die for. Last month, she whipped up a lemony edamame and avocado salad. I loved it so much I re-created it at home a few days later (recipe coming soon!)
I get plenty of inspiration from my book club ladies, both culinary and otherwise. Hopefully my 7 Tips for a Healthy Book Club will inspire you!
1) Add Pedal Power. When it makes sense (and is safe), walk or bike to your host's house. Even better, suggest the group start off the evening with a vigorous walk through the neighborhood! I can totally picture my gaggle of gals zipping around the walking path at our local park passionately debating who would play the handsome protagonist in the movie version.
2) Arrive Hungry, but not Starving. Just getting to Janet's is a feat sometimes, what with carting my kids to and fro all afternoon. Often I've forgone dinner. By the time I arrive breathless at her gate, I'm hungry! If this sounds familiar, be sure to curb your appetite a few hours before with a balanced snack that is going to hold you over. A combination that includes fiber,  carbohydrates, and protein can keep away the hungry horrors and make you a much more amenable guest :)  My go-to's are often apples and peanut butter, nuts and raisins, or whole grain crackers and hummus.
3) Keep the Buffet and Books Separate. While it's great to have every dish within easy reach, it does make it more challenging to pace yourself and easier to overindulge. Consider locating the food off to the side, or in the next room, to create some space and allow for mindful (versus mindless) eating.
4) Go Big with Veggies. Naturally low-calorie and packed with fiber and antioxidants, you can't go wrong with salads, crudite, or a roasted veggie platter. Who needs a centerpiece when you serve up a gorgeous plate of Roasted Mini Sweet Peppers and Chives?
5) Party with Protein.  Having some protein in the mix helps to satisfy your hunger, keep blood glucose levels from spiking too high, and provide all important nutrients for the constant muscle-building and repair that's going on inside. Super simple ideas? Shrimp cocktail, deviled eggs, and chicken kabobs would all be great to nibble on. Or how about some of this luscious Rosemary and Garlic White Bean Dip?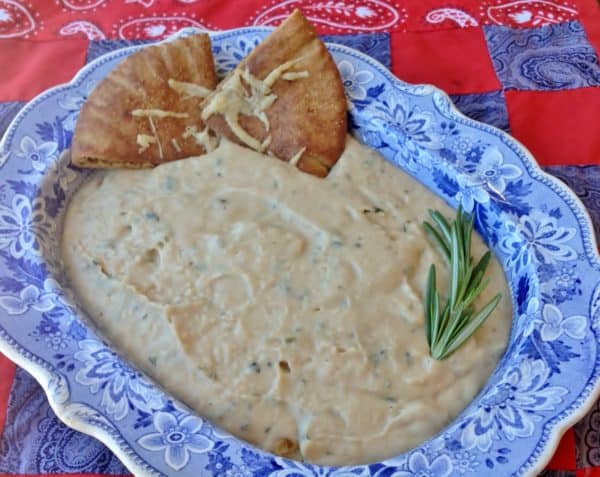 6) Offer Low-Calorie Drink Options. I'm not here to denounce the fermented grape beverage that makes book club possible. Wine makes us more clever, our companions more beautiful, and our literary opinions more frank. Books and wine (and friends!) belong together. Low-cal hydrating options like lemon water, herbal tea, and club soda spritzers are easy and inexpensive alternatives that can help moderate our intake and prevent 'book club hangover' (embarrassing to 'fess up to).
7) Keep Decadent Treats Bite-Sized. Cheesecake? Yes, please! Godiva brownies? Tough to pass that one up. Creamy havarti? My weakness. I would love to try every single thing being offered. Mini-portions make that possible and allow me to sample away without over-doing it.
I'd love to hear from you about YOUR book club! How long have you been getting together? What have you read? More importantly, what do you eat?? Please take a minute to leave a comment with your book AND recipe recommendations. THANK YOU

{ 0 comments }