Yesterday was a trying day. I was feeling low. To cure my foul mood, I came home and baked. Out came this amazing peanut butter baked oatmeal with chocolate chips.
Baking definitely soothes my soul. There is just something about mixing and measuring and scooping and stirring that works for me. Creating something delicious doesn't hurt, either, and  it's a known fact that you can never go wrong with peanut butter and chocolate. And I needed something seriously right.
What's the problem, you ask? I hesitate to share. It's not all that big of a deal, in the larger scheme of things. Life is grand. I have all my limbs, a roof, a loving and healthy family. I have it all.
Still…
…I was smarting from a tough day on the volleyball court (boo hoo. toughen up, buttercup.). Apparently I'm the last to know that skills diminish as you age. There were also some – brace yourself – difficult parenting moments (like that never happens to any parent ever).
Laughable. Non-problems. Believe me, I know. I can hear you snickering. I hear ME snickering. Yesterday, though, my ineptness both on and off the court was wearing me down and I had to do something to turn things around, because the mini-Harry Potter marathon while buried under my covers wasn't doing it.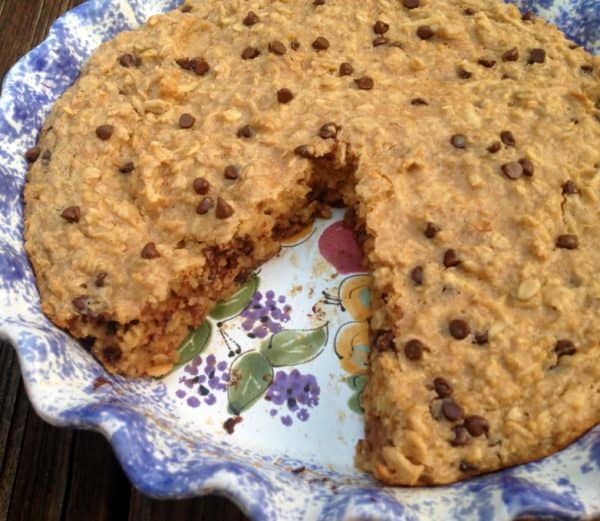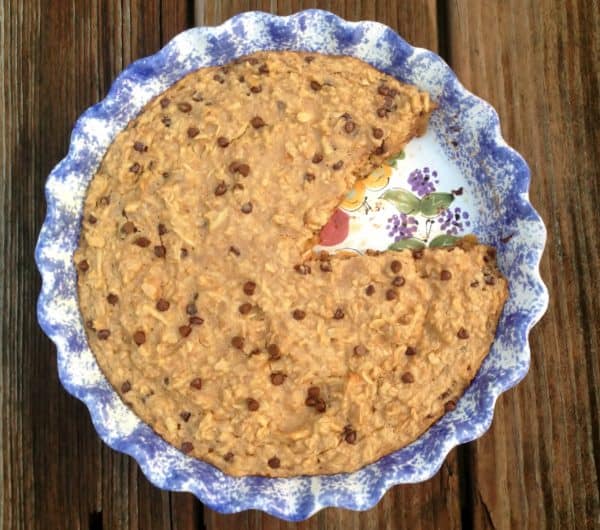 Peanut butter and chocolate. Yep. And a pile of oats, with apples for sweetness and a wee bit of brown sugar and cinnamon and vanilla for flavor.
That'll do it! I dosed myself with a sample for dessert last night, and then for breakfast this morning. The cloud has lifted. My optimism has returned.
Time to be awesome again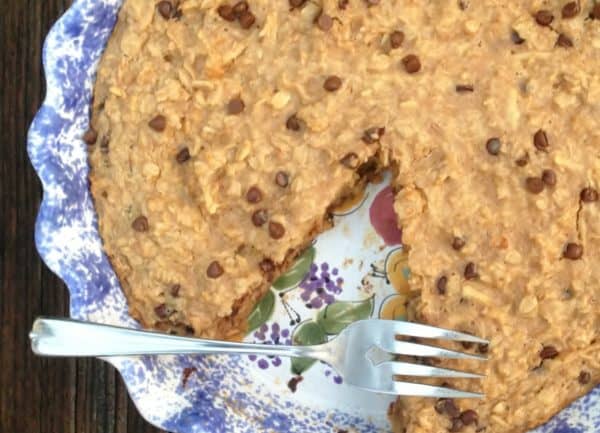 Peanut Butter Baked Oatmeal with Chocolate Chips
Serves 8
Prep time: 10 minutes     Cook time: 25-30 minutes
2 cups old-fashioned or quick oats
2 tablespoons brown sugar
1/2 teaspoon cinnamon
1/4 teaspoon salt
1 medium apple, grated
1 and 1/2 cups nonfat milk
1/2 cup natural peanut butter
1 teaspoon vanilla
1/4 cup miniature chocolate chips
Preheat oven to 400 degrees Fahrenheit. Prepare a large pie plate or quiche pan with spray oil (I used a 10″ quiche pan).
In a large mixing bowl, combine the oats, brown, sugar, cinnamon, and salt. Set aside. In a separate bowl, whisk together the milk, peanut butter, and vanilla.(*I used natural peanut butter which was quite liquidy. If you are using thicker peanut butter, microwave it for about 10 seconds to loosen it up before whisking in the milk and vanilla) Stir in the oat mixture, shredded apple, and chocolate chips. Spread in prepared pan evenly. Bake at 400 degrees for 25-30 minutes. The top will be dry and spring back to touch.
Allow to cool in the pan for 15-20 minutes before cutting. Serve warm or at room temperature.
CHECK OUT THESE OTHER JWJ OATMEAL TREATS!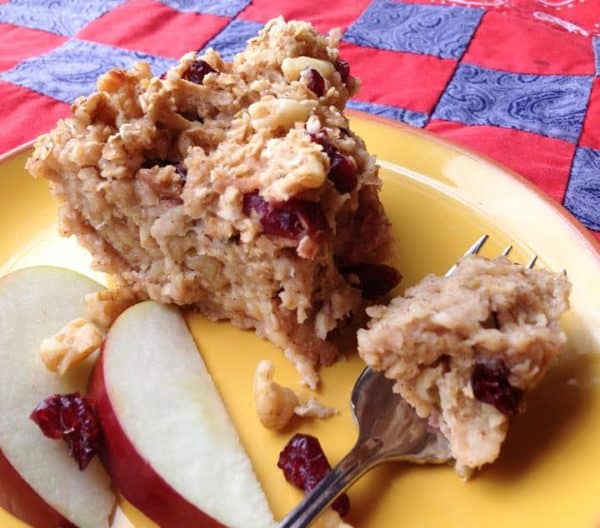 Coconut Oatmeal Chocolate Chip Cookies with Greek Yogurt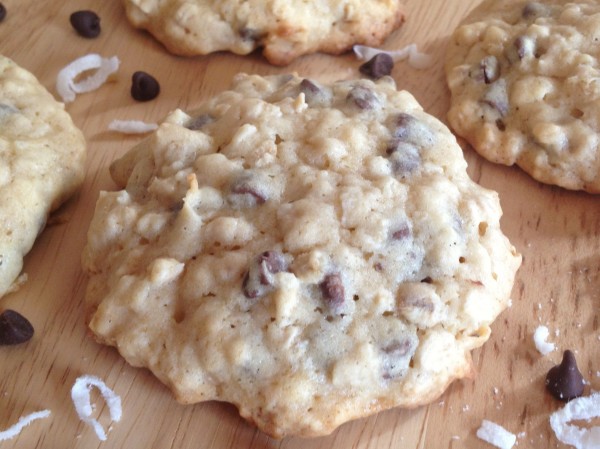 No-Guilt Cranberry White Chocolate Cookie Bites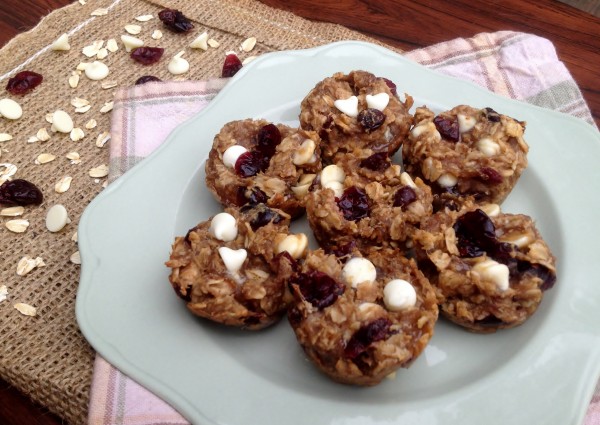 { 9 comments }