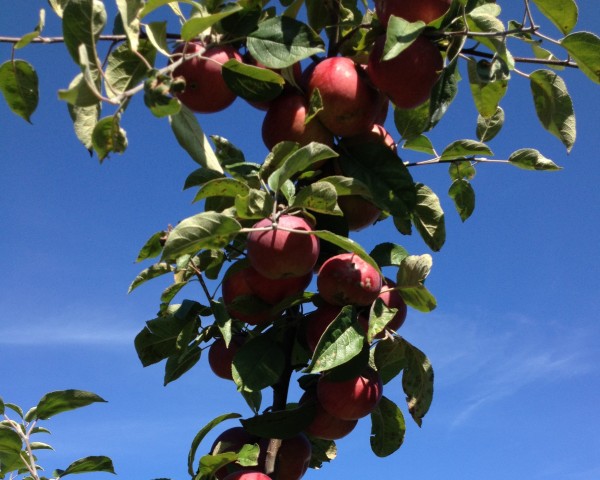 Apple picking on a picture perfect October day — nothing better. Just look at that blue sky. And those luscious Macintosh apples exploding off the branch! New England rocks when it comes to the beauty and bounty of the Fall season.
What could be better? I'll tell you. Taking a HUGENORMOUS bite outta one and eating that baby like it's your new full-time job. That's what. It's not stealing! We paid for the bag, therefore whatever goes in the bag is paid for. At least, I think she took this from the bag. Um, forget it. You don't know me….you never saw me here… and I don't know that kid in the pink…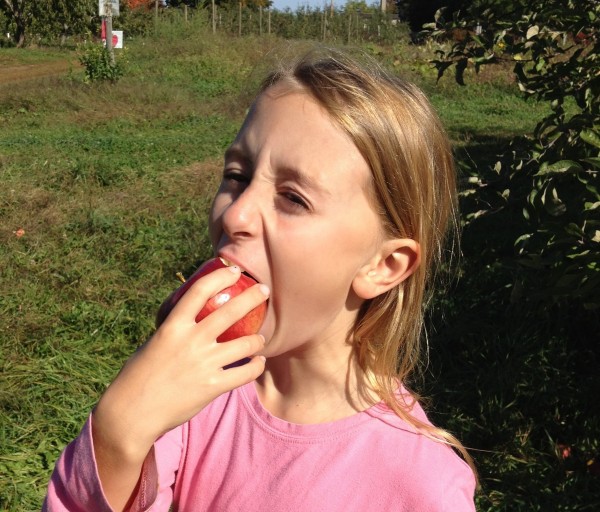 We have eaten many, many Macs already. But, when you pick a half bushel, you had better have some plans for them! I baked and cooked all day on Sunday, including this gorgeous cinnamon-packed, apple-filled snack cake. We devoured it in just a couple of days.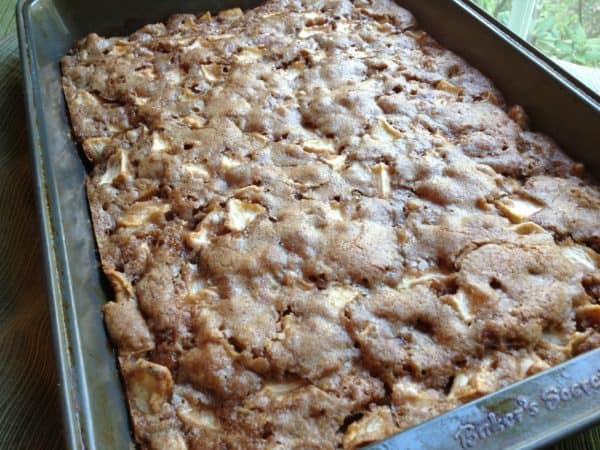 The recipe, which I adapted from one I found at the Noble Pig blog, claims to be an old, old recipe from a neighbor long ago. Her dad's birthday request each year. Now that is my kind of recipe – decades old and family-approved. Perfect. OK, sure, I changed it some. The dietitian in me had to decrease the fat a bit, cut some sugar, and ramp up the fiber (as if 4 cups of apples isn't enough fiber already). But aside from the I pretty much let it be.
When you first mix the apples into the batter, you're going to think, "Oh no, something is wrong. There are WAY TOO MANY APPLES here." Nope, uh-uh. Not to worry. It'll look something like this, but trust me it's going to be just fine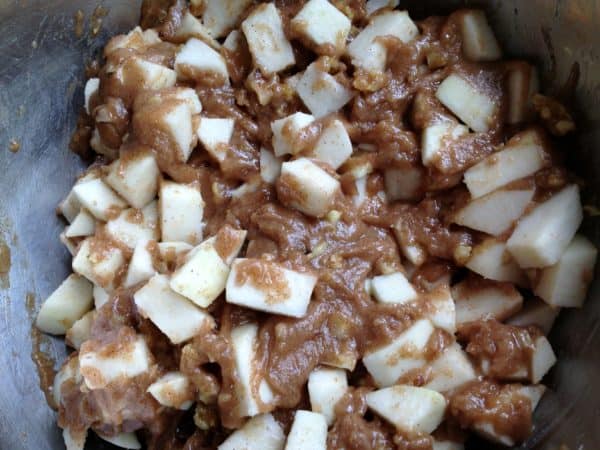 Use a peeler to peel the apples. Much faster than hand peeling with a paring knife. Though I've cooked with apples many times, it never occurred to me before to use a vegetable peeler. Brilliant. Thanks to my husband for letting me in on that little secret!
We ate this up as is, both as a breakfast and as dessert. So good. Cinnamon and apples to the nth degree. YUM. Next time I might just warm it up and add a little ice cream and caramel drizzle. I'm sure that would be divine!
Chunky Apple Snack Cake
Yield: 16 servings
Adapted from Noble Pig
Prep time: 20 minutes     Cook time: 50-60 minutes
1-3/4 cups sugar
1 cup all-purpose flour
1 cup whole wheat flour
1 tablespoon cinnamon
3/4 teaspoon salt
1/2 teaspoon baking soda
2 eggs, lightly beaten
3/4 cup canola oil
1 tablespoon vanilla extract
4 cups (4 large apples) Macintosh apples, peeled, cored, and chopped
1 cup finely chopped walnuts
Preheat oven to 350 degrees Fahrenheit. Prepare a 9×13 cake pan with spray oil. Set aside.
In a large bowl, combine the sugar, flours, cinnamon, salt, and baking soda. Stir with a whisk to combine. In a separate bowl, combine the eggs, oil, and vanilla and mix well. Add this mixture to the flour mixture, and stir until well combined (do not use an electric mixer). Add the apples and walnuts, and stir until well-combined. Transfer batter to prepared 9×13 pan, and spread evenly. Bake for 50-60 minutes in the center rack of the preheated oven. Cake is done with it springs back to touch.