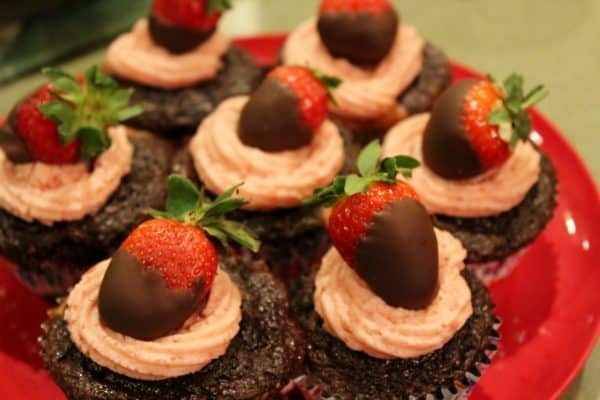 Hello, my dear ones! As we approach the final day of National Nutrition Month, I encourage you, as always, to enjoy your food.
Enjoy every bite, every morsel, every crumb, and every calorie…fruits that sweeten your day, vegetables that fill you up, energizing grains, and power-packed proteins.
And when it's time to indulge? GO BIG. Crazy big. Strawberry buttercream frosting made from real strawberries big! Why? Because life is too short for store-bought cookies or light ice cream, and certainly too short for canned (gack!) frosting.
My miniature sous chef and I made this gorgeous naturally pink strawberry buttercream frosting to put on cupcakes. We went a bit bonkers and added chocolate-dipped strawberries on top. When we go big, we don't mess around 🙂
When you indulge, how do you GO BIG?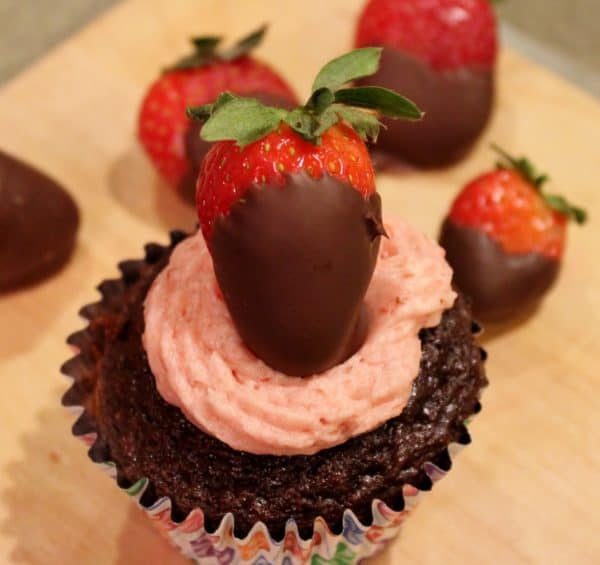 Real Strawberry Buttercream Frosting
Yield: enough for 24 cupcakes
Adapted from Cooking Classy
Cook/Prep time: 20 minutes
1/2 cup plus 2 tablespoons strawberry puree
3/4 cup butter, at room temperature
2 1/2 cups powdered sugar
1/4 teaspoon vanilla
In a small uncovered saucepan, heat the strawberry puree over medium-low heat, stirring occasionally. Allow the puree to simmer until it is reduced by about two-thirds. You will be left with 3 tablespoons of thickened puree. Transfer the puree to a small bowl and put in the freezer to chill. (It should cool quickly – stir a couple of times to speed the cooling).
Add the butter to the bowl of an electric mixer. Beat the butter on medium-high speed until light and fluffy. Add 1 cup of the powdered sugar, along with the cooled strawberry puree and vanilla. Beat until well combined. Add the next 1 1/2 cups powdered sugar, and continue beating until light and fluffy. If necessary , you may add 1/4 cup additional powdered sugar to get the desired consistency.
Pipe or spread onto cupcakes, layer cake, brownies, or directly onto your finger 🙂