Things I would NEVER say:
Sure, you can finish my coffee. (get. away. from. my. coffee.)
I'm over the whole Harry Potter thing. (so not over it)
I feel like dressing up today. (yeah, right. where's my sweatshirt?)
and, for sure, I'd never, ever say
How about some squash for breakfast? (a slight to humanity, that's what that is)
But offer you a muffin crammed with that squash? That's totally different. And that's what I'm offering you today in these Butternut Squash Muffins with Maple Drizzle. They're spiced with cinnamon, nutmeg, and ginger, and dressed up with a super-simple maple drizzle. Over the weekend we plowed through two batches. Though my sassy 17-year-old joked that I 'nearly ruined' them with the squash, he devoured them with gusto.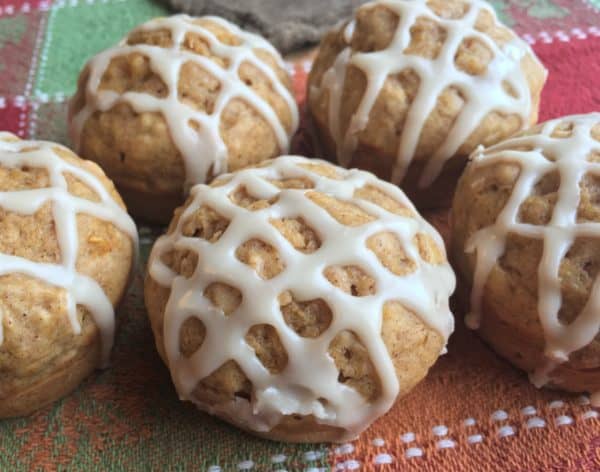 Recipe Notes for Butternut Squash Muffins with Maple Drizzle
→ This recipe requires 1 cup of roasted butternut squash. However, if you don't already have it on hand, it's so easy to roast squash – see directions here.
→ Roasted butternut squash will keep  in the freezer for up to a year! Freeze the cooked squash in 1 cup portions, then it'll be ready to go for your favorite recipes that call for roasted butternut squash (like these butternut squash muffins, for instance; and don't forget about these ridiculously delicious Oatmeal Butternut Pancakes!)
→ These deliciously moist muffins have a lovely tender crumb. You can thank the squash and brown sugar for that. Be sure to use a light hand in measuring the flour, as well. Never pack it in! Too much flour will weigh these down.
→ The batter makes 11 muffins – stretching it to 12 muffins to satisfy my OCD even number issues will just make them too small.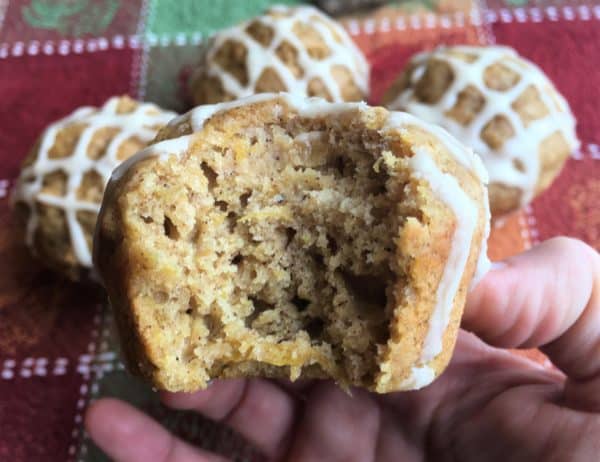 Butternut Squash Muffins with Maple Drizzle
Makes 11 muffins
Prep time: 15 minutes     Bake time: 17-20 minutes
Butternut Squash Muffins
1 3/4 cups all-purpose flour
1 teaspoon baking powder
1/2 teaspoon salt
1 teaspoon cinnamon
1/2 teaspoon nutmeg
1/2 teaspoon ground ginger
1 cup roasted butternut squash
1/3 cup milk
1/4 cup canola oil
1/2 cup brown sugar, packed
1 egg, lightly beaten
1 teaspoon vanilla extract
First, preheat oven to 350 degrees Fahrenheit. Prepare a standard muffin pan with spray oil.
Next, in a small bowl, combine the flour, baking powder, salt, and spices. Set aside.
Then, in a medium bowl, add the squash, milk, oil, brown sugar, egg, and vanilla. Whisk until well combined. Add the flour mixture and stir with large spoon just until all dry ingredients are moistened. Do not overstir.
Finally, fill each well of the muffin pan 2/3 full with batter. Bake for 17-2o minutes. The muffins are done when the tops are no longer sticky and spring back slightly when touched. Cool in pan for 5 minutes before removing, then place on cooling rack to cool completely (this step important if you don't want your maple drizzle to simply soak into the muffins).
Maple Drizzle:
1/3 cup powdered sugar
2 tablespoons maple syrup
Take the cooling rack of muffins and place it on top of a cookie sheet (to catch the drips of maple drizzle).
In a small bowl, whisk the powdered sugar and maple syrup until smooth. Transfer to a small plastic bag with a zip closure. (Tip: it is helpful to place the open bag inside a small cup or glass so you have two hands free to scrape all the maple drizzle into the bag). Zip the bag shut and snip off a very small piece of one of the corners.
Using the snipped corner as your spout, slowly guide the maple drizzle over the tops of the muffins. The drizzle will eventually harden after several minutes.
Store the muffins in an airtight container for up to 3 days.
Enjoy!