Yes, sometimes life imitates art.
As you know from my previous post, Juggling with Julia just went under a redesign. We were under construction for a couple of months! Ironically, it was all happening at the same time my little world was also 'under construction.' May and June brought enormous milestones for my family.
My first-born graduated high school in a flurry of events and ceremonies, grad parties, and late nights. Now we're preparing, at least logistically, for his departure to college.  There is no amount of preparation that will help me adjust mentally to his impending absence.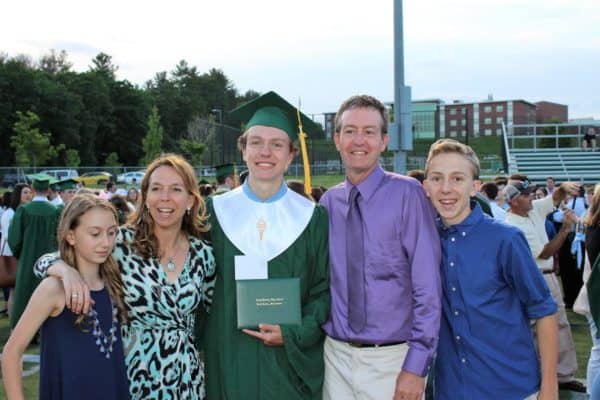 [Admire my hair, please. It's unlikely you'll ever see it looking so fly again. I woke up that day and, when I thought about the fact that, in addition to everything else going on, I would have to deal with my untamely locks, I thought "I. CAN'T. EVEN." Huge props to long-time hairdresser friend, Paula, for the last minute save!]
My second-born, the one I SWEAR was just yesterday asking, with his beloved bunny tucked under his arm and an endearing lisp, if he could watch 'Thomath' the Train and did I want to watch it with him, has been learning to drive AND has not one, but two, jobs for the summer.
And my baby?  She just 'graduated' fifth grade and is off to middle school in September. I can't believe I'm saying this, but I long for her princess phase days. MIDDLE SCHOOL. What the heck am I to do with myself in the mornings now that I will no longer be walking her to school?? I've got 8 weeks to figure it out.
Maybe I'll channel my newfound time into new recipes for you! I've got a bag of chia seeds to play around with 🙂 In the meantime, keep an eye out for a new one-pan mega-hit straight from my house to yours – Turkey Sweet Potato Skillet. It got a 5-for-5 thumbs up from my family. If you're familiar with us at all, then you know that's about as likely as an easy Monday morning commute.
I'm okay if my life imitates art (in my generous mind, this blog is a creative space akin to art). Fingers crossed it continues to be positive and entertaining.
Stay tuned 🙂