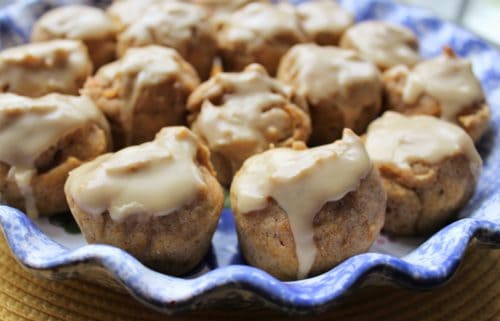 I'm totally in love with these little beauties that I've made – gluten free butternut squash muffins. With maple glaze, of course.
What's not to love? They're adorable and sweet, lightly spiced, they've got that kick-ass glaze. And, in miniature form they fit neatly in my mouth. That's best friend material right there if you ask me.
Yup, these Gluten Free Butternut Squash Muffins with Maple Glaze are my new best friends.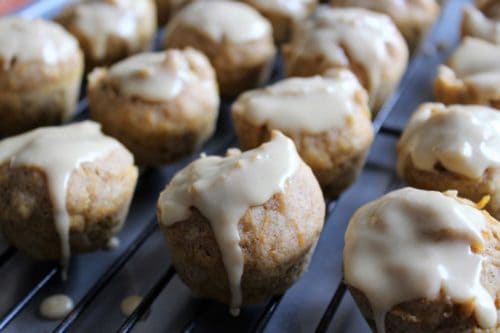 Ya know who else are my best friends? My gardening friends who will soon be overrun with butternut squash. Yup, I'll happily take their surplus butternut and then I'll be making these gluten free gems over and over and over…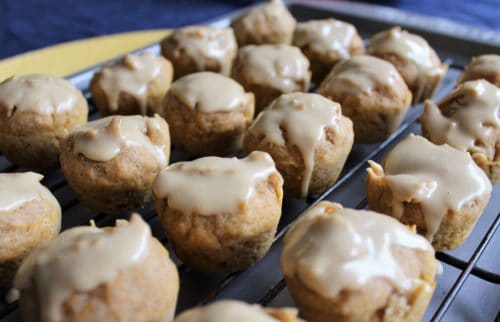 If you're wondering why I'm focused on gluten free anything, you can get caught up in this post.
But maybe you're wonderings are of a more technical nature. Like, "How can you bake successfully without the all-important gluten, which provides structure and stability, and traps air for lightness?"
That is an excellent question. I'm glad that I finally got around to buying some gluten free flour so I could start exploring these mysteries myself.
Here is a good summary about the role of gluten I found useful, covering the basic chemistry of gluten, what it does for baked goods, and tips for successfully using gluten-free flours in your own cooking and baking.
I'm so glad to be back to baking. Of all the things I lament in this gluten free diet (and there isn't a lot), it's the homemade baked goods I miss more than anything, as well as the act of baking. And, sure, there are ways to bake without flour altogether, but I love to make muffins. And for that I need flour.  Now that I finally have some, it's time to play!
How'd they turn out, Jules? Come on! We're dying to hear!
Well, of course you already know that I loved them. It could not have been simpler, either. I took the original muffin recipe,which I shared on the blog back in February, and simply swapped out the all-purpose flour for equal amounts of the gluten free flour.
'My new best friends' That's how I feel about these gluten-free butternut squash muffins!
Click To Tweet
I decided to use King Arthur's Measure for Measure. It's a mixture of rice, brown rice, and sorghum flours, along with xanthum gum, which mimics the stickiness of gluten and helps with structure.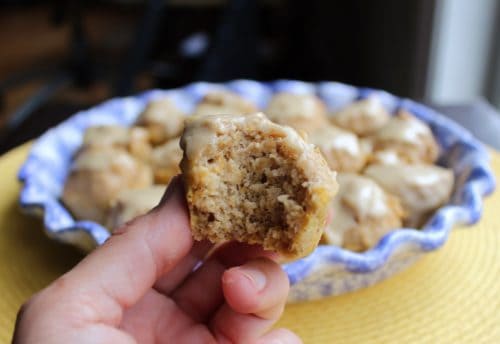 The muffins turned out tender and light, with the tiniest difference in texture that only I noticed. The rest of the family loved them, too, same as always, and are only just now wondering where all those muffins went??
[Strictly between you and me, they went into hiding – just a handful of them – so I can enjoy them over the week instead of having them all gone in an instant.]
Well, I call this gluten free baking adventure a success!
What will I make next? I've been craving peanut butter cookies…
Stay tuned 🙂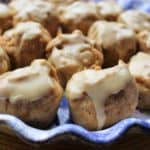 Gluten Free Butternut Squash Muffins with Maple Icing
Delicate, sweet and lightly spiced muffins, featuring roasted butternut squash, and finished with a super-simple maple glaze. Gluten free flour substitutes easily for all-purpose flour here.
Ingredients
1 3/4

cups

gluten free flour

like King Arthur's Measure for Measure

1

teaspoon

baking powder

1/2

teaspoon

salt

1

teaspoon

cinnamon

1/2

teaspoon

nutmeg

1/2

teaspoon

ground ginger

1

cup

butternut squash

roasted

1/3

cup

milk

1/4

cup

canola oil

1/2

cup

brown sugar

packed

1

large

egg

lightly beaten

1

teaspoon

vanilla extract

1/3

cup

powdered sugar

2

tablespoons

maple syrup
Instructions
Preheat oven to 350 degrees F. Prepare standard or mini muffin pan with spray oil.

In a small bowl, combine the flour, baking powder, salt, and spices. Whisk together and set aside.

In a medium bowl, combine the squash, milk, oil, brown sugar, egg, and vanilla. Whisk until combined.

Add the flour mixture and stir with a mixing spoon just until moistened. Do not overstir.

Fill each well in the muffin pan 2/3 full. If using standard muffin pan (12 muffins per pan) bake for 17-20 minutes. If using a miniature muffin pan (usually 24 muffins per pan), bake for 13-15 minutes. Muffins are done when tops are no longer sticky in center.

Remove from pan and cool completely on a cooling rack. Once they're cool, place the cooling rack on a cookie sheet (to catch the drips).

In a small bowl whisk together the powdered sugar and maple syrup. Dip each muffin top in the glaze, let excess drip back into bowl, then place muffin on cooling rack to set. Store in covered container for up to 3 days.

Save
Save