Today I've got a vibrant Lemony Massaged Kale Salad recipe for you to try. It's – of course – easy to make, pops with both color and flavor, and has totally got you covered in the gut health department.
It's also gorgeous, and even in the dead of winter will brighten your day.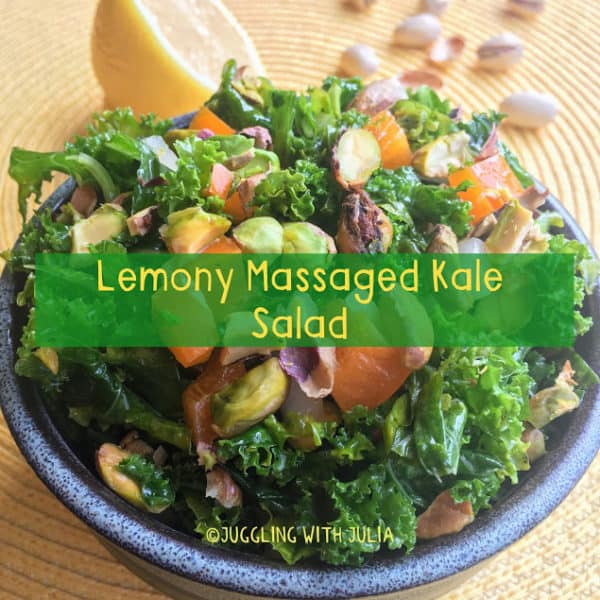 Remember when we were kids, and in the heat of a disagreement with a friend we'd say things like, "I hate your guts!" Harsh words, indeed. My charismatic friend, Shirl, put a lovable twist on it. She says, "Love your guts!"
Aw, thanks, Shirl! I love your guts, too! MWAH!
Ironically, health professionals now know that you should not only love your friends' guts, but your own as well.
Wait, is this a self help post about loving yourself?
No, no, no. This is literally about your gut. And it's especially about those little bugs living in it. Hopefully this is not news to you, but if it is, here's the scoop – you've got trillions of buggers in your gut. Many of them are the good guys, the ones you want to keep, 'cause they're protecting your health in a gazillion ways.
The trick is, you need to feed them! Thankfully, they're not too picky. They love, love, LOVE plants. That's another check in the PRO column for reasons to follow a more plant-based diet.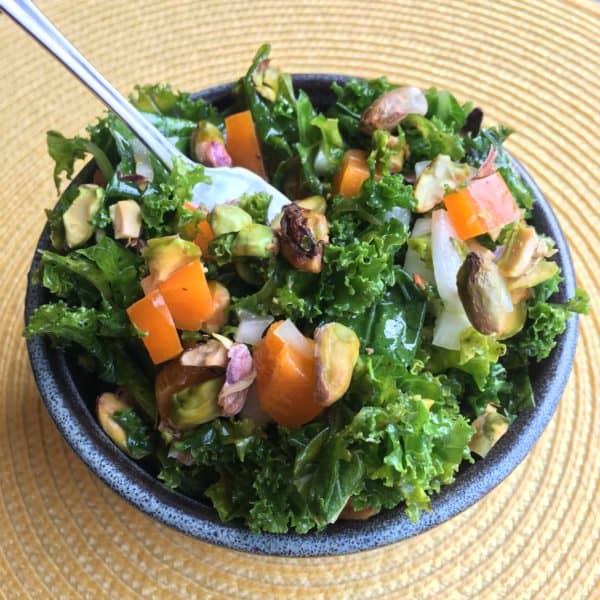 All research signs are pointing to the fact that your gut – aka your intestinal tract – is the key to a huge number of health outcomes. Depression, autoimmune diseases, diabetes,  etc etc etc.
I've made it easy for you to ramp up your veggie intake! Love your gut, and treat it to this health-promoting, gut-nourishing bowl of lemony massaged kale salad, and SOON.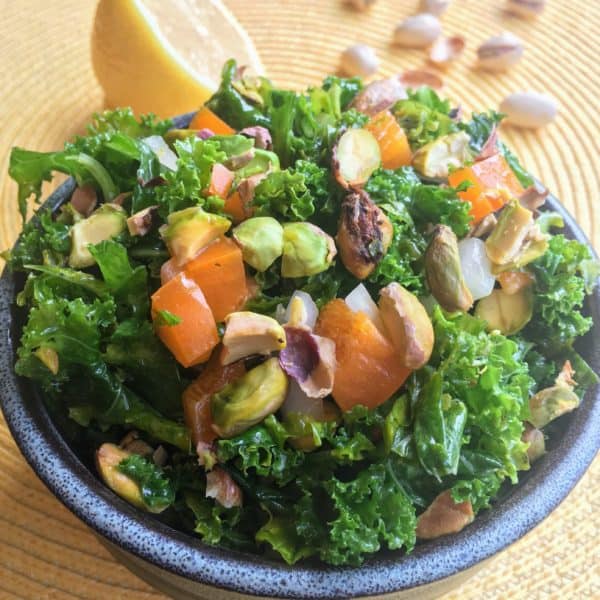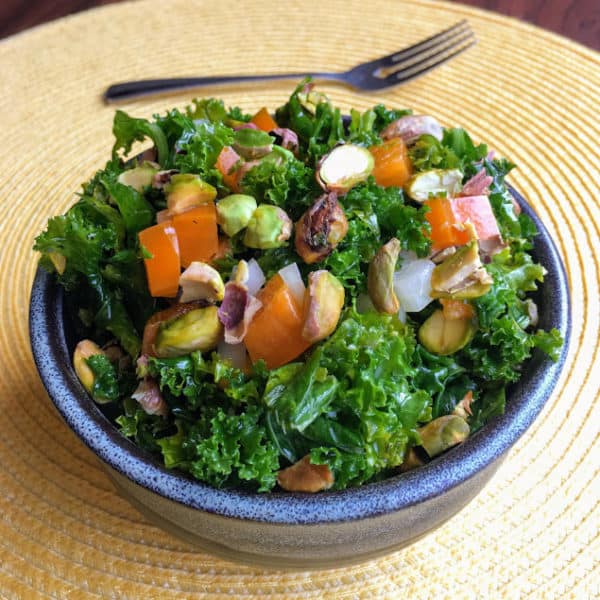 This post is part of a monthly event hosted by The Recipe Redux. Please take a moment to click on some of the participating links below to see all the other great gut health-promoting recipes that were published as part of this event!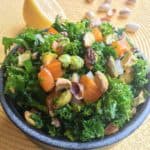 Lemony Massaged Kale Salad
This kale salad is packed with good stuff for your gut, especially FIBER! The lemony dressing will add zing to your day, too.
Ingredients
2

cups

kale

torn into pieces or chopped

2

tbsp

extra virgin olive oil

2

tbsp

lemon juice

about 1/2 medium lemon, juiced

1/2

tsp

salt

1/2

cup

diced sweet bell pepper

about 1/2 large pepper

1/4

cup

diced sweet onion

1/4

cup

pistachios

Can sub chopped walnuts, crushed almonds, or pumpkin seeds
Instructions
Put kale into medium bowl. Drizzle olive oil over the top, then add the lemon juice and salt.

Using one hand, 'massage' the mixture by gently pressing it together with your fingers, mixing and stirring as you go. Do this for 60-90 seconds. You will see that the kale begins to soften and change to a brighter, lighter green.

Add in the diced onion, diced peppers, and nuts. Taste, and adjust as desired. If it is too lemony, add a little more olive oil.
Recipe Notes
I have used all kinds of kale to make this - baby kale, dinosaur kale, curly kale, and it all works, though curly kale is my favorite.
Nuts about nuts? Use whatever type you like - the crunch is a fantastic contrast to the softer veggies, and they add protein and healthy fats, too.