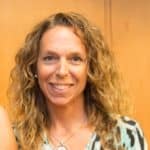 Feed Your Family. Keep Your Sanity.
We all wear many hats, don't we? For me, they start with Wife, and Mom of three. I'm also a Registered Dietitian, Foodie, Mentor and Educator. Add to that roles like Aging Athlete, Coach, and Daily Pedestrian, and you can bet easy, family friendly recipes are key in my life.
Finding balance with all those roles can be tough. So, I'll say it. Sometimes it makes feeding my family (while keeping my sanity) an absolute chore.
Does this sound like you, too? I'm here to help.
Here at Juggling with Julia you'll find 300+ family friendly recipes, as well as tips, tricks, and advice to help you find that balance between feeding your family and keeping YOUR sanity. Take a look at my Quick and Easy Meals, Slow Cooker Meals, and Family Favorites that have become staples on our table.
I would love to hear from you! If you have a family friendly recipes idea, a food disaster, or philosophy you'd like to share, feel free to email me at jugglingwithjulia@gmail.com.
My Philosophy for a Fit and Food-loving Family:
Listen to your body.
Eat when you feel hungry, absolutely. Then, stop eating when you no longer feel hungry (psst, that happens well before you feel FULL).
Rest when you're tired, and get consistent sleep each night.
Choose whole foods every day.
Fruits, veggies, legumes, nuts, whole grains, low fat dairy, and high-quality proteins are the foundation of a healthy diet.
The possibilities are endless. Try new foods once in a while.
Enjoy your food. 
Eat what you like! Don't feel guilty if you don't like kale, or whole grain bread.
Do what you can to include whole foods in your daily diet, and indulge in moderation.
Break a sweat. Move those muscles every day.
Plenty of research show that physical activity, whether it be mild or vigorous, brings about many benefits.
Regular physical activity aids in weight control and stress reduction, and leads to a stronger body less prone to chronic diseases.
Get moving a few times a week, and your body will thank you!
How Juggling with Julia began…
Juggling with Julia started as a niggling little idea in the back of my brain in March of 2011. After following the blogs of a couple of nutrition colleagues, I discovered the vast, prolific and passionate world of food blogs where homegrown cooks, bakers, dietitians, and foodies alike share their recipes, passions, and ideas with the online community. The sense of camaraderie is amazing, the recipe ideas are endless, and I just knew I wanted to be a part of it all. I thought to myself, "I can do that. I want to do that. And I've got something worthwhile to talk about." And so, Juggling with Julia was born.