This One Pan Turkey Sweet Potato Skillet delivers!
Well, it doesn't actually get delivered, like, to your door. But you know how sometimes you screech into your driveway at 5:45 pm knowing only that your family's gotta eat, and you're the one expected to feed them?
Frustratingly, in that moment, an easy supper idea escapes you, despite the overflowing pantry and bulging veggie drawer. You better think of something fast or the family's getting corn-and-tuna succatosh again.
Trust me they don't want that. (How could anyone want that?)
They want filling and savory and big time yum, and by the way could you have it ready in 30 minutes? Cuz they got stuff to do.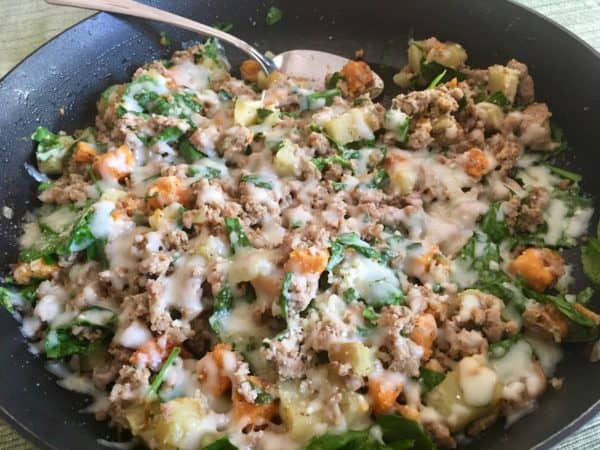 That's when it's time to make this one-pan wonder, this satisfier of appetites, and slayer of the age old dilemma, "What the %$@# do I make for dinner?"
Say hello to One Pan Turkey Sweet Potato Skillet!
Hello, easy!
(one stinkin' pan, heck yeah!)
Bonjour, nutritious!
(protein, fiber, antioxidants)
Hello, FLAVOR!
Come to mama.
It's my family's favorite one pot meal.
My 5 family members with choosy palates and varied tastes can't be wrong 🙂
Recipe Notes for One Pan Turkey Sweet Potato Skillet:
You will need a large skillet and some sort of lid. FYI, if you don't have a skillet with its own lid, you can use aluminum foil. Or, you can use a similarly sized pan resting on top of the skillet
Any type of greens that you like to saute works well – spinach, Swiss chard, kale, etc.
Ground pork, ground beef, or your favorite vegan crumbles can readily be substituted for the ground turkey.
This recipe is allergy friendly for those avoiding eggs, wheat, or gluten.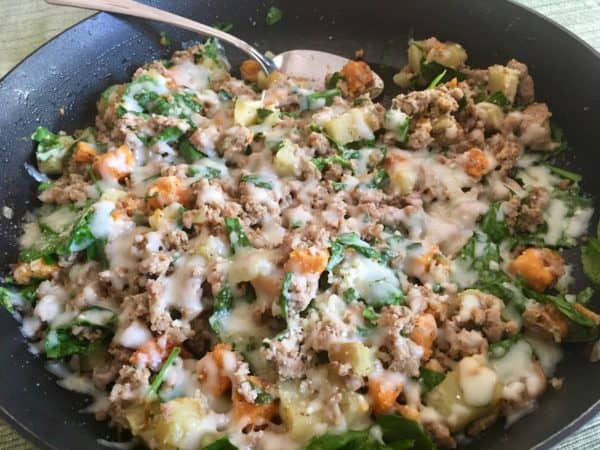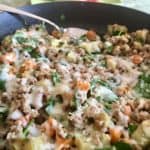 One Pan Turkey Sweet Potato Skillet
Stuck for a quick supper idea? This One Pan Turkey Sweet Potato Skillet gives you flavor and nutrition in a quick 30-minute and one pan meal. Supper solved!
Ingredients
2

tbsp

olive oil

extra virgin

1/2

cup

onion

chopped

1

tsp

garlic

chopped

1

lb

ground turkey

2

cups

sweet potato

diced (about 2 med)

1/2

tsp

celery salt

1/2

tsp

oregano

1/4

tsp

ground coriander

1/4

tsp

ground black pepper

2

tbsp

water

1

cup

baby spinach or other greens

1/4

cup

Parmesan cheese

grated

1/2

cup

mozzarella

shredded
Instructions
Heat olive oil in large skillet over Med-Hi heat

Add onions and garlic, and saute for 2-3 minutes

Add ground turkey, and brown for 7-8 minutes, stirring occasionally, until meat is no longer pink and onions are translucent.

Add sweet potato, celery salt, oregano, coriander, and black pepper. Stir to combine, then add the 2 T of water. Turn heat to Low and COVER. Let simmer for 10 minutes, or just until potatoes are soft.

Add baby spinach and Parmesan cheese and stir.


Turn off the heat. Add shredded mozzarella, and cover for 3 more minutes to allow the cheese to melt and the spinach to wilt.
Recipe Notes
Enough for 4 adults, as long as they're not starving and be sure to include a side like fruit or a salad 🙂
If you're looking for other quick and easy meals like this, go to the Recipe Index and click "Quick and Easy Meals." You'll find supper ideas like Lemon Herb Chicken Rice Bowls, an easy How-To Make the Perfect Frittata, and the always-popular Barbecued Chicken Flatbread Bites.
Cook on, my Kitchen Slayers!
<3
Julia